Oslo First Stop for the Purple Lounge/FHM Tour!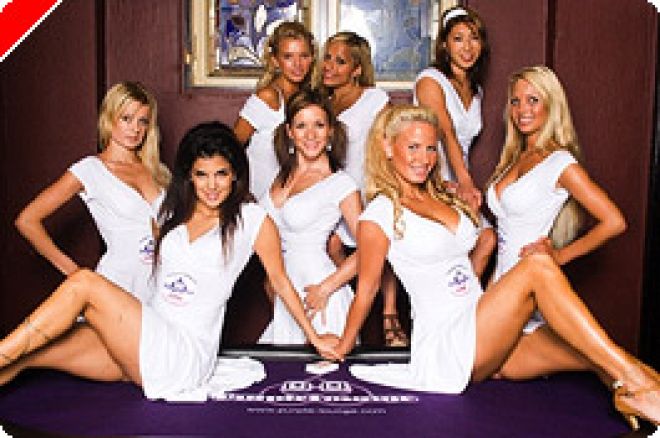 As previously highlighted here at UK Poker News, London-based Purple Lounge Poker are running a super series of special live tournaments around Norway, culminating in a Grand Final in Oslo in September!
These poker events are special because every dealer will be a hand-picked Norwegian FHM beauty (as the picture testifies!) and they have all been trained to deal for these poker extravaganzas. Not only will there be poker played, but there will be plenty of cabaret entertainment laid on too at all of the heats making each one a memorable evening for the players.
Regular readers of UK Poker News would have seen the opportunity to play the FHM Tour, and many of them took up the challenge at Purple Lounge Poker. They each played one or more of the ten special online freerolls to qualify for the live tournaments. Sadly, it is too late now if you didn't take one of those chances - the first live tournament is about to roll!
Purple Lounge's own sponsored professional, the UK's Simon Trumper, will be on this tour, and UK Poker News will be dropping by too. Simon said at the beginning of his association with Purple Lounge that "…lifestyle, fun and celebrity…" is what Purple Lounge offers the online poker player. The FHM Tour should reinforce this ethos.
The first heat is played in the capital of Norway itself, Oslo, on 24th August. This is then followed by fairly short trips out to Frederikstad on the 25th and Lillehammer – scene of the 1994 Winter Olympics – on the 26th.
After a short break, the Tour continues to Kristiansand on the 31st, Sandefjord on 1st September and Tonsberg on the 2nd. Then, it is onto Stavanger, Haugesund and Bergen from 7th to 9th September, followed by the last heat in Trondheim on the 14th.
The top five players from each heat will progress to the Grand Oslo final on 22nd September, where a large gathering of players and other guests will assemble for what promises to be a superb finale to the Purple Lounge/FHM Tour.
We are looking forward to bringing you more details of events as they unfold in Norway. Stay tuned!
Ed note: Claim a whopping $1,000 New Deposit Bonus when you download Purple Lounge Poker and play at the busy tables on offer 24/7.