Interview with Steve Davis at the World Series of Poker (Part 2)

Tony Bromham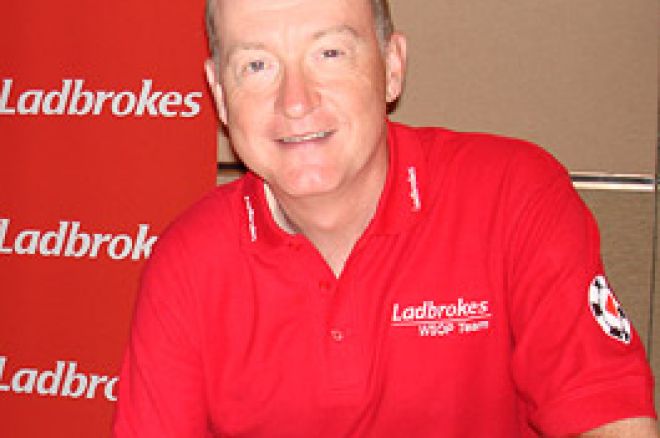 Welcome to Part 2 of our intriguing and amusing interview with Steve Davis, formerly one of the greatest snooker players in the world with multiple world championships behind him.
Now a keen poker player in his own right, and having made it this year through the first two days of the WSOP Main Event, Steve talks about his hapless introduction to poker thanks to his long-time mentor, Barry Hearn, and considers the poker-playing skills of his fellow snooker professionals.
UKPN: Just stepping back a bit, tell us about your first experience of poker?
SD: I came out to Vegas on a trip with Barry Hearn who had just started to get interested in poker; televising poker but as a player as well. He said, "you've got to come over for a couple of days; I've got a few meetings, and we'll play a bit of poker". I said I don't even know the rules. He said "it doesn't matter, I've got a book. You can read it on the plane." So we came over, stayed at the MGM, and played at the Bellagio, for a couple of days. Anyway, we got to the airport in the UK and got on the plane. I said "where's the book?" "Oh" he said, "it's in my luggage". He said "don't worry, when we get off, we can get it out and you can read it on the way to the hotel. You can buy the books, there are loads of them on how to play poker."
We got to the airport at the other end, straight to the hotel. "Let me read the book". He said "Look, we haven't got time for that, let's get down to the Bellagio and play." We got to the Bellagio. I've walked into the Bellagio room in his wake; he can't wait to play, he's like a kid in a sweet shop. He walked up to the Maitre D', who was controlling the tables, and said "I want a table at the 30-60 limit game."
It's a big game, right, but I don't know what he is talking about, "30-60 limit"! The guy says, yes sir, we have a seat there on the 30-60 over on the corner table. And off he goes with "Oh, and a seat for my friend". The guy says there is a seat in the 15-30 game. Barry said "that'll do him" and went "Bye!"
So now I've gone to my table. The first ever game of my life, and it's with the sharks! Bellagio, 15-30 limit. I was so nervous, my hands were shaking and I was checking through nerves! I'm slowly losing my money and Barry came back from losing all of his money, tapped me on the shoulder and said "come on, let's go and have something to eat now". At that moment, I had A9 of spades and the flop came down three spades, queen, jack, whatever. I'm not raising, I don't know what I'm doing but I know I've got the best hand, but I don't know what to do with it, so I'm just calling and people were raising; I was just calling the raises. A Chinaman next to me had been raising me and I was just calling, not re-raising; just calling, out of nerves, right? Other people are calling as well. It's come round to me and we turn the hands over. The Chinaman just looked at me and then spat at me! He obviously didn't understand what I was just calling him with. I got all my money back, $500 I had and I got it all back in one go! Barry says, "come on, son, we're going" and we cashed it all in. I could see them going "no, no, come back!" So that was my first experience.
The next day I went on the 1-2 table. The Maitre D' said do you want to play on the 15-30 table and I said no, I want to learn the game, what's the lowest table? He said the 1-2 table but I don't deal with that, you'll have to go over to the desk over there. The 1-2 table was the one in the corner with all the local grinders. I proceeded to lose $200 playing 1-2 limit, which is a feat in itself! It's a lot of money to lose at 1-2 limit, isn't it! I had about $20 left and I heard one of the locals whispering to another one "we've nearly got him!" I thought "you bastard" – I'm only here to try to learn and I'm, like, their lunch. Great!
UKPN: As one of many top snooker players who play poker to a reasonably high standard, do you see a correlation in the two pursuits that make snooker players natural poker players?
SD: I think in a game like snooker, which is a static ball game, a dead ball game, you have a decision to make before you operate so there are therefore decisions on a snooker table that have a likeness to the decisions you may have to make in poker. Whether to choose to go for the shot; whether to turn it down and wait for a better opportunity; what type of positional shot to play – one could be more aggressive than the other in how it all unfolds. Some players would choose the negative option while some would choose the positive. The attacking, or the reckless or the conservative or the percentage; there are different ways of looking at it.
However, having said that, one is a mind game while the other is an operating, mechanical, using the body, so the difference is there.
But I do find that, probably, if you like to play snooker, you like to play games, so you've got a games mentality and may be suited to play any type of game, like tactics and rules, like the opportunity to try and win and compete, so that may be why the snooker players have taken to poker quite nicely.
We were in quite early as celebrities. I started to play online at the (snooker) tournaments in the press room on my days off between matches in the build-up to my first ever Poker Million. Players would be walking past saying "what are you doing?" This was back about five years ago. We were in early before the poker boom, it was still fairly low-key.
At the risk of incurring the wrath of your fellow snooker players, which of those players would you say is the stand-out player at poker?
SD: I don't really think I know enough about the game of poker to be able to judge someone. If you were to go on success, Jimmy White won the Poker Million the year I got to the final, but obviously people saw his cards and say he got lucky. Matthew Stevens however has won quite a big amount of money playing at big TV events and I think he is probably considered to be a pretty decent player, he's got a bit of game in him. I like Mark Williams' play because he's got a good attitude and I always find it hard when we play our games behind the scenes at tournaments. He's very difficult to read, and has a good way of covering his bluffs. Stephen Hendry is like some kind of wounded tiger when he plays. If he takes a bad beat, he lashes out!
But we are all learning; as long as we don't think we are any good at the game, that's probably the best philosophy.
UKPN: How would you say, in your mind, poker stands in relation to your snooker and nine-ball pool activities?
SD: In my mind, I am a snooker player; I am not a pool player and I am not a poker player. I am a poker enthusiast and I dabble in pool because of a few things on the television such as the Mosconi Cup and things like that.
The poker thing must remain an enthusiast's, fan-based thing for me. You know, I walk around the trade shows, picking up magazines and being a punter. If someone says, "here's the latest dealer button out in the market", I say, "yeah, I'll have one!" I'll buy all the books. I've got so many books; I've bought 15 since I've been here. They'll all go on the shelf and look lovely but whether I'll read them all….!
I'm effectively a poker slut or groupie! Like the rest of us, I'm walking around with my eyes wide open. "Wanna free T-shirt?" "Yeah, I'll have one!". To be quite honest, I want it stay like that, really. I'd hate really to be regarded as a poker player because a little bit of me would say that's not right. If I had a major success at poker and all of a sudden I'm a poker player, it would be wrong because I haven't had the experience. Perhaps I could do well in a tournament one day but I know full well I haven't paid my dues. As a snooker player you have to pay your dues, you can't take the short route; you've got to have the skill obviously but I'd like to think that anyone who won this big event would be an experienced player who no-one could say, well he got lucky. If I won it, you'd have to say I got lucky! How could a snooker player with five years' experience win? It's not right. So, I want to be an enthusiast.
UKPN: In your experience of playing competitive poker, who has impressed you most out of the pros in the field that you have seen play?
SD: Well, I haven't really been in close proximity all that much to know who, as I've only played with a few pros. It's always nice to see somebody who feels comfortable at the table and I've played with people round the table during this event who I thought, "yeah, you like you've been here before; I don't know your name, I don't know where you come from but you look better than me!
I've played with the Devilfish, Roy Brindley and Bruno Fitoussi. Who else have I played with? I've sat next to the Irish guy who won the World Series, Noel Furlong. I don't think I'm qualified really to know. It's nice to see somebody at ease around the table. I've commentated on a lot, I've done plenty of commentary recently for some of the events that are produced by Matchroom Sport and watching all the players play is just fantastic. I don't really think there is just one person. I've never seen Tony G play though, except for when he really ripped into Surinder Sunar! I like Tony so obviously he has this brat image, but he's actually a nice guy. It's interesting how your personality can change when you go on stage, which is effectively the poker table. So, for that reason, so long as somebody is not rude, and there's a sense of humour involved as well, it's fine.
UKPN: Thank you, Steve, for your time and we wish you all the best in the tournament.
SD: Thank you, I'll need that, that's for certain! Day two is going to be a tough one. 23,000 chips – we'll see!
Ed note: Poker Million; Caribbean Cruise; WSOP…Qualify for them all when you download Ladbrokes Poker and get a $100 bonus too!