UK Poker News Review: Harrington on Hold'em – Volume 1

Greg Hill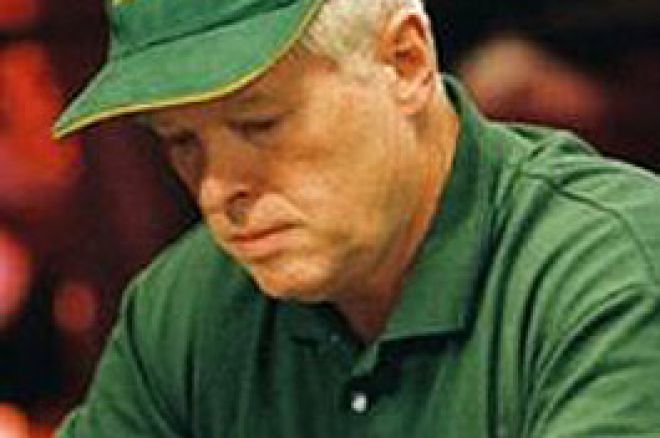 In the first volume of the Harrington on Hold'em trilogy; author "Action" Dan Harrington walks us through his expert strategy for No-Limit hold'em tournaments.
There is no doubt as to the credibility of the author as someone who is 'qualified' to offer tournament poker advice. Harrington has earned over $4.5m in his poker career, is 12th on the all-time WSOP money list and has 2 WSOP bracelets to his name, including victory in the main event in 1995. That's some poker CV!
The book begins in typical 'poker book' style with an introduction to the game of poker, the history of the game and a brief glossary. However, this is not a beginner's book so we are spared the usual basics such as an explanation of the hand rankings, the mechanics of the deal, the betting and the point of the button, which is good for those who already know how to play the game but it unfortunately cuts out and discriminates against a potentially huge market and readership in the total beginner – but that is the author's prerogative I suppose.
The book is split into seven key sections, which roughly represent seven key considerations of a poker hand from start to finish in chronological order.
Part one covers general information about the game of no-limit hold'em, what constitutes a hand, what considerations a player must make before playing any given hand in a tournament situation, what pot odds are and how to control them. Harrington then works through an example hand to illustrate the points he has made in the chapter. This is something that is done in each and every section and serves as a valuable exercise in helping the reader understand the theory and see it in action (albeit in slightly poor diagrammatical form).
Part two discusses playing styles and starting hand requirements for no-limit hold'em tournaments. Harrington explains that there are several styles in which no-limit hold'em can be played, including; the conservative approach, the aggressive approach and the super-aggressive approach. Harrington also describes the 'art of defence' and how to set traps in tournaments. Like all the other sections in the book, section two works through certain example situations in different types of tournament ranging from major live tournaments to on-line single table tournaments.
Part three covers the 'reading' of the table, from physical 'tells' to betting patterns to combining information given in order to make a better read on an opponent. We are also taught in this section to observe ourselves at the table and the importance of being aware of how the table perceives you as a player. The advice Harrington gives on physical tells is interesting but nowhere near as comprehensive as that given by other authors such as Mike Caro for example in his book; 'Caro's book of poker tells'. Compared to this, Harrington is only really scratching the surface but it is nevertheless thought provoking and valuable given its small space in the book.
Part four is a predominantly mathematical section all about pot odds, expressed odds, implied odds, calculating outs and hand analysis. If you're not naturally adept at maths and the thought of calculating a percentage from a fraction brings you out in cold sweats then don't worry, Harrington explains the maths of the game in quite simple form, which is easy enough for any poker player to understand. The section also covers certain key situations that happen in nearly every tournament and gives the odds of each hand winning. These are easy and few enough to be committed to memory and will prove invaluable to any regular tournament player.
Parts five, six and seven are all about the art of betting. Part five covers pre-flop, part six covers betting on the flop and part seven covers the turn and river (or fourth and fifth street as they are referred to in the book). There are some interesting theories in these sections, some of which will be totally familiar to the more experienced player, such as continuation bets, probe bets and analysing the texture of flops. However, some theories will cover new ground for a lot of players, such as Harrington's 'gap concept', 'sandwich effect' and 'squeeze plays'. As someone who has played more than his fair share of tournaments, I feel that there is a lot of regurgitating of the basics in some of what Harrington says but for those players that have stepped out of line recently or have been struggling with their form, it will serve as a timely reminder of ABC betting and will perhaps provide a much needed return to a firmer more solid starting point from which to progress.
This book is extremely popular and a lot of players I talk to have read and enjoyed it and it seems like a lot of newer players, who have taken up the game in recent years are playing in a way that is straight from the pages of this very text, so if nothing else, this book will give you an insight into how 'everyone' is playing these days. There is no doubting that 'Harrington on Hold'em' is an excellent poker text book that will probably improve the poker games of most that read and understand it. Harrington is big on examples and at times I feel he has over-used them and the ones that he uses seem to be a little repetitive (although you could argue repetition is the key to learning) and instead of six or seven examples per section, the book may have been a little more smooth and easy reading with three or four. Each example comes complete with diagrams and notations to help the reader visualise the scenario so they can see the theory in diagrammatical practice. Although this should make the action easier to follow and the advice come to life, I found the diagrams to be a little….. err, well…. naff and difficult to follow at first but after a while you do get use to the format of them.
The book is well written and well structured meaning that you can flick through and pick an individual section whenever you need to. I can certainly say I have learnt a lot from this book and expect to continue to refer to it for some time to come. It is definitely one for the book shelf and definitely a poker book that every self respecting player should own.
Verdict: 8/10
Ed note: Qualify for the Aussie Millions for FREE at 888 Poker with Team Poker News