Norwegian FHM Poker Tour Gets Off to a Flyer

Tony Bromham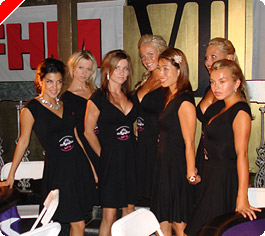 The long-awaited Purple Lounge Poker/FHM Norwegian Poker Tour commenced in spectacular and glamorous style in the attractive capital, Oslo, late last week. It then continued on to Fredrikstad and Lillehammer at the weekend. The Tour continues into several other towns around Norway over the next three weeks, and we hope to be publishing a diary of events as they unfold before the Grand Final in Oslo on 22nd September.
Entry into each event was originally via online freerolls on Purple Lounge Poker , a fast-growing UK online poker room and casino. Inevitably the majority of players on this tour are Norwegians, some of the keenest players in the world. However, not to be deterred, your correspondent at UK Poker News went along to the first weekend as did top UK professional, Simon Trumper.
The great attraction of this series is not in money to be won (indeed, we were reliably informed it is not possible to play for cash in live games in Norway) but by the imagination involved in its organisation.
The main "driver" for the tour is the Norwegian division of FHM, the publishers of the leading lads' magazine, and therefore the focus is on giving players and the local young adult population in the towns on the tour an evening of glamour and club life. Each event and poker tournament takes place in a local dance club with Purple Lounge Poker arranging the delivery of five poker tables to each venue and the provision of a professional company of tournament directors.
The key to the events however is the bevy of top models belonging to Team Aylar - led by Norwegian glamour and pop icon, Aylar - and a talented group of Norwegian cheerleaders. The models have been trained to deal poker especially for this tour and the cheerleaders, who regularly appear at top Norwegian sporting events, perform a daring gymnastic routine later in the evening. Finally, Aylar performs her hit pop song.
The FHM Tour has its base in Oslo, and we had the pleasure of joining the entourage for two days. We met up at the offices of FHM and climbed aboard a luxury tour coach complete with refrigerated drinks box and drop-down DVD screens. At the back of the coach was a large table on which regular sessions of poker were played (for chips only of course!).
The Norwegian countryside, especially on the drive up to Lillehammer, the scene of the 1994 Winter Olympics, was spectacular.
This FHM tour is an innovative move by Purple Lounge and reflects the coming together of the glamour and fashion industries and poker, most clearly demonstrated by the poker-playing Hollywood set in the USA. We can safely expect more of these kinds of developments.
Ed note: Original and innovative poker is yours when you download Purple Lounge Poker and claim a whopping $1,000 bonus