Dial a Dealer for Your Next Home Game

Paul Sandells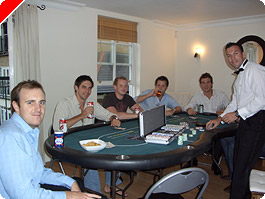 Players requiring a professional touch can now "Dial a Dealer" for expertly dealt and run home games. A hassle-free, quality night of poker entertainment is assured from this new company.
The boom and popularity of poker in recent years has led to a spate of regular home games cropping up all over the UK. With relaxed conditions and, often, the introduction of alcohol, it's tough for the home game organisers to keep on top of the game and rulings. This is where Dial a Dealer comes in. The company will provide tables, chips, cards and most importantly professional dealers for your poker night, at a venue of your choosing.
Dial a Dealer is unique from other similar companies in that they offer an on-line booking service. Three different levels of service are currently on offer, they are:
The High Roller package - For just £199. Players get 5 hours from a professional dealer. A 10-seater poker table including 10 chairs, high-grade plastic cards and heavyweight clay chips.
The Beginner package - For only £249. Players get the same facilities as the High Roller package however, coaching and tutorial is also provided to help improve everyone's game.
The Corporate package - For the more serious, business sized event. Players can expect customisable equipment, lighting, plasma screens, professional/celebrity players and wine tasting.
Dial a Dealer has already dealt to around 1000 individuals to date.
One happy customer is quoted on the Dial a Dealer website as saying, "We had a girls evening playing poker. The dealer was really nice and very helpful and even though most of us had never played before, by the end of the night everyone was up to speed."
Dial a Dealer is the brainchild of Michael Needham and Matt Alford. It was started in early 2005 after they got tired of mixing copious amounts of alcohol with the art of dealing cards at their own home poker games. In early 2006 they managed to raise substantial investment capital and are considering a listing on the Alternative Investment Market with a view to taking the business international.
For more information visit: www.dialadealer.com
Ed note: The dealers at the Aussie Millions are great too. download 888 Poker and see for yourself as you win a seat via our freerolls