Pokerzone Hop Aboard The Broadband TV Bandwagon

Paul Sandells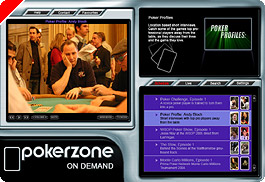 Following on from our recent Poker Channel broadband story, rivals PokerZone have announced the launch of their broadband TV channel. Pokerzone On Demand, or P.O.D promises TV live to your PC, 24hrs a day, 365 days a year.
When Pokerzone say "on demand" they clearly mean it. Viewers are able to access a selection of programming where they can watch what they want, when they want to watch it.
The menu at P.O.D includes: live games, documentaries, news and entertainment shows - including Heads Up With Richard Herring, Monte Carlo Millions and Poker Bowl.
Jim Sibcy, Managing Director, enthused "This is a really dynamic move forward by Pokerzone. We wanted to create an online TV channel dedicated to poker players the world over – all available instantly at the touch of a button. Not only can you view your favourite shows in super-fine quality, but we also believe that the tutorials and archived footage will really help to encourage a lot of new players."
The flexibility Pokerzone On Demand offers is impressive, allowing viewers to select their favourite programmes at will.
Sam Orams, Creative Director of Pokerzone said "This is a massive step forward within television and online gaming. The super-fast, high quality TV on demand service, with brand new shows, up-to-the-minute news feeds and educational content moves Pokerzone to the forefront of gaming related entertainment on the web. We are proud to be at the forefront."
Interested viewers should head over to http://broadband.pokerzone.tv and register to view the broadband TV.
Poker on television and indeed, on the Internet, has grown massively in recent times. The choice for viewers has increased with the launch of A World Of Poker TV and The Poker Channel's broadband service. Whilst some of the programming from other sources is often of a questionable nature, these two, coupled with Pokerzone's service, offer the widest and best choice of poker programming for UK poker fans.
Ed note: Did you know you can play on TV from your PC when you download Poker Heaven? We'll throw in a $200 bonus to get you started aswell.