Rhowena Colclough Gears Up for her Next Poker Dome Challenge

Tony Bromham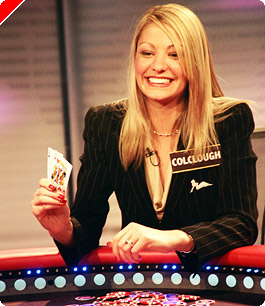 The MansionPoker.Net Poker Dome Challenge is now in its stride and blasting out from the TV screens of America courtesy of Fox Sports Net. This series, as previously highlighted here at UK Poker News, is a Speed Poker™ event comprising six sets of six heats (all six-handed), with the winners of each heat playing a "semi-final" to determine an entrant to the six-handed Grand Final. That is 43 separate programmes! The heat winners each receive $25,000 in cash. The semi-final winners each receive $50,000. This means all six finalists will already have won $75,000 before they line up to compete for the "winner-takes-all" $1,000,000 booty. At that point the other five will have to be happy with their $75,000 and three moments in the spotlight!
It is approaching the time when the first semi-final is to be played. This will be between the first six heat winners and will be played on 7th July for broadcast on Sunday July 9th. This is a cute move by Mansion and FSN, scheduling each semi-final to take place immediately after the six participants have qualified and before the next six heats are played. Amongst other things, it gives the audience a regular additional shot of adrenaline during a long series.
The first semi-final is of considerable interest to UK poker because no less than half the field are from these shores.
The very first heat was won in spectacular style by TV Presenter Rhowena Colclough, which also proved to be a popular win with the audience in the States. Her presence in the show should ensure a good TV audience and maybe even a few supporters over there for someone from over here!
Also from the UK and winner of Heat 3 is John Bowman, a 27 year old Technical Support Officer from Surrey. John says he is a poker addict. Well, this won't cure him; that much is certain! From Heat 5, Jason Wood also qualified from the UK.
Also playing will be Andrew Rogers, a father of three from Montgomery, Minnesota, USA; Marissa Chein, 33 years old from Las Vegas plus the qualifier from heat # 6.
UK Poker News wishes all the players the best of fortunes, especially the British ones!
Ed note: Speed your way to the Poker Dome in an exclusive freeroll on 16th July when you download Mansion Poker here and deposit using the exclusive bonus code UKPNEWS