Interview with Nic Szeremeta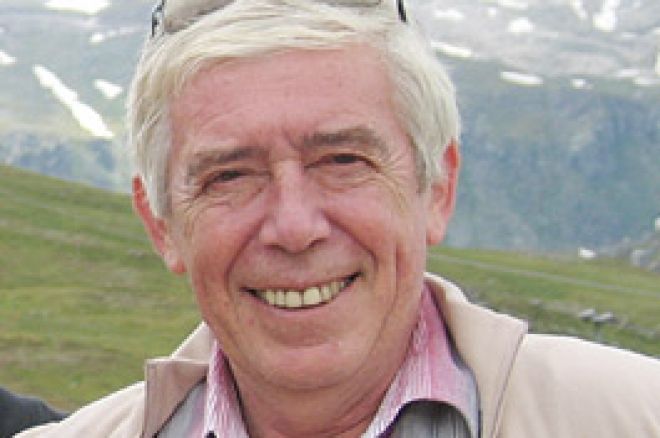 Nic Szeremeta has been playing poker since the early 1960s. A regular face on the European circuit, Nic is the Managing Editor for Poker Europa magazine. Paul Sandells caught up with him for a chat.
UKPN: Hi Nic, thank you for taking a few moments to chat to UK Poker News. You're the Managing Editor of Poker Europa magazine, a publication that will be familiar to many poker players, what inspired you to start the magazine?[/B]
NS: I had been playing around Europe since 1992/93 and had made a lot of friends and contacts. A few years earlier I had taken the view that a poker mag for Europe would be of some value but there was not a big enough market. This was before any Internet poker, of course, so we had to rely on the card rooms and casinos only for advertising support.
Quite a few of our customers, like the ACF, Concord, Grand Casino Helsinki and Casinos Austria have been with us from the very start.
As secretary of the European Poker Players Association I had produced a quarterly newsletter, run off on a photocopier, but it brought home to me how important communications were. Again, bear in mind this was before email and the Internet boom. By the end of 98 the time seemed right.
UKPN: It seems competition in the poker magazine market has increased in recent times. Do you feel we are reaching a point of saturation? What are you plans to keep Poker Europa as popular as ever?[/B]
NS: Poker Europa takes a totally different editorial stance and approach to any other magazine. We focus on news, views and the fun side of the game. What we don't do is to try and pretend that everyone is a winner and adulate the top players as if they were gods. Poker is just a game for 95 per cent of ordinary players. When they are successful we give them recognition. We listen to our readers and infact, all players, rather than preach at them about how losers are mugs, etc.
UKPN: We recently met in the bar at The Concorde Card Casino in Vienna. You weren't playing that evening, but I believe you had a good result at that festival?[/B]
NS: I squeezed a seventh place I think. I don't play so much and when I do I choose my spots very carefully, places wheree I know events are well run and the atmosphere is not too frantic. I have had a couple of other results - a win in Slovenia and a second in Ireland (but there was a deal in both places - a good deal for me or I would not have taken it)
UKPN: You have consistent tournament results dating back to the early 1990s. There must be many memories from those events. Which results stand out for you and why?
NS: I think winning the 7-card-stud in Amsterdam, in 95 or 96 I think, was a real thrill. There was a big field and I had to deal with Jeff Lissandro at the final table. He came third, I think, but I got lucky. I picked up rolled up aces. This sounds like a simple coup but I played it in such a way that he put all his chips in.
Getting to the final of the main event in Amsterdam two or three years ago was a buzz. Unfortunately I was a bit unlucky at the final and finished ninth but I had got pretty lucky earlier to even get there.
UKPN: Many of our readers will remember you from the legendary Late Night Poker series. You must be very proud to have been involved in the TV show that ignited the poker boom in the UK?[/B]
NS: And annoyed. I actually formatted the whole tournament for them. They had no idea what they were doing and I introduced them to the concept of a televised tournament which I had been trying to get off the ground for at least five years. Then I got stiffed by the studio and the producer. The studio owners had no idea what was going on and had no real belief in the programme until they saw the audience figures. I KNEW we only had one chance to make a successful poker show and I KNEW that the audience would get hooked.
UKPN: Although you commentated with the great Jesse May on many episodes, what was your official role on the programme?
NS: F***** if I know! I did not intend to be the commentator but I got dragged in. I did the job because I had studied what the better commentators for other games did (like Peter Aliss on the golf and the other guy doing the snooker) and I was concerned that someone else might screw it up. The one thing I learned was to shut the heck up and let the pictures and the tension tell the story. I tended to exaggerate the quietness and the pauses as an antidote to Jesse May screaming all the time! I also think it was the studio's way of sidelining me.
UKPN: What were the reasons behind you leaving the show?
NS: Broken promises....lies....poor money. It was taking up too much of my time.
On some occasions we used to work 14 hours days to get the post production commentary on.
UKPN: Is it true you used to be a bookmaker? How did you get involved in that line of business?
NS: When I sold my newspaper business I bought a betting shop just for the hell of it. It was almost impossible to make any serious money so I sold it. It was only small and I did it for about 18 months.
UKPN: I couldn't help noticing that you're a man who enjoys a cigarette. Many poker rooms are now banning smoking. Is this "clean cut" image good for poker? Or do you prefer the old school "smokey, back room" image many people still associate with our game?
NS: I think that the good image that poker now has is a good thing and deservedly so. It is nothing to do with smoking though. I think the anti-smoking lobby go over the top. In the USA particularly there are 20 stone people who claim you are a health risk if you light up a fag withing 20 feet of them but, they will eat half a pig for breakfast and think nothing of it! Remember, quite a few yanks used to put coke on their cornflakes a few years ago.
UKPN: I believe you had a spat with Dave "Devilfish" Ulliot recently. The Devilfish made several remarks on The Hendon Mob's web site. What was that all about?[/B]
NS: I said in a book review that it told the story of how he rose from a small time thief to one of the best known poker faces on the planet. He objected to being called a small time thief! He pointed out that he did safe breaking and off-licences. It was all a bit odd. Anyway he went a bit over the top and apologised later, which was good of him. We are really the best of pals and I have a lot of respect for him.
UKPN: Finally, what are your plans for the future in regards to poker?
NS: Well we are continuing to expand Poker Europa. We have an all Italian edition and an all Spanish edition coming out this year. I don't play so much but I do travel about a bit to meet the players and the customers and to get a feel for what goes on in the poker village.
I will keep doing it as long as I enjoy it.
At some point in time I may sell the magazine as a going concern...thats what I did with my newspaper group and like they say everything is for sale apart from the wife and kids (and I don't have a wife to sell).
UKPN:Thanks Nic, it's been a pleasure. See you on the circuit soon.
Ed note: Download Euro Poker to take on the best in Europe. We'll throw in a $150 bonus too.