John Gale – WSOP Bracelet Holder – Reports From Las Vegas!

John Gale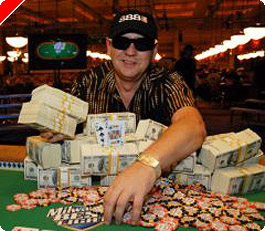 John Gale is a UK Poker News contributor - that much we know. Now he is also a WSOP Bracelet Holder! A fantastic achievement and thoroughly deserved after that cruel, cruel double bad beat in the $5,000 Pot Limit Hold'em last year when clear chip leader heads up against Brian Wilson.
Hot off the press, here is John's latest report from the WSOP. A number of bad things have happened in the administration of the World Series and John discusses one of these – the Shootout fiasco when his good friend Harry Demetriou dared raise his head above the parapet!
John might also mention the $2,500 Pot Limit Hold'em tournament…….read on.
Fear and Loathing in Las Vegas
The fear? Definitely the bad beats that I've suffered. The loathing? Some of the guys' feelings about the World Series, especially that well known trouble-maker Harry Demetriou!
Yes, my best buddy Harry did what very few others have managed to achieve in either this or any previous World Series of Poker. What was Harry's phenomenal accomplishment? He managed to get himself disqualified from the No Limit Hold'em Shootout! Now, before you all decide to stone Harry, or maybe even tar and feather him, let me explain why.
The Shootout was supposed to be 100 tables of ten but after about 25 minutes play the announcement came over the tannoy that four stacks at each table were to be removed as they only had 600 entries; thus the tables were reduced to six-handed.
"What's wrong with that?" you may well ask. Well, the problem was that the players in the 1 and 2 seats were able to steal non existent players' blinds uncontested, giving them a definite advantage.
Harry, to his credit, stood up and complained vociferously (if you don't know what that means - bloody loudly!) about the unfairness of the situation, with which most of the room agreed.
He could well have been given a warning for loud and abusive behaviour or even a 10, 20, or 30 minute penalty but the tournament floor person instead took it upon himself to disqualify him and he was to all our astonishment seen to be escorted from the room by security.
An over reaction by the Rio? Not half!
Harry did however get a refund on his entry (and no, he wasn't pulling a stroke as he had acquired substantially more chips than his starting stack). Give Harrah's credit though, they did agree to meet with a panel of players to discuss our problems and attempt to rectify any criticisms that were levelled against them.
So, trouble-making Harry, Tony Bloom, Brian Wilson and myself popped along to the Rio and met with the "Hierarchy" for about an hour and a half. Actually, they were a pretty nice bunch of guys, we aired our grievances, most of which they were in full agreement with, and gave us their assurance they would do everything in their power to rectify the problems by next year.
Personally, I fully believe them and am delighted that some progress has been made in making the World Series an even more enjoyable experience for all concerned. Our gratitude for listening, Harrah's!
By the way, this is - even with all its faults - still the Greatest Poker Show on Earth!
The Brits Have Arrived!
Last time I posted, I told you regrettably that I couldn't report any British success yet; I am delighted to say that has now changed!
John Shipley and Julian Gardner both made the same No Limit Hold'em final table with John finishing 9th and Julian 3rd.
Nick Gibson finished 5th in the $10,000 Omaha.
Harry Demetriou made the final table of the Six-Handed No Limit Hold'em, unfortunately and unluckily finishing 6th.
Roland De Wolfe did a great job in finishing 3rd in the No Limit Shootout.
From Ireland, Padraig Parkinson came very close again in a No Limit Hold'em final table but unfortunately finished 3rd.
All of the above with just a little bit of luck on their side could easily have been Bracelet winners, as we all know the difference between finishing 3rd or 1st is just one bit of luck at either the right or wrong time.
Well done all of you anyway - you've done Britain (and Ireland) proud!
But still no Bracelet for the Brits - that is, until today where, with a great deal of good fortune (which you've got to have), a Brit finally got gold in the $2,500 Pot Limit Hold'em event! After a rollercoaster final table and a see-sawing heads up duel, Maros Lechman was finally and stubbornly beaten into 2nd by a very lucky Englishman. Who is it you're asking? Well, modesty prevents me from telling you, but I'll give you a clue - I'm wearing the Bracelet whilst typing this!
Mixed emotions though; while I'm over the moon at winning the event, I got very lucky in busting my good friend Joe Hachem in 4th. Joe played great and didn't deserve the suck out I gave him, but this is one classy individual and, sick as he must have been feeling, still had the grace and good manners to phone and congratulate me.
Joe depicts everything that is great about this game we love so much. Sorry about the suck-out Joe but I am very, very proud to have got my piece of gold.
Now I'm wondering how do I top this? Very probably "I don't", is the honest answer.
There are still quite a few events to go, so I'll post again shortly with more gossip and updates from Vegas, and hopefully more British success.
RULE BRITANNIA!
Ed note: John Gale won a Bracelet with 888.com. Play the big games when you download 888 Poker and claim a $100 bonus.