John Gale Wins WSOP $2500 Pot Limit Hold'em

Paul Sandells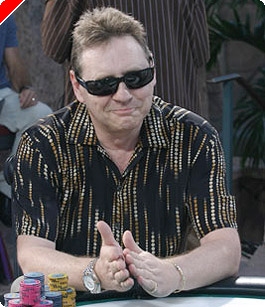 UK Poker News is delighted to learn our friend and contributor, John Gale, has picked up the first British bracelet of the WSOP 2006. John beat over 560 runners, including current main event champion Joe Hachem, to claim the title.
After going so close in recent years, few would deny John Gale deserves to pick up a bracelet at the WSOP. John, who hails from Bushey in England, has been grinding away since day one of the WSOP. His victory earns him $374,849.
The $2500 PLHE final did not look the easiest of tasks for John. The final nine were:

Lee Markholt
Maros Lechman
Joseph Hachem
Jeffrey Roberson
John Gale
Lee Grove
Alex Jacob
Kevin Ho
Greg Alston

Joe Hachem was once again proving his main event victory was no fluke by having a seat in the final nine, however, the Aussie was very short stacked. Hachem eventually took a creditable 4th place for $90,482. Eventually, the table was heads-up with Gale facing the impressive Maros Lechman. Despite being out-chipped by almost two to one, John turned things around and, when the dust settled, over $370,000 was on the table for John to admire, along of course, with the coverted WSOP bracelet.
John now joins a select bunch of players that hold a WSOP and WPT title.
UK Poker News awaits comment from John on his victory. Stay tuned.
Ed note: Join Bet 365 Poker for $50 in free chips every month