Rising Stars: Interview with Jeff Kimber – Part 2

Tony Bromham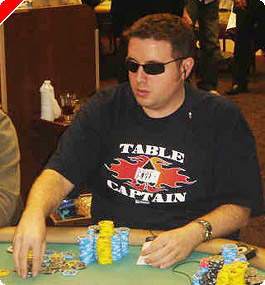 UK Poker News is pleased to present part 2 of our three-part interview with the talented poker player, Jeff "JaffaCake" Kimber, a sports journalist.
In part 1, Jeff explained his poker background and his route to qualifying for the Ladbrokes Poker Cruise and the WPT at San Jose.
In this part 2, Jeff describes in full the excitement of playing through to the final table on a big poker cruise Main Event.
In part 3, coming soon, Jeff will explain what it takes to go deep in a major WPT Main Event. Don't miss that!
UKPN: Tell us more about the Main Event itself on board the Cruise. How would you describe your progress and what was the quality of poker you encountered along the way? Were there any notable players on your tables?
JK: The main event was spread over three rooms on two floors of the boat, and once I found my table I didn't recognise one player on there. To make matters worse, it soon became apparent I was one of only two non-Scandinavians, although, as soon as the betting started, that became obvious even before they spoke. We started with 10,000 chips and blinds of 25/50, yet within the first 10 minutes we'd had two hands that had been raised, reraised to 3,000 and another raiser coming over the top all-in. It was only when Jesse May came round and asked our nicknames that a few knowing looks were exchanged, especially between me and the Scandi' boys. He asked if I was JaffaCake, and then went on to confirm the nicknames of the other players, a lot of whom I'd clashed with either in tournies or, more so, on the big no limit cash tables.
It became apparent that a lot of these boys were here for the cash action, and weren't too bothered if they went out of the Main Event so were here to gamble. This was far from my ideal table at this stage of a tournament. Thankfully, I was moved pretty early on as it became apparent the next table were playing six-handed while we had 10! Mad Marty Wilson, whom I've played with before, was conducting matters in his own style on that table, and I recognised Eric Dalby, the winner of the first Ladbrokes Cruise, as the player one to my right. I settled in here and was beginning to find my feet when our table was broken. It was off to room number two, where a very special seat was waiting for me!
To my right was a mate of mine, Spencer, who was runner-up to Eric on the first cruise. To my left - the Devilfish! I was straight into the action and it wasn't for a few hands that I noticed one to the left of the Fish was Rory Matthews, one of the best young players in Britain. I knew from there I wasn't going to find many easy blinds to pick up! It was a bit of a battle on this table, with the dry run of cards not helped by Devilfish's insistence on running me and Spence through his repertoire of poker stories from his long time in the game.
Towards the end of what must have been a 12-hour day, our table broke and we all moved upstairs to the main card room on the top deck, where Stuart Fox, another excellent young Brit, was running over my new table. I didn't pick up a hand for the last hour, and with blinds getting bigger, I knew I was struggling. I almost just wanted half a hand to lump it in with and either double up or get out of there as my stack dwindled to less than what I started with. On the last hand of the day I decided to go over the top of Foxy with A8 suited, in the knowledge that I couldn't keep on passing and I would have to make this move the next day with the blinds even higher. Fortunately I had just enough for him to pass to the raise, but I ended the day 97th of 99 with 9,700 chips, 300 less than I had started with!
However, with so many good friends and excellent poker players on board, a chat with Paul 'Action Jack' Jackson, Roy 'the Boy' Brindley and Micky '147' Herron, all guys who have been playing for countless years and whom I respect, gave me the determination to not let that 12-hour slog go to waste. I was lucky enough to find queens second hand back, with the chip leader on my table (he'd outdrawn Foxy's aces to get such a stack) raising most hands. I reraised, he called with a raggy ace and doubled me. A couple of hands later, Scandi' boy raises again and I find queens again. He calls the reraise all in again, although this time I'm far less pleased to see his AK. However, it stood up and all of a sudden I was above average and could play my game. Having started day two in 97th of 99, I finished it 3rd of 29 and with real belief I could go all the way.
When we played down to the final table of six, I became a bit short with ten left, but Foxy, who was back up to probably second in chips, thought I was at it raising his blind when he had AQ, put me to the test for all my chips and doubled up my KK. I then upset Bengt Sonnert, calling his reraise with my KQ of hearts (he was short and I had the pot odds to do so and also a decent stack) and hitting the queen on the river against his A10. Bengt had had some terrible luck, losing a huge stack with AA against Skalie's 99 all in preflop, and that luck seemed to carry on for him. At the final I played exactly how I had planned, letting the two short stacks bust out before getting busy, and eventually going out in fourth, reraising all in with AK v JJ in a pot which would have basically taken me to heads up, and not managing to find one of my outs.
UKPN: Coming so high up in the event must have been a fabulous experience. How did you celebrate?
JK: It was a great experience, the whole cruise was, and it helped that a mate, Skalie (Jon Kalmar) was at the final table with me. We celebrated every day we got through (as did everyone who had gone out judging by the bars!), so the night of the final was more of the same down the bar until the small hours. When we left the boat in Miami, a few of us headed to the mall for a spend up, but to be honest as a pretty successful player online, I haven't struggled to buy what I want when I want, and I'm also building a bankroll to play poker at the highest level, so there was no huge blow out with the new found wealth.
UKPN: Just two months later, you sat down at the WPT $10,000 Bay 101 Shooting Stars in San Jose, and finished an incredible 9th place from over 500 entries! How did you end up taking your seat in the first place – a direct parlay from the Cruise prize or an internet qualification?
JK: That was another online qualifier. A mate of mine had an interview coming up to work in marketing for the WPT, and asked me to download their poker client and play a bit in case they asked him about it at interview. One Sunday evening, I'd arranged a meeting with my ex-girlfriend to sort out some stuff, but she was late. That didn't impress me so I thought I'd enter the Ladbrokes $100 rebuy and when she does turn up I'll tell her we'll have to rearrange now as I'm playing poker! I opened up the WPT site and saw they had a £200 satellite just about to start for the San Jose seat. With only 15 entered and a $12,000 package guaranteed I couldn't ignore the value. With no second place it was a battle, and the heads up lasted about 45 minutes when I got unlucky twice all in with the best hand only to be outdrawn, but eventually I took the seat. I also placed third on the Ladbrokes tournament running concurrently, taking about $11,000 in that, so I was quite happy that my planned meeting didn't go ahead that night!
UKPN: Tell us about your trip out to San Jose and the lead up to the WPT tournament?
JK: I think the cruise experience really helped. I'd played with such good players I wasn't nervous, even though the entry list was unbelievable; you name a poker player, he was there; Brunson, Reese, Negreanu, Ivey, Chan, Ferguson, it goes on. My mate was still waiting for his fourth interview with the WPT, so he came with me to San Francisco, where we spent a weekend on the beer, and then down to San Jose. We drove down on the Monday (the first first day) and popped into the casino to see what was going on. It was like a set up, as we walked in the players were just going on a break, but there was Phil Hellmuth, throwing his arms in the air, shouting 'how can he call me with that?', doing the Super Brat to perfection, which was a great way to start the week. We bumped into Doyle on the break and said hello and got a picture, and the amount of 'faces' there was unbelievable.
Check back to UK Poker News for the low down on Jeff's tremendous tournament at San Jose, making the top ten from over 500 players in a stellar field.
Ed note: Whether it's the Poker Cruise or the Poker Million, download Ladbrokes Poker for the best tournaments