Interview with Malcolm "The Rock" Harwood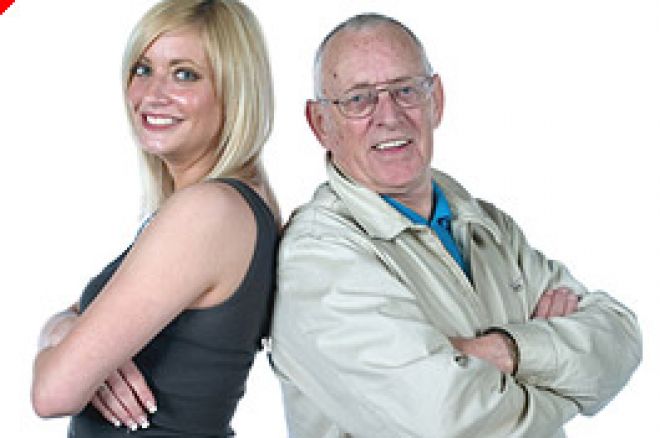 One enjoyable aspect of being an online poker player and enthusiast is the ability to converse and meet with your fellow aficionados via the many and varied online poker communities. One of the friendliest forums in the UK can be found at A World of Poker (www.aworldofpoker.com) behind which lurks a distinctly "old school" poker personality who has plied his poker trade for many a year long before the internet spread its tentacles into our homes. Malcolm Harwood, "The Rock", is a true poker veteran and now, together with Alistair "The Fox" Findlay, has branched out into a world of television!
UK Poker News caught up with Malcolm to find out a little more about this venture.
UKPN: Malcolm, thanks very much for taking the time to talk to UK Poker News as I know you have been very busy lately. You are involved in a new poker TV show on British television. What can you tell us about it; the show, the concept, the origins and the thinking behind it all?
MH: Well, where to begin? It has been quite a journey. An opportunity arose at the turn of last year. It started off with an invitation to present a 15 minute piece and ended up as an hour long programme. Not quite sure what the path was but I know it was a "rocky" one, excuse the pun!
The original idea for the show hasn't changed a great deal in that time however. Light-hearted, informative, educational and covering all aspects of poker. Apart from Lynsey Horn, who is a star, we are all amateurs but everyone has worked tirelessly to get us up and running.
Within the thinking behind the concept, we wanted to make a programme for the "man in the street". Something they could relate to and become a part of. We have a number of features we will be introducing over the coming weeks and months that will help. Unless we give our audience good reasons to watch our programme then they will go elsewhere. I also believe that humour is vitally important. Poker on TV is a bit too serious at the mo' and if we can make one person smile then I will be happy.
UKPN: Give us an honest assessment of what it has been like to be involved in such a process, and some examples of the "ups and downs".
MH: "Mammoth" is the word that springs to mind. I think if we had known at the start how difficult it was going to be we would have run a mile. But here we are seven months later and a lot lighter in the pocket but we made it. Rough around the edges at the moment but "on air".
There have been so many twists and turns that I could write a book. Let me give you one example. First show due to air at 11pm; at 6pm, the EPG (Electronic Programme Guide) was still not listing our show; major panic! We knew everything was in place but still nothing. Then at 6.15pm up it came on the Sky Programme Listings. Big sigh and smile - everything will be fine now. There I am at 11pm, on tenterhooks, and NOTHING! Big red face! It turns out that the agency responsible for airing the programme was "under the impression" it was not due to air until Tuesday – haha! Anyway, after numerous phone calls, we eventually went on air at 12 midnight.
UKPN: Now that the TV show has finally aired, what is your (the organisers') impression and have you received any initial feedback or reaction to the shows?
MH: Our first objective was to make a programme that was watchable - in the knowledge that with each show we would learn and improve. On a scale of 1 – 100, we are at 10. But with the great team we have it WILL improve both in content and presentation. The feedback has been great, both positive and negative - a lot of constructive comments from our members which will help us improve.
UKPN: This new show has been accompanied by the launch of a new, much improved, website, www.aworldofpoker.tv. Give us an idea of what "AWOP" hopes to achieve with this portal?
MH: It is really an extension of www.aworldofpoker.com. With having so much content in the TV section we felt it would be simpler to create its own website within AWOP. Kate Langshaw, our Technical Director, has done an amazing job and, in the same way as AWOP has developed, so will www.aworldofpoker.tv. In actual fact it is AWOP.com that has been re-developed and AWOP.TV has been created as an extension.
UKPN: AWOP is quite closely involved with Littlewoods Poker. Tell us more about this and the benefits you feel the relationship offers your members.
MH: After a number of "trials" with our online partners with an array of promotions, it became apparent that www.littlewoodspoker.com "spoke our language". As a British-based company with the justifiable tag "the trusted name in gaming", they understood very quickly what the underlying philosophy of AWOP was about. The support they have given us from the early days has been immense and without it we would not be where we are today. They without doubt recognise the scope of our members and work with us to provide "something for everyone".
UKPN: Turning to your own poker career, Malcolm, it has of course been a long one! I last bumped into you at Reading for the Southern Masters a couple of months ago in which you claimed a creditable 4th place in the main event to pay for the weekend and leave you with some spending money. What quantity of competitive poker are you able to play these days, given your competing media commitments?
MH: Very little unfortunately. I am now down to around fifteen hours a week on the internet and am only playing live events when sponsored by The Players Club.
UKPN: You work on AWOP with Alistair Findlay but how far do you go back in a purely poker-playing context and where did you play most of your poker?
MH: I met Alistair about five years ago when I moved to Blackpool to play the cash games at The Grosvenor Sandcastle Casino. I am now back in Birmingham and play when time allows at The Broadway Casino.
UKPN: Looking to the early days, tell us a bit about when you first played poker seriously. Can you describe where you played and what the poker environment was like then (compared to now)?
MH: Poker became a serious business for me when I started playing at The Victoria Club in London in the late sixties. Five card stud, stripped deck was the game played. It was 24 hours a day and 7 days a week then and I loved every minute of it. There seemed to be a lot more camaraderie in those days compared to today. Action in casinos was very limited and outside of The Victoria Club I played in private games throughout London. The big problem was cheating and marked cards were rife; today's players are much better protected.
UKPN: Did your knowledge of most of the regular players – and they of you - give you an edge then? What would you say is a typical professional's edge in today's internet qualifying environment?
MH: In my early days I had no edge, I was just exceptionally lucky. My edge came when I started going to Las Vegas on a regular basis and picking up important information from the local professionals. When Hold'em came to the UK I had a massive advantage along with a few other players that had gone to the USA, in both cash games and competitions.
In today's internet environment the professional's edge in my opinion comes from sheer experience. This experience enables him to have good control when things are going wrong and not tilting and having good bankroll management. The biggest weakness the new internet players have are going on tilt and playing beyond their bankroll comfort zone.
UKPN: TV viewers can still see you in action from time to time in the frequent re-runs of Late Night Poker, which was originally a nocturnal series shown on Channel 4. How did you get involved in it?
MH: I received an invitation to play in the first Late Night Poker show after someone dropped out.
UKPN: Most people regard that show as groundbreaking. What was it like to play, and generally to be involved in? Did you appreciate then that poker might go on from just being "alternative" TV?
MH: I loved playing on TV from the start and the original players were given the option to play in the later shows. It was new and exciting and I could not wait for the next series to come along. From the beginning I had a feeling this was to be the start of something big and sponsorship would soon follow. This proved to be the case and several players from LNP have become rich and famous as a result. I feel proud that I was involved in the beginnings of what became an explosion in poker.
UKPN: Looking forward, what do you see yourself doing in poker in the next few years; more TV or do you still have unfulfilled ambitions on the playing side?[/B]
MH: I would like to think that I have a couple more years in the TV side of poker and would like to help new players, especially the ladies, move forward in the game. No unfulfilled ambitions! Poker has allowed me to meet some wonderful people and see most of the world. It has been a roller coaster ride but with few regrets.
UKPN: Malcolm, it's been a pleasure talking to you and UK Poker News wishes you and all at A World of Poker the best of success.
MH: Thank you. I have enjoyed this interview and hope I have been of some help.
Ed note: Want to win $250,000 on British TV? Download 888 Poker and qualify now for the 888.com UK Open