32Red Reports More Strong Earnings and Bet Direct Progress

Tony Bromham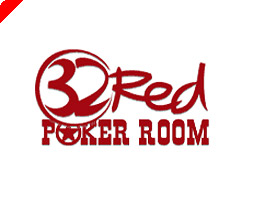 The stock market quoted UK poker and casino company, 32Red plc, has signalled continuing strong progress in its operations for the six months to 30th June 2006.
The company states that its total revenues were up by 48% on the same period in 2005, to £6.24 million. The bulk of this is from its award-winning and well-established 32Red Casino operations. However, poker revenues are growing fast, up over 134% to £650,000. The impact of the big acquisition of Bet Direct has yet to be felt. For the three weeks it was owned in June, revenues were £590,000.
32Red's total active customers grew by over 400% to 44,539 (boosted by Bet Direct). Of these, Casino active players were 9,556, up over 63% on the 2005 equivalent period and Poker's active players up to a similar number, an increase of 233%. Bet Direct's active customers since 7th June (the date of purchase by 32Red) amounted to 25,047.
Another important measure is the number of new players as well as existing active ones. For 32Red, the total new Casino and Poker players in the period increased by 125% to 13,253; while the total new Bet Direct customers since 7th June were 2,904.
Finally, the average Casino player yields were £420 per quarter in the first half of 2006 and the quarterly Poker revenues per active player were £48.
The Chief Executive of 32Red plc, Ed Ware, said:
"The 32Red business has continued to make good progress in the financial year to date. In common with the industry as a whole we have experienced a short-term impact to gaming revenues as a result of the recent World Cup. However, we remain confident that the business continues to be well placed for the current year. We are pleased with the acquisition of Bet Direct, and integration plans are on course. Significant growth opportunities have been identified and are being actively pursued"
32Red is an award-winning online casino and poker operator licensed, regulated and based in Gibraltar. The Company is allied to "best of breed" partners including Microgaming Software Systems, BarclayCard Merchant Services and GibTele.Com. For the past three years, 32Red has been awarded "Best Casino" by Watchdog and Player Advocate site, Casinomeister.
The Company attracts players from around the world but has a predominantly UK
player base. 75% of 32Red Casino revenues come from UK registered players.
On 23rd September 2005 the Company listed on the London Stock Exchange's Alternative Investment Market. In the first half of 2006 the Company completed the acquisition of UK sportsbetting and gaming firm, Bet Direct and became official main club sponsor to FA Premiership football club, Aston Villa.
Ed note: Download 32Red Poker for an instant no-strings bonus of $10