Vive La France! (not)

John Gale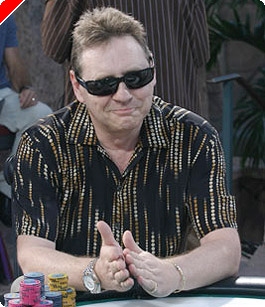 UK Poker News is very pleased to say that leading UK poker professional and WPT winner, John Gale, has once again written for us – this time from a crowded room somewhere in Paris!
It's been some time since my last article but having gone to Vegas for the WSOP event in which I committed suicide on day two; and going on to the Mirage where again I departed on day two playing poker of the Japanese Kamikaze variety, I decided to come home early, missing the Mandalay Bay WPT in favour of a good rest from poker.
A complete break I thought, not even any online games; and having gone away to Spain for a while and chilled out on my first real holiday for over two years, returned refreshed, rejuvenated and itching to get back to playing.
First tournament selected was the WPT in Paris and after having extreme difficulties with the Aviation Club (de Paris) in helping me get a room, I managed to book one in a nice little hotel just off the Champs Elysees. The room was pretty small but it was clean and had a nice ambience so, all-in-all, I was feeling pretty good about getting back to the thing I love best and naturally do worst.
All good and happy feelings soon departed after being in the Aviation Club for around one and a half minutes. No detriment intended to my good friend Bruno Fitoussi but they really have to make a vital decision as to what they really want; ie, a WPT Championship event or loads of live cash games because, based on the evidence of the last few days there, they clearly cannot operate both successfully.
The Aviation Club is a beautiful old building set in the heart of Paris in the midst of the Champs Elysees and has a wonderful atmosphere along with its grand and characteristic decor and furnishings.
But not so in the main poker room where tables are crammed together and you sit on very uncomfortable chairs and are crushed against your fellow players ten to a table. Whereas this is the norm and perfectly understandable and often inevitable at the early stages of a tournament, you expect a greater degree of comfort and 9-handed tables as the tourney unwinds and depletes itself of competitors. Not so at the Aviation Club because, as tournament tables break, they are immediately filled by cash game players - extremely non-conducive for Championship tournament play; after all we had paid €10,000 a head to enter and support the Grand Prix de Paris so maybe, just maybe, we were entitled to feel a little put out at the lack of space surrounding us.
I started play on day two; it was 96 degrees outside but, due to the lack of air conditioning in the club, temperatures rose to what must have been 120 degrees inside. No, it isn't just me; every person there, including the French, were complaining about the heat. During the dinner break, I had to go back to my hotel and shower and change clothes due to being saturated from the heat.
When players tried to open windows they were informed it was forbidden to do so! Yes, "forbidden" was the word used; China, eat your heart out; France now has the "forbidden city" and frankly they are welcome to it.
Some of the dealers there were excellent but there must have been an equal amount of dealers who didn't have the first iota of an idea as to what they were doing, there were the usual amount of controversial decisions, all being awarded to the French by the way (surprise, surprise), and the general feeling of everyone I spoke to was not to return for next year's event, a sentiment I support wholeheartedly.
Even when we were down to around 60 players, late on day two, they still maintained the 10-handed policy. The heat and discomfort were all major factors in labelling our treatment as players nothing short of disgraceful.
I went out late on day two before the money (damn it) when I moved all-in with
K6 suited and took a very unlucky beat when my opponent, who called me, was fortunate to have his weak hand of pocket aces hold up against me.
Funniest thing happened when sitting down to play at the start of the tourney. A young internet qualifier asked me why the press were all taking photos of me. I replied "dunno, maybe they're confusing me with someone else; a lot of people have told me I look a lot like John Gale." He turned and examined me again and then said "nah, you're nothing like him." It amused me and the rest of the table enormously.
Day two started well with Phil Hellmuth sitting three to my right but then the rotten spoilsports moved him after about an hour, really unfair.
Never mind, I am back in Blighty now and looking forward to a very busy poker schedule over the next two months. I have a freeroll for a million dollars on Sunday courtesy of Mansion Poker. It starts at 4.00pm Vegas time (Midnight our time) where they have invited a table of top pros; Marcel Luske, Michael Gracz, Scott Fischman, Harry Demetriou, Tony G, Kenna James, Michael Mizrachi, Gavin smith and me to battle it out online. The top two places win seats for the six-handed Grand Final on July 12th. By the way, I was referring to the other players as "top pros", not me, but still very happy to be there.
I hope to do a couple of events at the Vic next week and I have my Poker Million heat on Wednesday next.
Then it's off to Vegas for 7 weeks' hard grind, where my sole ambition is to finish the Series with more world ranking points than my best poker buddy Harry Demetriou, to help put me well on the way to win our $100 dollar bet for the year.
I will send regular postings with results, gossip and updates from sunny Las Vegas so keep watching this spot.
I can't possibly end this piece without saying something very important and on all our lips during the World Cup:
COME ON ENGLAND!!
Ed note: WSOP seats to all events can be had when you download Bet365 Poker