WSOP 2006 Tournament of Champions Won By Mike Sexton

Tony Bromham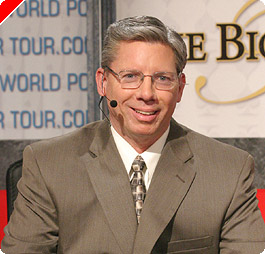 A star-studded line-up dripping with poker gold came together for the third WSOP Tournament of Champions in which exclusive players are invited in a freeroll by Harrah's to play for a first prize of $1,000,000.
The 27 players who started the event were down to ten by the Final Table and they included Ireland's Andy Black, a familiar face at this venue having been eliminated an unlucky 5th in last year's WSOP Main Event. Black came to the table for the TOC 2006 with a huge chip lead. With less than half of Black's stack was Daniel Negreanu in second spot followed way behind by Chris "Jesus" Ferguson, Mike "The Mouth" Matusow (the 2005 TOC winner), Mike Sexton (veteran Bracelet winner and famed WPT presenter) and Gus "The Great Dane" Hansen of Denmark (three times WPT winner) amongst the exclusive field.
First thing to decide would be the "bubble" player in 10th, the last unpaid place. Sadly for Gus Hansen, it was he, whose "big slick" fell foul of Daniel Negreanu's pocket pair.
Andy Black had chips to use or burn. At first he used them but again Negreanu was wielding the swiftest rapier, taking out Sweden's Daniel Bergsdorf (7th in the 2005 WSOP Main Event). Black soon took out Thang Pham in 8th place.
Chris Ferguson succumbed in 7th at the hands of Darrell "Gigabet" Dicken, who in turn was ejected in 6th place by Mike Sexton, who by now was accumulating chips with abandon.
Meanwhile Mike "Matusow", renewing final table hostilities with Andy Black (they met at the WSOP 2005 Final Table) reversed the match placings this time and put Black out. One huge chip lead once again up in smoke for Andy Black.
Watching all this action was Chris Reslock (invited by virtue of his victory in the WSOP Tournament Circuit at Atlantic City) but Mike Sexton was a man possessed with matching cards and it was good night to Reslock who took away $150,000 for fourth place.
Three heavyweight players remained – Negreanu, Sexton and Matusow, and they ground out a long session before eventually Matusow came off the worse in a clash with, you guessed it, Mike Sexton. Matusow was still able to add $250,000 to the $1,000,000 from last year's event.
Heads up, chips were marginally in Sexton's favour and the pair proceeded to join battle for a huge amount of time. Our man at the scene, Earl Burton, counted over 300 hands in a five hour period!
Eventually, the contest was decided by a full on blast from pocket rockets. Sexton won $1,000,000, over three times the prize for second. Negreanu was so tired that he pulled out of the next WSOP event!
For more on Mike Sexton's win on over to Earl Burton's Tournament Of Champions report.
Ed note: There's still time to get to Vegas. Download Bet365 Poker to maximise your chances.