The Poker Channel Launches Free Broadband TV Service

Paul Sandells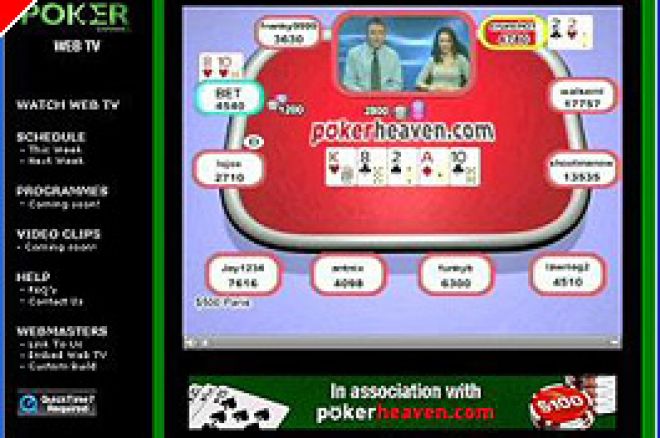 Our friends at The Poker Channel have announced the launch of their new free broadband poker TV channel. This free-to-air broadband channel will allow a worldwide audience to tune in and watch the programmes.
The broadband service will run to it's own schedule, making it different from the regular SKY TV channel. Programming schedules will be available to viewers on www.pokerchannel.co.uk up to one month in advance of start times. The service features exclusive world-class tournaments such as the British Poker Open, World Speed Poker Open and the European Poker Championships. Also airing are documentaries such as the 'Up Close' series giving an insight into world class pros such as Greg Raymer, Howard Lederer and Chris Ferguson.
The service will also be providing daily coverage from major worldwide poker tournaments, featuring exclusive news podcasts and downloadable video clips. Interested readers should head over to www.pokerchannel.co.uk
The channel will be allowing poker-oriented web sites free access to the stream. Josh Thomas, manager of the broadband service at the Poker Channel says: "Not only is this a fantastic affiliate resource – it is a great retention tool for all poker-interest sites. The content is different every day and will keep visitors returning to watch on a daily basis."
Crispin Nieboer, CEO of the Poker Channel said: "We are delighted to be able to offer international poker fans a professional, high-quality yet free TV service wherever they may be in the world. As consumers seek new ways of accessing programming and broadband penetration soars, the Poker Channel continues to meet its viewers needs, by providing them with multiple outlets to watch their favourite shows."
The Poker Channel is the world's first TV channel dedicated to the game of poker. The channel embodies the culture, lifestyle and attitude of poker fans worldwide and offers a one-stop shop with more expert coverage of major poker tournaments than ever before. The Poker Channel is available to all Sky subscribers, as a free to air channel, and is located under the Gaming section Channel Number 844.
Ed note: Did you know you can play on The Poker Channel by Downloading Poker Heaven we'll throw in a $200 bonus on your first deposit too