Shane Warne's Cricket Poker Delivery

Tony Bromham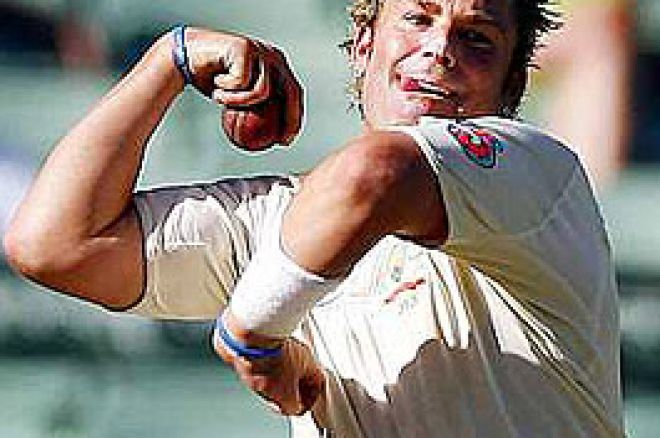 Summer is almost upon us which, for those living in the South of England, might mean the odd trip down to the Rose Bowl – home of Hampshire Cricket - for a relaxing day's sun-worshipping while watching the ball sail over deep square leg or seeing the batsman play onto his leg stump following a flipper from Warne.
Well, that should lose our American audience!
Shane Warne is of course probably, possibly, definitely (delete to suit taste) the greatest spin bowler ever to grace a cricket pitch. To see one of his special deliveries turn into the stumps while the batsman is left sitting on the floor with his legs in a knot is poetry.
You do not become Wisden Cricketer of the Century in the year 2000 just for turning up!
While Warne is as Australian as Ayers Rock, UK cricket-lovers are able to see him playing, from time to time, spinning his magic for Hampshire so we were intrigued, but maybe not surprised, to find he has a poker site waiting for business including something no other poker site can possibly offer the average player – training sessions with Shane Warne!
Like all Aussies, Shane gets to the point and lets you have it as he sees it. So, why not call the poker site "PokerCricket"? Well, why not? He plays cricket and he's offering poker. Seems fair.
Shane Warne's site, PokerCricket.com, is a fairly simple affair offering basic tips and making comparisons with the mentality needed to play top level cricket. As Warne points out;
"A weak poker player who loses money looking for the right cards is a fish, while a batsman seen as the weak link by a bowler who frequently takes his wicket is a bunny". Straightforward and to the point!
There is also Shane's Blog although it hasn't got out of the traps yet, or should that be pavilion? Overall, the site is not heavily blessed with information and doesn't show too many outward signs of changing too much.
Quite what our cricketing forefathers would make of it all is open to speculation but times, they are a-changing. Over!
Ed note: Hit your opponents for six when you download Bet365 Poker right here. You'll even be able to bet on the cricket.[/I]