Scotland Produces Students of the Game

Tony Bromham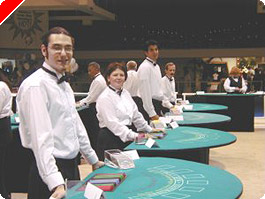 In the last week, UK Poker News has reported the proposed openings of new or extended casinos in Manchester and Blackpool, and a similar story is being witnessed throughout the UK, topped off by the race to build the first licensed super-casino.
Glasgow is one of the eight remaining areas short-listed to be granted permission to build the Las Vegas-styled entertainment complex so it is somewhat logical that a Glasgow-based company should recognise that the gambling revolution sweeping the UK requires some fundamental underpinning in its foundations if it is to grow without pain.
Casino Training UK Ltd is, as its name suggests, a company dedicated to training and teaching people in the finer arts of croupier and casino work including the vital strand in the business, customer service. It recognises that, as casinos grow and flourish across Britain so demand will rocket for quality staff to man the tables and run the service.
As one way of extending its services, Casino Training UK Ltd is opening a formal casino school designed to provide its pupils with the necessary croupier skills which ought to give them a head-start should Glasgow receive the nod to build the big one. Scotland's The Evening Times reports that the training centre will be in St Enoch Square, Glasgow and will take its lead from similar schools in the USA. The first full intake of students for the ten-week course will begin in July.
Don McLeod, Training Director of Casino Training UK Ltd said:
"We are very excited about this venture and believe Glasgow is the ideal location. We think this is an excellent way of ensuring local people can get jobs in the industry. We also work very closely with Gamcare, the charity which helps people with gambling problems, and gambling awareness is one of the things we'll teach as part of the training course."
UK casinos employ more than 11,000 people and well over half of these are gaming staff. Recent studies have shown that only 3% of British adults visit casinos compared to 25% in parts of the USA. It seems almost certain that this small proportion will begin to accelerate as the image of going out for an evening at a casino improves in the public eye. Thus the demand for well-trained staff will also increase.
In fact, existing casinos already face recruitment difficulties. Many are bringing in staff from other parts of Europe and beyond, yet potential UK-based recruits in the 18-25 age group have a low awareness of the casino industry and are uncertain if they can acquire the necessary skills. The casino industry in the UK lacks standardised training for croupiers where training can lead to a nationally-recognised qualification. Consequently, many casinos have to divert man-hours to training their own recruits in-house.
Casino Training UK Ltd says that it meets the need for more and better-trained casino staff, providing professional croupier training in all the main games, including roulette, blackjack, poker and craps.
Casino Training UK Ltd is 50% owned by Top Hat, The Entertainment Casino, Scotland's corporate market leader, with blue-chip clients including Royal Bank of Scotland, BP, Rolls Royce and British Airways.
Ed note: Learn the game, earn a $100 bonus and play for a WSOP seat when you download Pacific Poker