Reading Southern Masters is a Guaranteed Success for Leach

Tony Bromham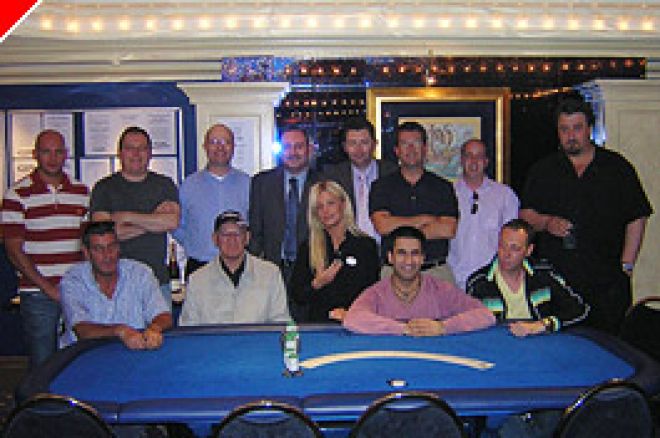 As reported in UK Poker News earlier this week, Stanley Casino's inaugural Southern Masters Festival was held at the weekend. The well-appointed surroundings of Reading Sporting Club, on Richfield Avenue in Reading, Berkshire, played host to three tournaments;
- "The Reading Cup", a £100 No Limit Hold'em Double Chance Freezeout;
- "The Summer Championship", a £200 No Limit Hold'em Double Chance Freezeout;
- "The Southern Masters", a £500 No Limit Hold'em Freezeout, with a £25,000 Guaranteed Prize Pool.
Contrary to some listings in the poker press, the buy-ins were "juice-free" - no registration fees whatsoever payable - a development universally welcomed by the players.
For the Main Event, satellites were available in the run up, and the eventual headcount for the tournament in total was 45. Stanley Casinos therefore made good the £2,500 shortfall, giving every entrant a useful 11% overlay on his or her investment.
Before the Main Event at 4pm, all the players were treated to a complimentary roast carvery dinner, and then it was onto business. Malcolm "The Rock" Harwood was a mainstay of the weekend and demonstrated his poker acumen by seeing the early hours in with a profitable 4th placed finish. His "A World of Poker" associate, Alistair Findlay was also there hoping to add to his Stanley Casino record, having taken 3rd place in the £1,000 Main Event at Star City back in September 2005.
At the end of proceedings at 3am, following 11 hours of battle (with the odd break), local player Paul Leach was able to smile the widest having accepted the winner's cheque of nearly £11,000, a bottle of vintage Krug Champagne and the title of 2006 Southern Masters Champion.
Jimmy Howard, General Manager of Reading Sporting Club was overwhelmed with the positive feedback from the players concerning the venue, the quality of the dealing staff and the friendly nature of the occasion. He said:
"As it was our first Poker Festival, I must say that I am very pleased both in terms of turnout, and also in terms of how the weekend went. Fridays' comp format was very well received, but we had made an advertising error for Saturday's event which meant we were starting too late – this in turn forced us to be fairly aggressive in terms of ante-structure which was not well received by all participants. That's definitely one for us to learn from. The main event was an untried format, with all players starting with 15,000 in chips, so I was unsure if the game would be finalised before the Casino closed!! As it happens, the Card Room manager before the event, Arran Cartozzi, had an excellent grasp of how the timing would pan out, with the final table starting at approximately 11.30pm."
Apart from Paul Leach, special mentions should also go to C Peros for a hatrick of cashes including victory in the £100 Reading Cup, and to A Cutts for success in the Summer Championship and a 3rd in the Reading Cup too. Well played all three.
The official results of all three events were (with "N/C" indicating no consent given by the player to appear in print):
The Southern Masters £500 No Limit Hold'em Freezeout
45 players
1 Paul Leach £10,950
2 J Kilyan £5,000
3 J Gratton £2,500
4 Malcolm "The Rock" Harwood £1,500
5 A Thorpe £1,250
6 S Rowell £1,000
7 D Blake £750
8 L Allen £750
9 P Taylor £650
10 C Peros £650
The Summer Championship £200 No Limit Hold'em D/C Freezeout
39 players
1 A Cutts £2,600
2 M Brookshew £1,550
3 C Bickerton £900
4 N/C £700
5 Jim Thatcher £550
6 A Pollard £450
7 M Darrall £400
8 C Peros £350
9 N/C £300
The Reading Cup £100 No Limit Hold'em D/C Freezeout
69 players
1 C Peros £2,620
2 N/C £1,380
3 A Cutts £825
4 N/C £620
5 P Cooper £480
6 S Toal £345
7 M Newbury £280
8 N/C £210
9 D Bristow £140
Ed note: Snap up a limited time offer of a $200 new player bonus when you download Betfair Poker