Interview with Padraig Parkinson – Part 3

Tony Bromham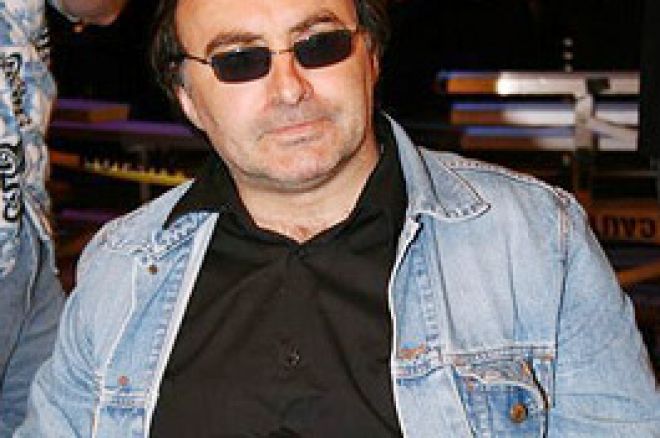 UK Poker News now brings you Part 3 of WSOP 1999 finalist Padraig Parkinson's highly amusing, yet informative, interview.
In the earlier two editions, Padraig highlighted his charity poker event at the City West Hotel and Conference Centre in Dublin (which has now been won by his 1999 nemesis at the WSOP, Noel Furlong!!), recalled his early days, his WSOP experiences and plenty more.
In the concluding part, Padraig looks at sponsorship, added money and poker in Ireland and France, where he currently lives.
UKPN: As a member of the "old school" of poker – which is a term I use for those who played poker before the online version was born – what is your opinion about the way in which poker has become more mainstream and incredibly lucrative for many professionals and amateurs alike as well as for those supplying the systems and the venues? How do you think you have adapted to it yourself with so many new players entering tournaments through online satellites?
PP: Like any craze that comes along some people who deserve to do well have prospered. Unfortunately, others appear from nowhere and jump on the commercial bandwagon to make a quick buck. That's the way of the world. Hordes of inexperienced and bad players make big events a much more attractive proposition though it also means you have to come up with a whole new strategy to play them. It's not boring!
UKPN: Do you play any online poker yourself? If so, where might we find you should we feel up to a difficult challenge?
PP: I do. I could be anywhere!
UKPN: Very true, I guess I asked for that! Do you have, or indeed seek, any sponsorship from commercial companies looking for exposure in your name?
PP: I've dropped a few clangers in this department. I got involved in a sponsorship deal that was all one way traffic (the wrong way unfortunately!) and have turned down a deal or two to my cost. That's life! Call or pass can often be a close decision with life-changing consequences. I've now got an agent to take the decisions and the blame!
UKPN: What is your general view on sponsorship of poker players? Do you believe companies should think about directing their commercial efforts more towards adding money to tournaments rather than sponsoring individuals?
PP: I'm all for it! Seriously, I think player sponsorship is still a good idea for companies but within reason. I mean I think the value is only there for sponsors if the player does a lot more than just wear a shirt.
UKPN: Talking of adding money to tournaments, Paddy Power Poker from your homeland made a €50,000 contribution to the prize fund at the recent Irish Open in Dublin. With the exception of Ladbrokes which is investing heavily in the Poker Million prizes, are you pleased to see the Irish playing a full part in pushing poker forward?
PP: The Irish, through Terry Rogers, introduced tournament poker to Europe so it's great to see the Irish back at the forefront. It was nice to see Paddy Power also adding money to the smaller events at the Irish Open as I feel the smaller punters, the backbone of the poker community, often get overlooked when sponsorship money is allocated.
UKPN: UK Poker News has spoken to a number of Irish players and others involved in poker in the Emerald Isle and all agree that poker has fairly exploded in Dublin especially. Although you are based in France, what is your view of this phenomenon in Ireland?
PP: It's great!! Though the game is booming all over Ireland, North and South. It took its time coming probably because of the reluctance of the media to report on Irish poker successes and a snobbish "it's OK to glorify horseracing but poker, forget it" attitude. But the genie's out of the lamp now! I don't get to play in Ireland as much as I'd like (though that'll change soon) which is a shame because it's the most enjoyable place to play in the world. I've been fortunate enough to play the Boyles/Pokerevents tournaments in January and the PaddyPower Irish Open at Easter and the craic was superb at both (though I didn't make any money!). The Boylepoker.com Irish Poker Tour is at the very beginning of June and is a must for those who like their poker with a smile.
UKPN: With mass appeal and general acceptance of poker comes danger, or so we are lead to believe by some social commentators. In your view, is it healthy for a large percentage of the population to be "gambling" with their disposable income? Do you worry that government interference could one day kill the goose that lays the golden egg, as threatened by the US authorities?
PP: I'm a great believer that regulating is better than banning. Poker played as a hobby within one's means is harmless. Keeping it that way should be encouraged and help made available to those who can't.
UKPN: What is the poker scene like in France? We all know about the Aviation Club de France which I had the pleasure of playing myself last year, but what else is "going down" poker-wise across La Manche? Are the French taking it up in droves too?
PP: TV has driven a new poker boom in France. I was in the ACF yesterday and 90 players were playing a €30 tournament at two in the afternoon. Numbers at bigger events are way up and way more playable than two or three years ago. I'm told poker in casinos will be legalised soon. Expect high rakes but great games! And before you ask, the young guys are pleasant and friendly!
UKPN: You attended the filming of the Ladbrokes Poker Ladies European Open at Hammersmith recently, where your wife, Véronique, was one of the 48 players vying for a seat to the Ladbrokes Poker Million. How did she fare and, generally, what do you think of her poker skills. Did you teach her everything she knows?
PP: Véro finished about halfway in the Ladbrokes event but was happy with how she played. She is blessed with the ability to take the pressures that come with playing on TV in her stride and has played some spectacular stuff in her two other TV appearances (in 888.com tournaments). Ladies poker is growing fast but, make no mistake, it's no gimmick like celeb poker. These girls can play. There. I never thought I'd say it.....and mean it!!
Véro kind of did the university course before kindergarten but she's taken bits of what she's seen and heard and added common sense to come up with her own style. It works!
UKPN: Finally, from a personal perspective what are your goals in poker looking forward?
PP: I've always taken the view that either you win the World Series before you die or you die before you win it. I don't really care which comes first. I'm planning to enjoy it either way. I'm Irish for Gods sake!
UKPN: Padraig, you can't say fairer than that! Thanks again for talking to UK Poker News and we wish you the best of success in poker.
PP: Thanks!
Ed note: Download Purple Lounge Poker for a huge $1,000 bonus plus freerolls to the FHM Norway Tour