John Gale's WSOP Bulletin # 1

John Gale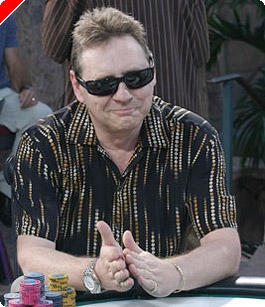 WPT Caribbean winner, John Gale, is now out in Las Vegas flying one of many British flags at the WSOP 2006. John will be sending the occasional despatch from the battle front to UK Poker News, and this is the first of them in which John looks back on his days leading up to the Series!
Viva Las Vegas!
Well everybody, June is amongst us and for all of us poker addicts that can mean only one thing – yes, the World Series is upon us again!
Gosh, has it really been a year since we heard those never-to-be-forgotten cries of "Aussie, Aussie, Aussie!", and saw Joe Hachem take down the most prestigious and largest event in poker history? Well, here we are again and the dream lives on for all of those who dare to dream.
June has been an interesting month; I hope you all read my scathing report on the Grand Prix de Paris for which I make no apologies, and perhaps if we all stayed away next year they just may re-evaluate and make some changes to welcome the world's poker community instead of taking us all for granted. We live in hope.
I had an invitation to play an online qualifier at Mansion Poker which was labelled "The Superstars of Poker Invitational" (must have been a mistake inviting me!). Hats off to Mansion for a fantastic event and a tremendous tournament (Ed note: Stay tuned to UK Poker News for more on this Mansion event very soon!).
"The Grinder" Michael Mizrachi turned up two minutes late for the start and had failed to register in time so subsequently wasn't allowed to play. Much as I like and admire Michael, I wasn't too upset by his absence - the field was tough enough!
First to exit was Kenna James taken out by me (sorry buddy). Next out was Scott Fischman in eighth, followed by Marcel Luske in 7th, so the final table of six was set. My good friend Tony G was eliminated in 6th, followed by my best mate, Harry Demetriou in 5th after a long and arduous battle. Michael Gracz finally succumbed in 4th busted by me fortunately. And so with just three players left, Kirk Morrison of New Zealand, Gavin Smith of Canada and yours truly, the scene was set for all out war!
Kirk Morrison built up a huge chip advantage and really just needed to sit tight and let Gavin and me slug it out for the 2nd qualifying spot, but for some incredibly strange reason decided to play with us. At one stage I was down to just over a thousand chips and on my way out of the door but got lucky and managed to build my stack substantially until, by some miracle, I found myself to be the huge chip leader. Unlike Kirk, I decided to sit quiet. Gavin eventually busted Kirk Morrison in 3rd to qualify for the second spot at the Mansion Pro-Am event - a $1,000,000 freeroll - which we play at the Tropicana in Las Vegas on Monday 3rd July.
I played two events at my favourite venue in the world (The Vic, London) just before leaving for Vegas, and busted out early in both which was tactically brilliant on my part to ensure no late nights and arriving here fresh to do battle in the big ones!
The weather here is cooling down now to about 105 degrees! It was 114 when I arrived on Sunday; it was like having a hair dryer on full heat blowing perpetually in your face, but most of us are inside the majority of the time so who cares? I'm just happy to be here.
The WSOP started in earnest last Tuesday 27th with a total field of just over 2,700; no, not a misprint, 2,700, which included some 500 alternates. Harrah's had us playing eleven handed at the table so some very intimate relationships were inevitably formed (thank you Harrah's). I didn't have to endure the discomfort for too long though as I busted just before the first break.
Harrah's to their credit though have added a couple of portaloos out the back so getting to the bathroom is a lot easier than last year.
Event # 2 saw me building up a large chip stack only to be eventually crippled by my old adversary, Allen Cunningham, who sucked out on me with a two-outer on the river. Still there are another 40-odd events to go so, with luck and the poker gods' blessings, I hope to write a more positive note in my next communiqué.
For all you Brits yet to arrive, my only message is "hurry up and what's keeping you?"
Do we want the yanks to win all the Bracelets? Come on guys, let's stop them in their tracks and show the world Britain is best!
Everyone who's anyone is out here and I count myself fortunate to have so many good buddies in poker, including the last three world champions. In Joe Hachem, Greg Raymer and Chris Moneymaker, Pokerstars are indeed very fortunate to have three of the nicest and most gentlemanly guys in the game as ambassadors for them and incidentally these guys are also great players and don't let anyone tell you otherwise.
Have to go now as my wife Shirley arrives tomorrow and I'd better start putting clothes away which seem to have found permanent homes over chairs; and straightening up the room a little so as not to incur her wrath - actually it doesn't matter as I'm bound to incur it anyway!
Keep logging on to UK Poker News for regular updates from the WSOP and I hope to report some British success soon.
Ed note: Join John Gale in Vegas by qualifying for the WSOP. Download 888.com's Pacific Poker for the best action.