Tales From The Felt: Dublin IPT Charity Tournament

Oliver Boyce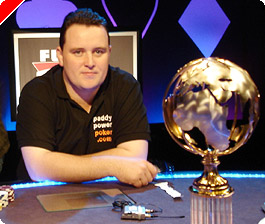 Ollie Boyce, World Speed Poker Open Champion of 2005, has been busy in his native Ireland this week, as the Boyle Poker / Pokerevents Irish Poker Tour Festival worked itself out at City West in Dublin. Before the Main Event took place, a special charity tournament on behalf of Dublin Simon Community, organised by Padraig Parkinson, was held (see UK Poker News' recent interview with Padraig, part 3 of which appears this week). Ollie was one of many to pay his €330 and sit down amongst his peers in the den of philanthropy. Here is Ollie's story.
Well, I'm back at City West at the Irish Poker Tour this week and playing in some of the smaller events over the weekend. I've a few personal commitments over the next few days, so have decided to give the main event a miss as I can't commit to all of the playing days required.
So, starting with the Simon Charity Game which had been organised by Ireland's own Padraig Parkinson, this event attracted a field of 202 players with a buy-in of €300 plus €30; the rake and €100 of the buy-in going to the charity involved. This was something I personally wanted to be involved with after all my success in poker in the last year. I want to give something back to the Irish Community. The event was a who's who of the poker and snooker world and a few more well known faces. We had former World Champions, Steven Hendry, Ken Doherty and Mark Williams present along with what I could count was at least 10 WSOP main event table finalists and former Poker World Champion Noel Furlong. The atmosphere was electric in the room and everybody was there to give to a well worthy cause.
The event had a starting stack of 5,000 and 20 minute blinds, so it would be a fast action event which would take about 9 hours to find a winner. Sitting at my table were two local players from Dublin, two players from England and John Duthie, who got moved before the 1st hand, and three times WSOP Main Event finalist, WSOP Champion and WPT champion Mel Judah. I got off to a great start, hitting trip Q's on a K high flop where I got paid and also my KK held up against an all-in KJ suited. I also hit trip 10's with my 10 Q suited and took down another decent pot. This left me on 12,000. Just before the break, I found JJ, I re-raised in the big blind to 1,800 with the blinds currently 300/600, I got one call and the flop brought AQ6 rainbow. I bet out, hoping to take the pot there, for 1,300, and was immediately re-raised and decided to cut my loss and show my hand. He showed his hole cards which were J9 suited. This player was calling any re-raising with a wide range of hands and would bet the flop or re-raise players depending on their betting patterns. I now wanted to get involved with this player, but only when I had the goods; we both were the big stacks at the table with about 10/12,000 and the table was now playing passive poker which suits my game even more.
After the break, Scott Grey and Mike Lacey were moved to my table and the number of players in the event quickly dropped to the 50 mark. Around this stage, our table was broken up and I was moved to the BB position of Irish legend Donnacha O'Dea and Noel Furlong along with the current chipleader. In my first hand, I found pocket pair of 9's and after a raise by Donnacha to 3,000 with the blinds now being 500/1,000, I decided to push with my stack leaving him to call another 7,000 which would have also put him all-in, the rest of the table folded and Donnacha also laid down his hand. I found the 9's again a few hands later and again Donnacha raised pre-flop and I decided to push, knowing that he was too short-stacked this time to pass, he flipped over K10. I hit a 9 on the flop and he hit his K and 10, to let me take down a nice pot and put me above the average stack which was now around 30,000 with me holding about 38,000. Two hands later I found pocket pair of 10's and with one limper I decided to re-raise to 6,500, with the blinds now 1,500/800. Noel Furlong decided to push all-in with his pocket 8's and I called which costs me another 4,400. Noel spiked an 8 and I was back down to 20,000 with the blinds going up to 2,000/4,000; in hindsight this was a key hand for me to lose, as it brought me back into the rat race and allowed Noel to survive. I feel if I had won this hand I would have been in an unstoppable position with my stack and could have made moves on the blinds. It was all about survival now and I used a couple of well timed all-ins to keep my stack at 17,000 until we got down to the last 24 players.
At this stage, it was make or break with the blinds at 3,000/6,000, I had to make some moves and get lucky. The player under-the-gun went all-in for 24,000 and I called with 14,000 with a pocket pair of 7's, everyone else folded and it was a race against his KQ. My 77 held up, and I was now back up to about 36,000. I could safely make the money from this position as we were down to 22 players, but on the button, I decided to make a move on the blinds and push all in with J4 off suit; I got called by the small blind's A10 suited. I spiked a J on the flop but he had a straight and a flush draw on the river, which thankfully didn't come and I was up to 60,000; shortly after this the bubble was burst and we were into the money.
I now felt I had a stack and a game to win the event and had good reads on most of the players left, all I needed was the poker gods to be nice and provide me with a few hands. This unfortunately is where I made my mistake, I was in the BB and the player in the SB pushed all-in for 70,000. This was the player on my first table who made the move with J9 and was willing to make moves and play any two cards heads up, but I also noticed he looked at his hand in surprise and I should have guessed he had a monster hand. I looked down and saw AJ suited and was delighted to push forward and call. My heart sank when he flipped over AK suited and a K on the flop left me out of the event in 20th position for €400, which was very disappointing, as I felt a final table was easily possible and winning that hand wound have given me the chiplead.
I was delighted to hear that Noel Furlong took 1st prize which was €10,000 after playing some real power poker with A-rags and bullying his table to death, but he's a real gentleman and a great ambassador for poker in Ireland. I feel it was a missed opportunity as had the hand with the 10's verses his 8's held up it would have been a different story. Beverley Pace took 2nd for €5,000. It was an excellent night and like all tournaments, one mistake cost me the chance to win it.
I was delighted to win the snooker cue, which was auctioned, for €600. This has autographs of all the top snooker players in the last 15 years and will be something I'll personally treasure. The event itself must have raised nearly €50,000 and I would like to congratulate all those involved for an excellent night of fun and entertainment.
Ed note: Noel Furlong is a WSOP winner. Download Paddy Power Poker and grab your chance of WSOP glory