Rising Stars: Interview with Jeff Kimber – Part 1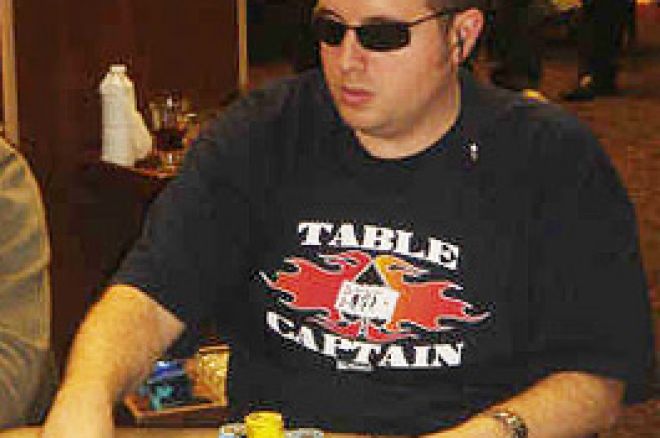 UK Poker News' ongoing series of interviews dedicated to emerging poker talent in the UK and Ireland gets another boost today. Jeff "JaffaCake" Kimber, a sports journalist by trade, has shown by his poker exploits that he is one of the best of the UK's new wave of online players with a bright future in the live game, with top ten finishes in the Ladbrokes Cruise and a WPT Main Event behind him already.
In this part 1, Jeff explains how he developed his game online and the tournaments he now plays to make a regular source of income to supplement, and surpass, his day job. He also explains how he qualified for the Ladbrokes Poker Cruise and the WPT tournaments in which he was so successful.
In parts 2 and 3 Jeff will describe his Cruise and WPT experiences in full detail including the numerous stars of the game he encountered on the journeys – how about Devilfish, Daniel Negreanu, Doyle Brunson, Layne Flack, Phil Ivey, Chris Ferguson, Johnny Chan and Phil Hellmuth, just for starters?
UKPN: Hello Jeff, thank you for sparing some time to chat with UK Poker News.
JK: My pleasure. I found it quite bizarre being interviewed by journalists, given I've been on the other side of the dictaphone for the past 10 years, but I've got more and more used to it this year after having a bit of success and hope to do more work with the media from this side, as it means my poker career is going from strength to strength!
UKPN: Jeff, tell us a little more about you.
JK: I'm a 31-year old sports journalist who has been playing poker for about six years or so, although I have played card games all my life. Away from poker I have been a sports journalist since graduating from Leeds University in 1996. I've worked at various places, the Press Association, the Sunday Times, the Guardian, and am currently Sports Editor of IPC's TV mags, which include 'TV Times', 'What's on TV' and 'TV & Satellite Week', although for the past couple or years I've earned more from poker than work.
UKPN: What is your background in poker before your recent tournament successes?
JK: I first got into poker watching Late Night Poker on Channel 4 and when I heard about online poker launching, which in the early days as far as I knew was only PokerRoom.com, I signed up there. I started off playing limit, even though I'd only ever seen no limit played, and was not particularly successful at it, but stuck at it and did reasonably playing cash. As more sites launched I joined them all, at first just to pick up the sign up bonus and try out the software, and most of my poker is played on Ladbrokes, which I joined the day it launched – it's the place I feel most at home.
However, my game moved on when I started to play STTs, at first for only 10 or 20 bucks, but soon up to 300 and 500, and consistently cash in them. The launch of online MTTs changed my game again, and it is there I play most of my online poker and where I now make most of my money. I have recently been bitten by the Omaha bug and any cash games I play are generally Omaha at the moment, usually 5-10 or 10-20 PL.
UKPN: I guess the first thing that struck me when researching the poker databases was your unusual tournament record. Whereas many UK players have ground out a series of final table appearances at relatively minor tournaments at the likes of Luton or Blackpool, you simply have two enormous cash-outs from a Caribbean cruise and the WPT in San Jose! Before talking about those achievements, can you tell us about your typical poker day and whether that involves many UK tournaments?
JK: It is a strange way to go about things against the traditional route, but I think more and more you'll find players with records like mine, who learn the game online and then transfer their skills to the live game. By the time they do that, they're either playing at big enough levels to start playing huge live tournies, or, like me, they use their online game to win them cheap entry into offline tournaments.
I am playing more live tournaments in the UK – I played the main events at the Vic and Luton recently (incidentally the Luton seat was won online for $50!) but most of my poker is still played online. I'm still working full-time, which I enjoy, but I have had offers to bankroll me to play full-time. The thing is, I'm a winning player, and I still don't quite get why winning players want to give up a percentage of themselves to be bankrolled. I guess people see it as gambling with other people's money, but I don't think of poker as gambling – if I stick a grand on a horse that's a gamble, if I back myself to outplay inferior poker players that's no more a gamble than Gary Kasparov playing chess for money in my book.
I am sponsored by Ladbrokes to play in certain events, such as the recent World Heads-Up Championship in Barcelona, but that's different to being bankrolled, the only thing I'm giving up there is my choice of t-shirt! So, my typical poker week will include playing the Ladbrokes $100 rebuy at 8pm probably three times a week, their weekly $300 and $500 freezeouts on Tuesday and Sunday respectively (incidentally the first two big tournaments - $15k+ - wins I had) and picking and choosing whatever satellites for live events there are about. I won my WPT seat on WPT Online, only the second time I'd played the site, and my Luton main event site on PokaPoka, again a site I don't play much but will look at for big satellites.
I also play all the big guaranteed events the various sites have and their festivals, such as Poker Stars WCOOP etc. The biggest online tourney win I've had, which was a $40k fourth place in a $600k guaranteed in March, was on William Hill, again a site I play rarely. Offline I venture down the Sportsman, which is a fantastic place to play poker, a couple of times a month for the £250 freezeout, although second place is as close as I've got to winning it so far, and the new and improved Gutshot impressed me when I played there twice recently, the second time winning a WSOP satellite and a trip to Vegas in a £200 rebuy.
UKPN: The Ladbrokes Poker Cruise is one of the highlights on offer to the online world. As a guide to encouraging the average internet player, what did you have to do to get aboard? Can you give an idea of what it takes to battle through an online qualifier with high stakes?
JK: The Cruise was indeed fantastic, and the quality of players on board made it memorable whether I had the good result I had or not. My qualification became a bit of a soap opera, bubbling one week when there were five seats and a 6th place of $11k, with the big blind so low he was all in, the whole table called him and he managed to turn his 10 4 into a full house and with me all in next big blind it was over. The following week I had the thing online players dread most – I disconnected while 3rd of 11 left, again with five seats, only to get back online to find all my blinds had been nicked and I was all but out in 10th. Eventually I won through another daily final, got through the weekly final and I was on board. After that, because of the rules at Ladbrokes, I knew if I won again I'd win a $5.5k cash prize as the equivalent, and came through another weekly final and through their ladders. I must admit I found the ladders the easiest way to get a place on the cruise, with the short tables and the generous final stage which saw cash for third and the top two get a cruise seat. It was all a matter of choosing your game though, I'm out to make my life as easy as possible, meaning if there's a good player sat in the ladders game, I'll sit elsewhere and hope to come up against weaker players.
UKPN: Having qualified for the Cruise, take us through the build up, the travel and setting sail. How was the poker catered for on board? And what other activities can a Ladbrokes Poker Cruise winner look forward to?
JK: Because I play a lot on Ladbrokes, I had a lot of mates going on the cruise, a lot of whom had been on the previous cruise around the Med. I knew people who had final tabled on that cruise, so I pretty much knew what to expect. The flights to Miami were pretty sociable occasions, with probably 50 or so of the passengers all set for the cruise. Around 15 of us flew out early to have a few nights out in Miami too, which was a nice start to the break and also meant we were ready for the cards when they started!
The first night, apparently, we had the worst choppiness (if that's the word!) that most of the crew had experienced. As I'd never been on a cruise before, I presumed that was what it was always like and just carried on, even if walking down the corridors we were bouncing off the walls! It was only when people started to vomit - including a dealer over some of the cash game players - that we started to think maybe this wasn't right. Afterwards we were told we'd sailed through the tail of a hurricane! The only other activities anyone seemed to get up to apart from poker were visits to the onboard casino, and many visits to the many bars. Because, excusing the pun, we were all in the same boat, the bars became the meeting place were most of us would hang out and drink with mates we either knew already, or those we'd met online but never in person.
Return to UK Poker News to find out about life on a poker cruise ship and the fascinating details about Jeff's Main Event including his battles against the likes of the Devilfish and various assorted Scandinavians!
Ed note: You can qualify for the next Poker Cruise when you download Ladrokes Poker