Rising Stars: David Lu Interview – Part 1

Tony Bromham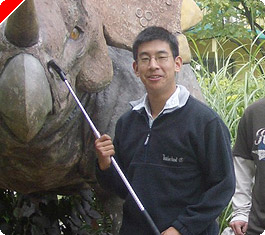 Once again, UK Poker News brings you an interview with another of the increasing numbers of bright young things carving themselves a niche in poker, and making money and reputations along the way. David Lu is a student at the University of Warwick who combines his studies with a hectic role as President of the Warwick Poker Society.
David recently amazed his peers by winning seats to two WPT Main Events in the USA, in which he came close to making the cash places and experienced first-hand the excitement and tension of competing against the very best players in poker today.
In Part 1 of this interview, David tells us about his background and how poker has taken off in his life, both on the playing side and in organising the Warwick Poker Society. He also tells us how he qualified for two consecutive WPT tournaments.
In Part 2, coming soon in UK Poker News, David describes at length the experiences of playing the two WPT events and also highlights the vibrant student poker scene in the UK today.
UKPN: Hello David, thank you for making time to chat with UK Poker News.
DL: No problem. I've had to put most poker exploits on hold due to my exams but with that all finished, I can get back to all things poker-related.
UKPN: David, tell us a little about your background.
DL: I'm currently in my 3rd year studying Computer Systems Engineering at the University of Warwick. With the summer coming up, I'm really looking forward to actually enjoying the holidays – the past three summers I've had internships but I fancied some time to myself this holiday. Although I'm glad that I gained valuable experiences, my holidays just ended up being quite intense. I'll probably end up going on a road-trip with friends in the USA, that's my 'kind of thing'. I have a sneaky feeling golf and poker will feature heavily!
Aside from my studies, I keep quite busy with sports and music. I play hockey for the University, which takes up a horrendous amount of time with training and two matches every week. I'm part of a local badminton squad and there's usually a couple of football games as well as a cheeky round of golf most weeks. I'd like to put in a quick mention about Reading F.C. who got promoted to the Premiership this season. Incredible achievement and thoroughly deserved, I will enjoy watching them every week on Match of the Day! On the music side of things, I used to play the cello at the Royal College of Music so recently I've joined a symphony orchestra and I'm doing some C.D. recordings with them over the next few months. Occasionally I get round to playing some poker!
UKPN: How did poker take a hold in your life and what attributes do you consider help you to grasp the finer points of playing better than many?
DL: Three words: Late Night Poker! It was aired at 1am when I was in 6th form at school and being typical students this meant that it was prime-time viewing for me and my friends! It looked extremely cool (we loved Joe Beevers) and it wasn't too long before we had a regular game during lunch. We usually played for sweets and drinks – we played more for the enjoyment of the game rather than anything else. A few of us ventured online, but only onto the play money tables. I think this was a key contributor to my poker 'successes' – playing 3 tables at a time for 50 hours a week. Looking back now it's quite crazy but it gave me a great 'feel' for the game, something I don't think you can pick up by just reading poker books.
When I arrived at University, most of my corridor had similar poker backgrounds and we played most nights. Playing and discussing poker amongst friends improves your game no end and by the end of my first term, I'd won around £1,700 in a Midland's Masters event at Walsall. Nowadays there is a thriving poker community at Warwick University. The Poker Society forums at www.warwickpoker.com provide a fantastic opportunity for people to discuss strategy and there's always a cash game every night of the week on campus.
UKPN: You are now President of the Warwick University Poker Society. Tell us how you clambered your way to the top of this particular tree?
DL: In my 1st year at University I don't think I missed a single Poker Society tournament. I guess I was so keen to be involved because I loved the game of poker so much and wanted to give something back to the Poker Society. The following year, I was amongst a group of members that regularly attended the weekly tournaments and thus got to know everyone really well. I was subsequently elected Treasurer and then ultimately President.
UKPN: What does your role as President entail and can you give some examples of the duties you have carried out in the role? Does it affect or hinder your studies at all or do you combine the "disciplines" in some way?
DL: It's so much hard work! This year has been difficult because of the phenomenal increase in popularity of poker. We had over 260 people turn up for our first tournament of the year when last year the largest turnout was only 80 so we had to rapidly expand our operations. The Student's Union questioned our legality so a lot of my time was spent in meetings. Thankfully we came to a compromise and as a result were allowed to continue running weekly tournaments as well as the Warwick Series of Poker (WaSOP).
I think running the Society this year has definitely made me plan ahead more than I used to. Good time management and delegating skills are imperative – without them I wouldn't had have a chance. If I had to prioritise though, my studies would always come first…zzz!
UKPN: Your fellow Executive members are – judging by the profiles displayed on the Warwick Poker website – an intriguing group! How do you keep them in order and, more seriously, who gets the greatest credit for keeping the Warwick Poker show on the road?
DL: As I said earlier, the huge increase in membership to the society has meant that the Exec had their work cut out for them this year. I think people are starting to realise a position on the Exec isn't just fun and games – it is a thankless task because you're trying to accommodate for all needs within the Society and invariably you won't please everybody. The running of the weekly tournaments gets so hectic we ask members of the Society to help out for which I am very grateful. Alex Straight ran a great WaSOP this year whilst Chris Burton and 'Flash' were machines in keeping the weekly tournaments running. The website has really taken off this year, maintained by Andy Thompson who's done a fantastic job. I had to convince the Student's Union that we should be allowed to continue existing! Aside from that there are usually lots of talks with potential sponsors in our bid to secure the long-term financial stability of the Society.
As you can see there's a lot of work that goes into keeping the Society up and running and Exec members give up a lot of their time for the Society – I think sometimes people forget that.
UKPN: We have already run an interview with UK Student Poker's Chris Harvey who explained that many students are making up their financial shortfalls playing online poker and some are exceeding this comfortably. How well do you personally fare playing poker in general, ignoring for the moment your recent WPT qualifications?
DL: To be honest I don't play as much poker as people think I do but I make more than enough to lead a comfortable life and not worry about money. Even though poker provides me with a lot of short-term money I'm still keeping my feet on the ground. The first thing my Mum made me do when I got my first big cash at Walsall was to invest most of it. I'm actually trading shares on the FTSE and AIM – one of my investments gave a 500% return in 2 years, maybe I'll become a professional trader instead!
UKPN: Having mentioned the WPT, now is probably a good time to ask you to tell us which major WPT events you qualified for earlier this year.
DL: I qualified for the L.A. Poker Classic in February ($10k buy-in) as well as the Reno World Poker Challenge in March ($5k buy-in).
UKPN: Which online rooms did you use to enter these qualifiers and what did you have to do to ensure you gave yourself the best chance of making it? How did you approach the final table of the second qualifier knowing you had already tasted success in an earlier one?
DL: I qualified on the once hidden gem, WPT Online. For the L.A. package, I actually bought into a Tier 2 satellite for £15 and won my way through to Tier 4. At this level a seat is worth £225 so usually 35 players are required to generate a WPT package. However, the site actually guaranteed 1 WPT package (flights and accommodation included) regardless of the number of entrants. In the end only 18 players turned up for the Tier 4 satellite so there was quite a large overlay in the satellite. Heads-up was horribly nerve-wracking due to what was at stake but fortunately my opponent was very weak short-handed.
The second time I decided to buy straight into Tier 4 for £225 because there were yet again only 18 players. I actually felt very confident about it – I was familiar with most of the players in the tournament and only considered one or two to be a serious threat. Funnily enough with three players left, my opponents were the two identified threats! Then one knocked the other out and I found myself in a familiar situation. I have to admit I won the seat virtually on a coin-flip: I'm holding 8c-8h on a board of 7s-6s-2c. We get all the chips in on the flop and he flips over As-5s. The turn and river blank out and the package was mine! Since the Reno trip, the WPT satellites have been getting over 50-60 people so sadly they're no longer exceptional value.
Return to UK Poker News very soon for an in-depth account by David of his two WPT tournaments during which he faced the likes of T J Cloutier, Tony G, David Plastik, John Juanda and Martin de Knijff.
Ed note: A $1,000 bonus and Freerolls to the FHM Tour of Norway await when you download Purple Lounge Poker