Interview with Catman (The Poker Agency) – Part 1

Tony Bromham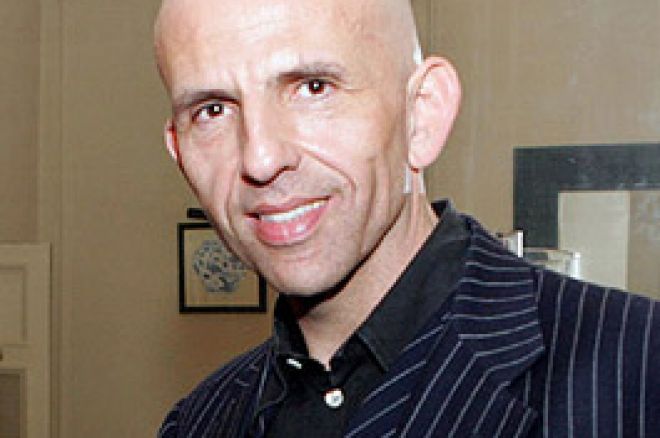 UK Poker News today brings you the first part of a 2-part interview with a flamboyant and well-known face on the poker circuit. No, not a professional poker player – albeit our man can play the game well – but the driving force behind The Poker Agency, "Catman"!
The poker industry is a fast-moving machine in these days of sponsorship, TV and celebrity, and Catman is in amongst it all getting things organised for The Poker Agency's clients. UK Poker News was keen to find out more and Catman did not disappoint!
UKPN: Hello Catman, thank you for taking some time out to chat with UK Poker News.
CM: Thank you for asking me.
UKPN: Catman, firstly, can you tell us a little more about your background, what you do nowadays, and how you see your standing in the poker media circuit?
CM: My background stems from PR and the entertainments industry, with much emphasis on brand and personal management. My education in reading people started at the age of 14 and a half working as a doorman in a London disco. Doyle Brunson's quote "It's a game of people" is something I certainly learnt about the hard way. I gained a degree in Physiotherapy, which sounded like fun at the time, and went on to own my first nightclub at 21 years old and went on (tilt) from there! From that day onwards, it was six long days and nights a week learning the PR game. In 1998, I discovered poker, another game you learn for life, which was for me the ultimate in relaxation.
The Poker Agency is one of a few world wide agencies dealing solely in poker and its players. In terms of the poker media circuit, we bring experience and an understanding of image and brand building that is a vital component for poker brands and the brands that are the players themselves. How do I stand? On two very steadily placed feet, fighting out of a good corner! Our strength has always been about creating opportunity and opening doors to new concepts. In terms of the player, that will in time relate to sponsorship and the vital component of poker, value and money.
UKPN: I expect readers will be intrigued about the name "Catman". How did it come about?
CM: I was brainstorming in a nightclub I once owned called Volante (named after the Aston Martin); a friend of mine, Mark Winters, came up with the name "Sophisticats" for the nightclub featured in Sky One's original docu-soap "Naked in Westminster".
The club was to be themed around the feline image, with Parisian Showgirls with names like Ginger and Persia, so the name "Catman" fitted in perfectly with the theme of the club and more so rhymed with "Batman", my favourite super hero. I have been through a heck of a lot with the Catman brand so I keep it today and it's pretty well known with the media. I was invited to go to Buckingham Palace with some of the showgirls from my club for a charity event; Princess Anne and The Air Vice Marshall did not bat an eyelid on using it. I love fantasy, and poker is straight out of the movies; who really wants reality?
UKPN: As you say, you are a well known face these days on the poker media circuit, through your work at The Poker Agency. Tell us more about The Poker Agency, its purposes and how it came into being.
CM: www.thepokeragency.co.uk was a natural progression for me with a lifetime of PR and people management. In 2003, I had the idea to take on players and act just like a football agent, developing them and their own personal brands. I called The Devilfish at the exact time it had all kicked off for him; I was trying to put him with some of the big companies at the exact time they were approaching him. So I missed out on that opportunity and finally set The Poker Agency up in Feb 2006 with a slightly different game plan. Poker is in its infancy in Europe in terms of what is to come for the game and the players and the money around it all.
The agency provides a multi-level platform to facilitate the use of poker as a tool for business and entertaining. There is such a narrow defining line between poker for fun and as a sport, and the commercial side of the game; poker is business and very few play for fun alone, they play to win and for all the trappings of success. The players must be entertained by those running the game; those running the game must attract new markets and create loyalty. It is the world's most exciting, glamorous and enthralling mind game and The Poker Agency creates opportunities around these definitions, partners them and then provides a team of professionals to see them through. We work on our results, not on luck.
The door hasn't even opened yet for European poker, but it will in time and we plan to be a major player.
UKPN: Players and commercial organisations will want to have confidence in the person they are dealing with. What do you believe you offer your prospective clients personally, say in terms of poker background and commercial capabilities?
CM: Poker is my passion, management and brand/image building something I have proven myself at, so combining the two into work really is the perfect place for me.
Our company's strength lies in having an intimate knowledge of the game, the players and the industry. I have had over 25 years' experience in the world of entertainments including productive relationships with glamorous cutting edge brands such as The Ministry of Sound, Playboy, Sophisticats, Sky One, ITV, Channel 4, and have been responsible for over 140 hours of TV. I worked for 10 years as Personal Agent to The Double World Super Middleweight Champion, Nigel Benn. Like poker, boxing had a negative stigma attached to it much like gambling. We survived and prospered; I don't think that is such a bad reference.
Poker background - around 13,000 hours of mainly recreational (is there such a thing? It's a war!) cash poker, my face is pretty well known with no known enemies.
Confidence can only be built on results; we need confidence in the people we work with as much as they need confidence in us. It is going to be a little while till players will need to worry about poker agents taking under the table deals like football agents for transfer fees. Our job is to get poker in Europe where the value of players is similar to that in football. It's not good enough just being a good player.
In four months of operation, The Poker Agency's clients have included Dave Colclough, 888.com, Mansion Poker and Poker Pro Magazine which I write for.
Nothing comes easily, but I want to win; if I win, our clients win and we will only ever get a fixed % of results we create.
UKPN: We understand that you have just come back from Prague in the Czech Republic working on a major advertisement. Can you tell us more about this and give us an idea about the steps that go into this process.
CM: Prague came about after representatives of Mansion Poker came to me for poker players to be cast for poker's most glamorous and biggest advertising campaign. Unfortunately, the poker players weren't good enough actors and the director was not a poker player. I was employed to go out as technical advisor but turned into second director. On getting off the plane on Sunday afternoon, I met the 12 actors, all of whom said they could play poker and all had no idea whatsoever; and we were to start the shoot on Monday! Try getting big blind and small blind in on cue at any poker game and you will know the stress of this job. Mansion wanted every tell in the book in this shoot and as a player who started playing "dealers choice" at Stakis with a major tell for a year and half, I certainly became an expert on tells once I knew what a damn tell was! It wasn't about hands, more about confidence and getting actors to act the part of players, at which they excelled (rubbish at poker though!).
With a crew of around 150, and a half million pounds sunk into this shoot, a lot rested on my shoulders.
This was the most challenging week in my life and, assisted by Kieran, my dealer, we hacked through an amazing test of character. The ads are sensational. Mansion are going to be big hitters against the other American super glam brands such as Bodog and Full Tilt and I know for a fact they are going to give a lot back to the players. One regret was we didn't even get time to go to all the historical sites and…err… strip clubs of course!
UKPN: You are also involved in promoting a European Ladies Team of poker players and will be at the World Series of Poker with them. What can you tell us about this project?
CM: After around two months of development with 888.com, we can finally announce sponsorship of the 888.com Ladies Poker Team who will compete in the 2006 World Series of Poker Ladies Event. For poker, this is big news; this is a fully sponsored team, no satellites, and no payback deals for the ladies if they win. Hopefully, it is only the first of many such inspirational deals to come, deals where the industry actually gives something back to the players at no cost.
Poker is more exciting than Formula One, so now we have brought a touch of Formula One to poker.
Sponsored team poker (individual play) is what it is all about. The present system of players entering paid satellites, etc, and then representing companies in events is not sponsorship. If Manchester United want you to represent them in their team, they've got to pay you, the same thing will happen in poker. How many pros (in fact, is anyone at all who plays poker not dreaming of playing, say, the WPT) are paid for by someone else? The Poker Agency will act as the Team Management, handling the logistics and press for the 888.com Ladies Poker Team. There will be seven players in the team and they will receive a final boot camp in Vegas by The Team Coach (to be announced).
This move by 888.com sets a precedent for sponsorship of players other than those in the elite 1% who might have won several WPT's. It gives aspiration to up and coming players; the opportunity to play poker and to be recognised for their perseverance. It shouldn't all be about the premier league only, how else would those of us who cannot afford the expense of the world tournament circuit get a chance?
Return to UK Poker News for part 2 of this revealing interview for some fascinating views and ideas on poker, celebrities, and lots more.
Ed note: For some big games of poker, download Pacific Poker and earn a $100 bonus too.