Tournament Report: Ladies Freezeout - Grosvenor Walsall

Mel Lofthouse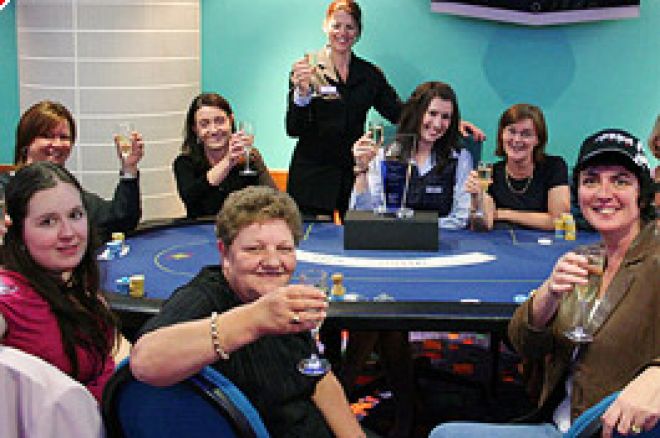 I heard on a poker forum that there was going to be a £50 Freezeout with 1 seat guaranteed to Ladies WSOP event in Las Vegas, which I'm hoping to be playing anyway, so I thought if I can win a satellite I can play more tournaments whilst I'm out there.
I had never encountered 84 lady runners before. A gorgeous buffet put on by the casino for the field however, there was a couple of things which could have been better.
The chip allocation was terrible. 3000 chips and a 30min clock, which changed a fair few times, because it was turning into a crap-shoot. I wish I'd been told when the blinds were being changed, as for one hour of no hands, I found a small pocket pair and lumped all in! oops. I would have been a little more patient if I'd found out sooner.
Also, at the end, a chip count settled the seat for Vegas. Although the card room manager handled it very well and all credit to her, this is pretty bad. She did a good job but needs better planning and better a structure next time.
I drove down to Walsall with a friend who was chatting to about how I am going to play an all ladies event. I said "I'm going to play my normal game." How wrong was I?
There are a couple of differences I've found in playing mixed games and ladies only games:
1. You cannot bluff in a ladies game.
2. You will get called by "pretty cards".
3. To a rocky player you really only have a couple of moves, flat call, all in or fold.
I just wasn't getting any kind of playable hands and just stole a few blinds here and there. I got lucky once with KQ when I was down to 1800 chips then had 4 hands in a row AQ, AQ, 10s and AK. On the AK hand I was called by A10 for a 10 to hit! Grrr!
I've decided to play 3 more ladies events and then knock it on the head. I'm going to be playing a ladies TV satellite. An event going to be held in September at Star City. I'll then be playing the Ladies WSOP in Vegas.
But, what I don't like is that poker is a mixed game! where two sexes combine! It's not like mens only cricket or mens tennis, etc. It's a great game and I feel that it should stay a mixed game with none of this segregation. I understand it's good to get more ladies playing the events but come on…. We're not in the dark ages now!
Ed note: Download Pacific Poker for win your seat at the WSOP - we'll throw in a $100 bonus too!