Rising Stars: David Lu Interview – Part 2

Tony Bromham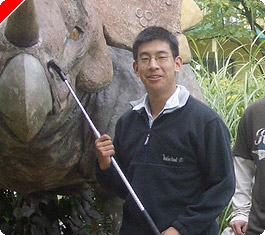 UK Poker News introduces Part 2 of the fascinating interview with David Lu, a talented young poker player who is currently studying at Warwick University and also President of its Poker Society. David shot to a certain level of fame in student circles, as well as securing a small spot on TV, when he managed not one but two qualifications to play in WPT Main Events in the USA earlier in 2006.
In Part 2 here, David gives a detailed account of his time playing the WPT tournaments including the top players he encountered along the way. David also runs a critical eye over the UK student poker scene and concludes that things can only get bigger!
UKPN: Describe your two trips to the US to play the WPT events. What special treats were laid on by the poker room and who did you meet out there? Did you get to play against some of the top names and how did you fare overall?
DL: Yikes where do I begin?! L.A. was quite something. At first it was hard not to just stare at the top names – Hellmuth, Negreanu, Harman, etc. However, I made sure that I didn't lose focus by being 'star struck' because I was ultimately out there to take their money! The notables on my first table were T J Cloutier, Martin de Knijff, David Singer and Tony G. I was surprised to also see what appeared to be an absolute novice on my table. It was clear that this guy hadn't played much poker before and I could hear Tony G sniggering as the novice raised it pre-flop to $1,000 with the blinds at $25-$50!!! Actually, I know what everyone thinks of Tony G particularly after his antics in Paris but having sat next to him for the best part of a day you would not believe how nice that guy is.
Anyways, by the end of day one (a gruelling 11-hour day), I ended up with around $56,000 from a starting stack of $20,000. Some key pots involved pushing Martin de Knijff off top set (representing hitting a flush draw that I never had), laying down K-K on a flop of 8-7-6 and getting my K-K paid off when Q-Q and J-J moved all-in in front of me! Day two saw me move to the table of David's: Grey, Singer and Plastik were the notables. I also got to know David Sutcliffe, a really nice Hollywood actor who promised to introduce me to Kirsten Dunst – fact! Soon I was running well, having doubled-up with A-A vs A-K. My opponent (herein known as 'Gonzo' due to his big nose and he was a bit of a muppet) was quite a weak player – I'd just seen him call an all-in re-raise with top pair and a very weak kicker, moaning about his bad luck when his opponent flipped over an over-pair. Doubling me up didn't make him too much happier.
Soon enough I pick up T-T when Gonzo claims to raise in-the-dark. We see a flop of 7-6-2 and he check-raises me. I think for a minute before pushing all-in. I just know he loves top pair. I didn't know he loved A-A. I'm out in 90th with only the top 50 (out of 690) getting paid. I'm happy with how I played in L.A. because I played without fear and trusted all my reads – except for that last hand! I'm truly gutted I didn't play more cautiously for that hand. Gonzo ended up getting knocked out around 80th – what a waste of chips.
In Reno the field was just as big as in L.A., but I was a lot more confident on day one. My first table had no notables and due to the great blind structure, there was a lot of room to play. I tried to see as many flops as possible because I was pretty sure I could play the flops better than most on my table. Within the first level I had built up my $10,000 starting stack to over $22,000 without any big showdowns. I then ran my stack to about $65,000 with the only big name I came across being Allen Cunningham – he was fairly short-stacked and didn't tangle with me too much. I loved it because I had great reads on most of the players on my table and by the end of day one I was sitting in 18th out of the remaining 300 odd players.
Then they do this wonderful thing where they redraw the seats for the beginning of day two and I find myself moved to a table with:
Fabrice Soullier, Nam Le, Dustin 'neverwin' Woolf and T.J. Cloutier!
This is absolutely horrific for me, especially since Fabrice and Nam are known for their fearless aggression. I found it very hard to get any raises in and I was being ground away. Anyhow, to cut a long story short I raised it up to $10,000 with A-K to find one caller. The flop came K-J-2 with two hearts. I fired out a $20,000 and he thought a while before calling. The turn came a blank and I set him all-in for the other $15,000 behind him. The pot was about $100,000 and I was ready to start stacking the pot up into my stack when he flipped over J-J. From then on it was such an uphill struggle to put some chips together and I eventually went out with 8-8 vs J-J. In hindsight I could have played more passively on my new table to get a better feel for the different playing styles out there, but I definitely played without fear in Reno and perhaps on another day I'll be the one holding Jacks in those positions!
The trips in general were fantastically organised by WPT Online. I had my airfare and accommodation included and there was usually a bottle of champagne on ice in the hotel room. Having flown to L.A. and Reno and stayed in superb hotels, I couldn't help but think how I could get used to the life of a professional poker player!
UKPN: Presumably, these WPT experiences have honed your poker game. Do you feel you have the kind of game to seriously trouble the poker circuit when your studies are out of the way?
DL: One thing I have certainly taken away from my experiences is that I have so much respect for a tournament circuit player. The hours are long each day and you have to stay focused at all times, especially with tournaments lasting around 5-6 days. In L.A. the days were even more gruelling since I arrived the night before the tournament started and as a result was horribly jet-lagged for day one. By the time I entered my second WPT event I didn't feel out of my depth, particularly after I was able to identify and exploit the weaker players on my first table. When I flew back for the St. Andrews Student Championships straight from Reno, I found that I had so much more confidence in my tournament play and literally eased my way to day two.
Like with any tournament, you need a few things to go your way to get a good placing and sadly that didn't happen in L.A. or Reno, but I'd be disappointed if I didn't make it out onto the poker circuit again in the near future.
UKPN: You have a high profile in the UK University circuit but can you name anyone else at University (not necessarily Warwick) who you believe displays the necessary attributes to do well at poker – and presumably already is doing well?
DL: There are so many promising talents, where do I start? Within Warwick there's a huge amount of potential: Tom 'Flash' Grundy is one to watch on the tournament scene having already cashed at the EPT Copenhagen. Jamie 'Jambon' Brown has a fantastic knowledge of tournament poker, scoring 1st and 2nd in the Bodog $100k guarantee within a couple of months. 'Tommo' Partridge is phenomenal when it comes to deep-stack tournaments – I can't wait to see him play a major event, he will fare extremely well. From the Warwick Alumni, Scott 'themong' O'Reilly is doing very well as a professional poker player in tournaments and cash games. You also have to watch out for Argyris Argyrou – the 'Crazy Cypriot'. Predominantly a tournament player, his 'reads' and aggressiveness combine to form an awesome force. Watch out for him at this year's WSOP, he's quite a character!
Outside of the Warwick community, I enjoy reading Chris Harvey's blog and he's doing pretty well in cash games. I know Elliot Bowker of Keele University is a fantastic cash game player whilst his unrivalled knowledge of poker translates to tournaments too.
UKPN: What is your opinion about the UK student poker scene currently? Which are the best Inter-University tournaments on the circuit in your view? Do you get to play many of these events yourself?
DL: UK student poker scene has got so large it's too hard to keep track of everyone! However, it does annoy me when I see a lot of 'attitudes' at the Inter-University tournaments – students that have watched a lot of poker on T.V. and:
a)start giving 'macho' talk;
b)take ages to act to by pretending they have an extremely difficult decision;
c)stare down a single bet.
I've seen all the above when we're still only in level 1! I know everyone has their unique style of playing, but the actions mentioned are really not necessary and it's such a shame that new poker players think it's an integral part of poker. Sorry about that, no more ranting from me!
A couple of years back the only Inter-University tournament was the Oxford Cup. This was no doubt the catalyst for student poker as we see it today. This inspired the inception of the Warwick Series of Poker (WaSOP), St. Andrew's Poker Championships and many other Universities' respective tournaments. The Oxford Cup is no longer student-only so I'm a bit sceptical as to what direction that's headed in. The St. Andrew's tournament is great fun and they've done fantastically well to make it a regular event on the student circuit. Each year we'll send a strong contingent to take part – road-trips are fun! The WSOP package is a fantastic prize for a student tournament; it's just a shame that the structure doesn't do the prize justice.
I tried to play in as many of these tournaments as possible. I actually flew back from Reno into Heathrow on a Friday morning and drove up to St. Andrews that same day to make it for the 12noon start on Saturday of the Student Championships! I actually made it to the final two tables and then lost A-J vs K-T all-in pre-flop. My opponent had to call because of the blind structure, which was particularly disappointing. I also made it to the Oxford Cup where I was chip leader with four tables to go but then ended up bubbling when I decided to make a big call with A-9 vs K-Q for a lot of chips since I was aiming for nothing less than 1st place.
Online we're seeing more student-focused tournaments with the VC Student Poker Championships running for its second year. Warwick is in fact on the verge of winning $10k in cash for topping the University Competition Leaderboard. Christian Harris's Student Poker Open backed by Ladbrokes has had a phenomenal number of sign-ups. As you can see the foundations for an official UK Student Poker Tour are set in place. The ultimate goal would be to see a nice mixture of buy-ins around the country with televised final tables and clearly defined prize packages. Students would flock to these events if they knew they were going to be aired on Sky!
UKPN: Do you have any "poker heroes" - top players whose styles and talents impress you and inspire?
DL: John Juanda was fantastic to sit next to. He exploits the fact that people give him a so much respect for his raises, particularly effective when he's low on chips. David Plastik is extremely disciplined and he played his big stack in L.A. to perfection. I'd love to have the consistency in tournaments of Paul 'Actionjack' Jackson as well as the huge potential of Luton's John-Paul Kelly. Daniel Negreanu seems to play a lot of golf and generally knows how to have fun so he's probably my favourite!
UKPN: Finally, David, what are your goals in poker for the future?
DL: I don't think I'll be turning 'professional' anytime soon. I've always planned to get a good degree and move into a computing job. Poker will always be a hobby to me and hopefully the winnings will be a bonus. I'd like to play in at least one major event every year from now on but more broadly I want to enjoy playing poker, whatever the stakes.
UKPN: David, thank you for talking to UK Poker News. We wish you every success in the future and in poker.
DL: Thank you, you're welcome.
Ed note: Download Bet365 Poker for WSOP qualifiers to all the events