WHUPC in Barcelona Down To Final Four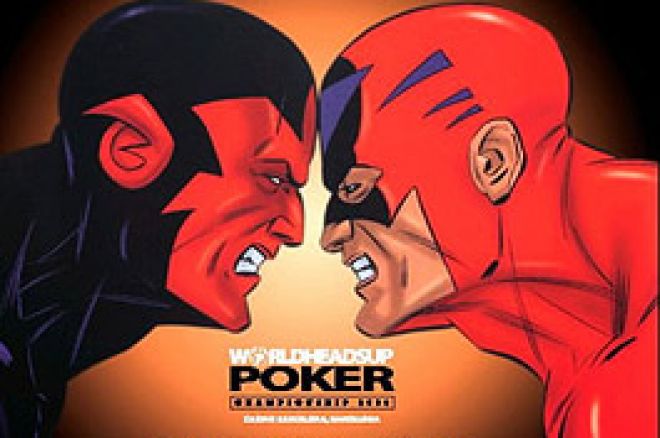 It's not only the weather that's heating up down in Barcelona. The WHUPC is nearing completion with the four semi finalists ready to do battle this afternoon.
The final four contains one very familiar name to British poker players. Paul "Action Jack" Jackson, who picked up the opening €1,000 No Limit Hold 'Em event despite wearing one of the worst shirts in history, has made it through to the semi finals of this showpiece tournament.
Jackson is in quite awesome form right now and is surely the hot favourite to go all the way here. With another €25,000 in the bank for his semi final spot, Jackson faces the prospect of a €125,000 pay day should he go all the way. The money won't phase the brummie, though. Paul has already picked up a huge cheque for his second place to Phil Ivey at the last Monte Carlo Millions.
So, who has "Action Jack" got to beat?
George "The Panzer" Danzer From Freiburg, Germany is a tough prospect. Your reporter played alongside George at The Aviation Club de France earlier this year. George was an unlucky second in that event. Let me assure UK Poker News readers, Danzer is a very good no limit player.
Tsai Chen From Rotterdam, Holland. Tsai is a big time blackjack player and the only female remaining in the WHUPC. Tsai has already shown the exit to Pascal Perrault and Tony Chessa and should not be underestimated.
Isaac Mayolas De Vega Isaac has impressed many with a strong, aggressive game. The under dog from the semi finalists could still spring a surprise here.
Alongside Paul Jackson's earlier victory, British players have been dominating the festival so far. In the second side event, the €500 No Limit Hold 'Em, Stephen Pearce took 1st place and €33,000. Pearce clearly likes Casino de Barcelona. In 2005 he won the €1,000 event for €53,000. In the €300 Limit Hold 'Em event Pearce was pushing for a big cash finish yet again, however this time he had to settle for 8th and €1,050. Spanish punter Crisent Gellida claimed victory.
Omaha got a look in too. On Wednesday the €200 Pot Limit Omaha tournament attracted 135 runners. Englishman Anthony Chapman was the highest British finisher in 3rd for €10,730. A certain Marcel Luske finalled in 9th. Bo Estefan Enberg from Sweden took the spoils and a €43,400 pay cheque.
The WHUPC semi finals take place at 4pm today. Stay tuned to UK Poker News for all the latest.
Ed note: Download Purple Lounge Poker for a massive $1000 first deposit bonus