6th Annual WHUPC Stays in Spain

Paul Sandells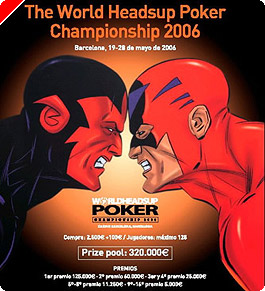 Isaac Mayolas de Vega from Spain won the final of the World Heads Up Poker Championship. In a tense final de Vega overcame British star Paul "Action Jack" Jackson in a battle lasting almost 3hours.
Home support was strong for Isaac Mayolas de Vega with a large crowd of Spaniards gathered in Casino de Barcelona to follow their man. Jackson had his supporters too and this made for a great atmosphere on this warm Sunday afternoon.
The final was a very tense affair with several very small pots in the first hour. Players started with 20,000 chips and it was Jackson who took a small lead early on as the players headed into level 2. However, from here on in it was the Isaac show as he grinded his way to a large chip lead. Eventually Jackson moved in with bottom pair vrs Isaac's top pair. Isaac's hand held up and the celebrations began.
For the second time in three years the WHUPC was won by a Spanish player. Perhaps home advantage is key here or perhaps the Spanish are developing into a nation of very strong heads up players.
In the runners up game for 3rd place George Danzer beat Tsai Chen. Once again this match up took almost 3 hours.
Isaac Mayolas de Vega has very little in the way of a track record on the poker scene. A cash finish at the EPT Barcelona open is the only result of note on Isaac's record. This makes his victory here all the more remarkable against a field of, what many would consider, top professionals.
Runner up Paul Jackson continues to show outstanding form with his second place here. The man many considered to be the best online tournament player has proved his worth several times over in the B&M arena and must surely now be considered amongst the elite poker players in Europe if not the world.
Ed note: The biggest deposit bonus of $1000 AND FHM girls. What more could you ask for? Download Purple Lounge Poker today