Tournament Report: Poker4Charity at The Western

Mel Lofthouse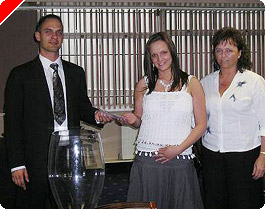 Poker4Charity exists for one reason, to raise money via the poker community for charity. Poker4Charity Supports the Children's Charity Game for Life (Charity No: 1108681) which it founded in 2005.
I'm the Senior Tournament Director for Poker4Charity and run events up and down the UK for P4C, completely free of charge to help under-privileged children have a better life.
Our event was 14th May held at The Western, and was a special tournament. That's not the special bit! What makes this tournament special is how the funds raised will be spent. As many readers know poker player Maureen McDonnell, who posts on forums as 'the nun', has a 15 month old grandson called Reece who was born with a bowel problem. He had to have all but 17cm of his bowel removed. This means he has been reliant upon machines which have made him very poorly at times. With Reece spending so much time in hospital, life has been tough on his mother Stacey, Maureen and the rest of the family. That's where the poker community rallied around and supported the cause.
Special thanks to The Western for not only a fantastic free venue, but also providing their staff free of charge. They also donated £300 to Reece which was fantastic.
40 runners turned up to the event. We started a little late due to the M25 being a nightmare once again! - nothing changes there and I think the ParkRoyal tube was shut for engineering works. Anyway, eventually we got things underway about 2pm.
Jeff Duvall turned up to support and play and it was lovely seeing the whole poker community pull together.
Mark Strachan had a football bet with Joe Beevers, from The Hendon Mob, Joe won the bet so Mark handed £500 to P4C.
Thomas "thetank" Stott had 2 weeks previously done a sponsored 24hour STT session with profits going to P4C on this occasion.
We had a few auction prizes at the break and the total raised was £4750. ½ going to P4C and other ½ going back into the prize fund. For only 40 runners is a fantastic result.
At the last London P4C event, Joe Beevers had 63 rebuys. Well that record was broken by Richard "Tightend" Prew. He ended up having 68 rebuys! However, he did claim some of his money back:
The result.
1st "Sheriff Fatman" Curtis Ledger
2nd "Tightend" Richard Prew
3rd "Alfa666" Dave Cain
4th "irishboy" Des Duffy