Blog Your Way to a Virgin WSOP Seat!

Tony Bromham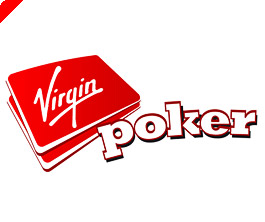 One of the more exciting entrants to the on-line poker world in recent months has been Virgin Poker. Virgin, a leading brand name the world over, always promises something different in whatever market it chooses to enter. With railways, there are tilting Pendolinos; with planes, Virgin Atlantic; and with Poker, there are V-Points. Lots of them!
To be precise, 250,000 V-Points, all of which are being deposited into the prize pool of a single Freeroll Tournament together with a WSOP package! 250,000 V-Points are enough to fund five return flights to Las Vegas, so what better than to make a World Series of Poker seat the focus of attention for this tournament.
Virgin Poker is running an exclusive FREE tournament for poker bloggers with a top prize of a WSOP package including return flights, hotel accommodation and entry into the three-day $1,500 No Limit Hold'Em event beginning on 25th July 2006 (Event no. 37 of the WSOP 2006).
This special freeroll tournament is being run to celebrate the launch of Virgin's revolutionary V-Points loyalty scheme and will take place on Thursday, 11th May at 19.30 GMT (20.30 BST). Apart from the WSOP package, Virgin Poker will be adding 250,000 V-Points to the prize pool. One final source of reward comes from a bounty on the head of Virgin Poker's own resident blogger, David "DPommo" Pomroy. Knock him out of the tournament and you win a bonus.
Anyone with an active poker blog is eligible for this exclusive freeroll. To take part, all bloggers need to do is download Virgin Poker here and email their name and the name of their blog to blogger@virginpoker.com.
Even if the WSOP seat evades your grasp, you still stand a good chance of bagging some V-Points. So what are they?
You earn V-Points for all cash play at Virgin Poker and you will be able to exchange these points for Virgin extras. There are Virgin Atlantic Flying Club miles, Virgin Vouchers and many other benefits.
You earn V-Points whenever you play a raked hand on a cash table and whenever you play an MTT or an STT. You earn more V-Points for play on higher stake tables as the amount of rake taken varies with the stakes.
At the top end, 20 hours a week playing £10/£20 stakes could easily net you 25,000 V-Points. If you are a regular grinder at £0.50/£1 tables, you can nevertheless expect 1,200 V-Points for 20 hours play a week.
To give you an idea of value, 25,000 V-Points might get you a trip out on Virgin Atlantic to an American city like New York, San Francisco, Miami or Las Vegas (assuming you haven't already won the trip in the Bloggers Freeroll!). For another week's solid play, higher stake players can bag the return trip.
The Bloggers Freeroll is less than a week away now. If you blog or would like to blog, the incentive is there!
Ed note: V-Points are for everyone. Download Virgin Poker and start building for your next flight abroad.