Interview with Chris Harvey of UK Student Poker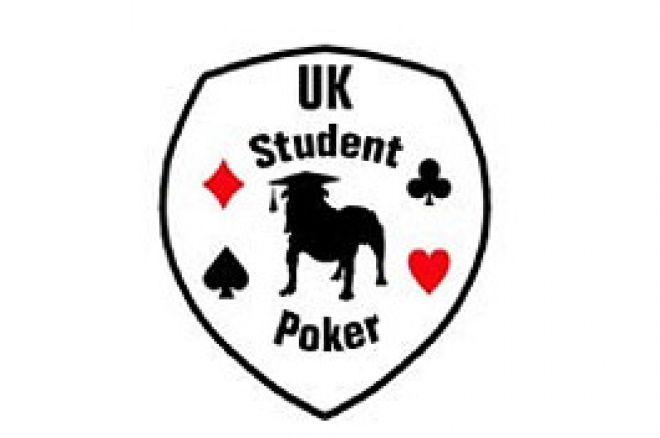 UK Poker News prides itself on providing a wide range of news, views and interviews from the world of UK and Irish poker, and today is no exception. Poker in today's universities and higher education establishments is booming, to the extent that an official organisation has come into being to help co-ordinate affairs. "UK Student Poker" was formed with the aim of bringing together the student poker scene in the UK and Chris Harvey, the man currently in charge of running it, spoke to me about the poker scene for students.
UKPN: Hello Chris, thank you for taking some time out from your busy schedule to talk to UK Poker News. Tell us about yourself and your role within UK Student Poker.
CH: I have just finished my 3rd year at St Andrews studying Economics. This year, I've been in charge of running UK Student Poker, which involves helping students set up poker societies at their universities, as well as any legal advice, and creating a community whereby poker playing students can congregate and discuss poker matters on our student forums. I have also been organising the UK Student Poker Championship, which was held in April, a £30 buy in, 2-day Texas Hold'em No Limit tournament, which this year attracted 284 players. This broke the national record for players in one sitting.
UKPN: Can you tell us how you got involved in poker and how this led to your current role at UK Student Poker?
CH: I first played while about 17 years old when a few of us started playing during our lunch breaks at school. When I came to university, I asked about a poker society, and at the time none such existed. A group of 3rd years, all very keen players, then took on the task to set up the society, and from this the University of St Andrews Poker Society was born. I joined as soon as it was set up and then, at last year's AGM, I was voted in to run UK Student Poker for this academic year.
UKPN: Can you explain how UK Student Poker developed the way it did?
CH: UK Student Poker was set up by Christian Harris, a then student of St Andrews, who recognised the disjointed nature of the student poker scene and set up UK Student Poker to bring the student poker scene together so all students could easily communicate with one another and act as a place for Inter-University tournaments to be arranged. The Betfred Poker Room pays for the UK Student Poker website as well as sponsoring our society.
UKPN: In my day at university, playing poker in an official Student Union Club would have been impossible and severely frowned upon! How has the activity gained acceptance and has there been resistance from the academic world or from parental organisations?
CH: Poker Societies have been spreading throughout the UK due to the acceptance of poker as a mainstream game, and so long as the Society stays within the strict gambling laws, then the Society is legal, whereas in the past the legislation was often unclear. I doubt many parents are overly happy with their sons and daughters playing, but that is more due to a lack of knowledge about the game and the beneficial social aspect of societies.
UKPN: A brief look at the UK Student Poker website suggests a certain stronghold at St Andrews. Is this down to something in the Scottish air or merely an accident of student poker evolution? Or would you refute the suggestion of a Scottish bias altogether?
CH: The initial posters on the UK Student Poker forums were mainly St Andrews students as that was the first university which knew about it. Nowadays, there is a wide range of posters from all over the UK, which is encouraging. There used to be a greater number of Scottish posters which was mainly due to there being more Inter-Scottish University tournaments at the time UK Student Poker was set up. Now there are such tournaments throughout the UK, which has corresponded to the range of posters on the forums.
UKPN: Many universities and colleges have created poker societies. What is their relationship with UK Student Poker and is there an expectation that new societies will "join up" or do some clubs prefer autonomy?
CH: We just help any student who wants to set up a society - giving them advice on how to go about setting one up, such as equipment-wise, attracting members, and legal advice. There is no expectation that new societies will join up, but the 40+ societies we have been in contact with have all wanted to sign up and be kept informed of major student tournaments.
UKPN: Tell us more about the UK Student Poker Championship the latest of which has just been held at St Andrews. How did the first one come about and what sort of a commitment is it to organise? Do you see this Championship growing in popularity and importance from here on?
CH: The first Championship was in 2005, set up by Christian Harris who undertook the massive task of organising it. I had to organise it this year, and it is a huge amount of effort and time to get everything organised. We had over 40 societies attending this year, and we needed to receive cheques from each society, making sure they knew of all the details, as well as making sure the weekend of poker ran smoothly. I can see the Championship continually growing. Next year, I would like to see at least 400 students playing in the Championship, as I feel that will reflect the increasing popularity of poker amongst students.
UKPN: What happened at the 2006 Championship in terms of winners, prizes and what were the particular highlights? What kind of press coverage do these events now attract?
CH: The winner of the 2006 Championship was Daniel Underwood from Strathclyde University. He won £1,030 as well as a seat with travel and accommodation to the World Series of Poker Main Event 2006, paid for by our sponsors, the Betfred Poker Room. He won in true Hollywood style with pocket rockets. We had coverage from local media and Poker magazines, as well as being the biggest tournament any of the players had ever competed in.
UKPN: UK Poker News is hoping to interview David Lu, a Warwick University student and major poker force judging by his online achievements including two consecutive qualifications to WPT tournaments in the USA. What can you tell us about his involvement in student poker and are there any other "stars" of poker emerging from the universities of the UK?
CH: David Lu has done tremendously well, not only by getting to two WPT tournaments, but playing remarkably well in both. He combines this with being President of the Warwick Poker Society, likely the largest Poker Society in the UK. His great ability shows just how well a student can perform in the major world poker tournaments.
I'd like to think there are a number of students who could really make an impact on the WPT and such like. It is just a matter of time until a student who qualifies can get the luck required to reach the very final stages of a major tournament. I'm sure there are a lot of student players out there unheard of as yet who are making a lot of money from the game. For example a student from Warwick recently won $25,000 in an online tournament, and I'm sure there are a number of winning students at the $2-$4 No Limit levels and above, making serious amounts of money.
UKPN: Turning to your own interests in poker, do you play and get to travel to tournaments at all within or out of college life?
CH: I play a lot for sure. In terms of live games, I played at our weekly society tournaments and the occasional home game with beers a-plenty! This year, I have only played a couple of Inter-University tournaments, one held by Edinburgh Poker Society which I was fortunate enough to win and another at the Herriot Watt Society. Due to other commitments, I unfortunately couldn't make it to any others, such as the Warwick Series of Poker, Oxford Cup, Dundee Series of Poker as well as others. I play a lot online, and it is my source of income for the summer. I play $3-$6 No Limit, 6-max tables, and a new laptop enables me to "six-table" which means I can make a nice amount, but, like us all, the downswings are never fun.
UKPN: Finally, Chris, the floor is open to you. Is there anything else about UK Student Poker you would like to publicise or highlight for our UK and Irish readership?
CH: I'd just like to add that, despite the main reason for people first attending poker societies is to play some cards, from my experience, after a few weeks, it's the social aspect you end up staying for, as well as making some awesome poker plays on your friends (I think mine are awesome, they generally aren't when they are repeatedly called).
Also if there are any attractive female students out there reading this, please start playing poker at your society!
UKPN: Chris, it has been good to talk about this rarely-discussed aspect of UK poker. Thanks for your time and UK Poker News wishes you every success in poker and the future.
CH: I hope it has been of interest to your readers, and I too wish you all the best in the world of poker.
Ed note: A $200 new player bonus is one good reason to download Virgin Poker today!