Tournament Director: From The Felt?

Mel Lofthouse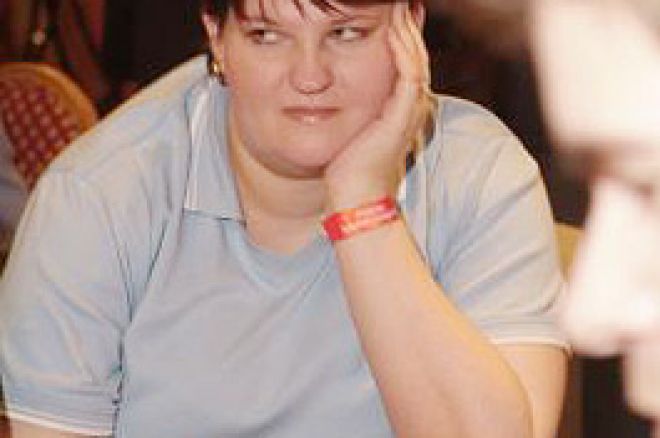 I've been playing poker for about 6 and a half years and learned poker before I went to Vegas. So, when I was in Vegas it wasn't just blackjack that kept me interested.
I'm Senior Tournament Director for Poker4Charity. They were having a tournament held in Luton last weekend so I thought instead of Tournament Directing, I'd play one - which makes a nice change!
The tournament started at 1pm. A babysitter organised all day and night (my mum and aunty) & hotel room booked, off I set from Rotherham down to Luton at 10am on Saturday morning. The traffic was actually pretty good considering it was a bank holiday weekend. I arrived in Luton for 12.30pm just the right time for the tournament to start at 1pm.
When running tournaments all across the country you do meet some fantastic characters in the poker world and it was kisses all round before I even got to register for the tournament! Angie "North Angel" Newth, one of the main organisers for the charity, and "Just"Jo had driven down the night before with the poker tables ready for the event.
It was £30 to enter, then £10 rebuys for 90mins. 58 runners turned up on a gorgeous sunny afternoon. I had my vodka and redbull in hand ready to create havoc!
I thought to myself, shall I play my usual tight solid as a rock game or shall I have a bit of fun? hehe... ok lets have fun. 6 hands into the tournament Mick, another organiser, was dealing on my table. Picture the scenario: Seat 1 - dealer Mick "little lairy" and I'll call his raises. Seat 2 - nice guy, although oops now I've had 4 vodkas can't remember his name, but hes a regular to P4C. Seat 3 - Me, loose aggressive now the vodka is working! Seat 4 - a sweetie who I've Tournament directed to before. Seat 5 - very quiet guy "lets call him scary". seat 6 - "I'll call with any 2 cards". seat 7 - "early50's bit of a rock likes to flirt with me and saw me at monte carlo" (good sign). seat 8 - guy called John "eyecandy" and if I squint a bit looks a bit like Keanu Reeves and seat 9 - "scary scary aggressive".
So there you have my table. Something for everybody. 6 hands into the tournament, Mick had raised to 200, with the starting chips at 1000 and blinds 25/50. I called with A 10 hearts "cos they were pretty". Seat 5 called and also Seat 6 called. Oh God, here goes, I could really do with a fantastic flop. The Flop is: K J 9 (the King and Jack being hearts) so I've got a Gutshot Royal Flush draw, Nut flush draw and Gutshot straight draw. Monster!
Mick bets 200 and they both call. The Turn is something horrible like the 5 spades. Mick bets again, 200, and we all call. River, oh my God how perfect is this?... Queen hearts. Woohoo my 2nd ever Royal flush. How the hell I didn't run up and down the cardroom or start smiling I'll never know! Mick bets 200, I raise all in and everybody calls me! I can't believe it, getting paid off with the absolute cahunas "Merry Christmas indeed!". That win takes me up to about 4500 chips.
Now, if I'd been in vegas with that hand I would have won a jackpot but, sadly Luton isn't Vegas.
At the end of rebuys and I double add-on. Well it is for charity! The blinds are now huge. You can tell I wasn't Tournament Directing it, because the blinds were increasing every 20 mins and doubling was a nightmare that turned into my worse nightmare. I always say that to be a good tournament director you have to look at it from the players view and offer good structures that you would want to play yourself. Which is what I do. But, this wasn't my structure!
Players are now dropping out rapidly and 58 runners soon fell down to 18 in 1 hour. That was way too fast. The top 9 players get paid on the final table and I'm sat on 20k in chips. My "Eyecandy" that was sat across from me had been on the phone to his mate about 5 mins previous saying he wouldn't be long so I thought to myself right I'd love to have his chips. I find AQ in 1st position and blinds are now 800/1600 and I make it 5000 to go. It gets folded to "Eyecandy" who goes all-in for 18000! Which is more or less my chip stack, but I thought he has either got a very small pair and doesn't want a caller or hes bluffing and really wants to go home. I call his raise and he shows KJ and said that he didn't think I'd have the bottle to call his raise. Gentlemen, beware! lol. My AQ stood up and made me the chip leader on my table.
One by one players are getting knocked out. A guy to my left who I'd raised with aces, called with 3's. The flop was 3 7 9, I put him all in and he calls. I ask for an ace and the turn card is an ace. Phew that was good. Now up to about 50k, I fold to the final table.
I make a few moves and steal a few pots. The blinds on the final table are now 5/10k. I make a move on a guy from the small blind with 95 off (dolly parton), he calls, with AQ. The flop is 8 8 2, turn 9, river 2. Oops! I actually feel bad for taking him out, not for making the move on him, which I reckon any poker player would have done, but it hurts when you get taken out with live cards and I think he let all the poker players know about it.
Now we're down to 4 handed. Me, "portfolio" clive, Gaz and Neil. Neil's been buying me a few drinks because I took his mate out with pocket 4's. Gaz, to my right, is very aggressive and raises to 30k. I'm on the small blind with pocket 5's and stick my 90k stack all in. Everybody folds around to him and he says "gotta call I have aces". AAAARRRRGH! and it's good night from Luton for me, although £150 richer! Clive "portfolio" finished 3rd, Neil 2nd and Gaz 1st.
This was an excellent event. I can't wait for the next event on the 14th of May at the Western, London. Confirmed already are Joe Beevers, Barny Boatman and Jeff Duvall. Although, this time, it will be a good structure.
I am available to run events throughout the UK. For further details please contact UK Poker News.
Ed note: Get an extra $50 when you make a $50 deposit. Download Everest Poker