Festival Report: The Western Festival

Mel Lofthouse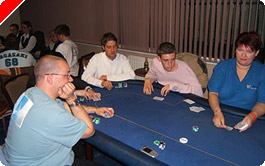 After the great success of the P4C event held at the Western I was asked, whilst I was there, if I could deal for the whole of their festival from Monday to the Saturday.
They had a great line up of events and from a poker players prospective. It looked like a good set of tournaments, good structures and great chips.
The line up of events were :-
Mon 22nd – Tues 23rd May £200 No Limit Holdem with re-buys and add on
Tues 23rd- Weds 24th May £750 No Limit Holdem Double Chance Freezeout
Weds 24th – Thurs 25th May £300 No Limit Holdem Freezeout
Thurs 25th – Fri 26th May £500 Pot Limit Omaha Freezeout
Fri 26th – Sat 27th May £500 No Limit Holdem Freezeout
Sat 27th – Sun 28th May £1500 Johnny Chan No Limit Holdem Freezeout
The big names were, as ever, in attendance. Jeff Duvall, Stuart Nash, Ian Woodley, Jim Reid, Willie Tann, Dave Barnes and a couple of celeb' poker players including Ed Giddens (cricket) and Matthew Stevens (snooker) were all ready for action.
Mondays event had 65 runners and 88 rebuys for a prize pool of £30k
The results were:-
1st Jon Wong - £12,240
2nd Mark McCluskey - £5,508
3rd Warren Wooldridge - £2,754
4th Theo Dalton - £2,448
5th Jim Reid - £2,142
6th Sam Patel - £1,836
7th Dave Binstock - £1,530
8th Dave Barnes - £1,224
9th Chandra Khajuria - £918
Tuesday saw the £750 double chance Freezeout take place and what good fun it was! 52 entrants generating £39,000 in prize money. I can certainly say it was a pleasure dealing all 12 hours from 6pm to 6am and at 6am we still hadn't got down to a final table! I'd been dealing quite a few bad beats to people all day long and I acquired a new nickname because of the action flops I was dealing. Needless to say it's the name of an online poker site….ahem!. At about 5am the blinds were 800/1600 and players are slightly punch drunk but also alcohol drunk but, hey they were having fun.
I deal a bit of an action hand. Matthew Stevens is on the big blind with 10's, it gets folded around to the button who moves all in. Matthew looks down and says I'm all in too, then bless his heart falls off his chair, cracks his cheek on the supporting post and the whole table goes into uproar of laughing and supportiveness. After asking him if he's ok I deal a bit of a speciality. The guy on the button had A10, Matthew had 10's so was pretty much strangling him. The flop is 5 6 7, turn 8, river 4. Both players chop the pot. Absolutely amazing and I bet you're saying it only happens online!
The result the next day was:-
1st Des Jonas - £15,600
2nd Matthew Stevens - £7,020
3rd Ed Giddins - £3,510
4th Jim Reid - £3,120
5th Dave Yeardley - £2,730
6th Ashley Hayles - £2,340
7th Keir Fitzgibbon - £1,950
8th Andy Mills - £1,560
9th Jeff Buffenbarger - £1,170
A deal was done when 4 players were left. Des Jonas took £8000 with 2nd, 3rd and 4th taking £6000. The winner took balance.
Wednesday saw the £300 freezeout which had 73 entrants and over £21k in the prize fund
The winners were :-
1st Alex Nzeyi - £8,760
2nd Dave Copus - £3,942
3rd Peter Gould - £1,971
4th Clive Bealing - £1,752
5th Dennis O'Mahoney - £1,533
6th Tom Barnes - £1,314
7th Zac Lever - £1,095
8th Chandra Khajuria - £876
9th Keir Fitzgibbon - £657
Thursday was a real shocker. The £500 Omaha Freezeout only attracted 35 entrants for a prize pool of £17,500. The poor turnout really surprised me. I'm not sure whether it was because the A40/M40 was a complete nightmare as per usual, or if it was because people wanted a rebuy Omaha event. The line up, though, was everybodys worst nightmare. The best Omaha players turned up. There was certainly no dead money in this event.
The winners were :-
1st Kerry Taylor - £6050
2nd Terry Burke - £3270
3rd Lalit Khajuria - £2350
4th Ruth Sherman - £1700
5th Richard-Gardner Brown - £1360
6th Paul Murrell - £1020
7th Ronnie Debeaulox - £750
8th John Burberry - £500
9th Jac Arama - £500
Friday's £500 No Limit Holdem Freezeout had 55 entries and prize pool of £27.5k. Players were ringing from 6pm as they were stuck in traffic, either the culprit being the M25, M4 or M1. I think it was just Bank Holiday traffic hell!
The result from this one :-
1st Stuart Nash - £11000
2nd Ian Woodley - £4950
3rd Alex Nzeyi - £2475
4th M Blank - £2200
5th K Langcake - £1925
6th Ismail Yusuf - £1650
7th Dave Binstock - £1375
8th Peter Gould - £1100
9th Chandra Khajuria - £825
Saturday was the £1500 Johnny Chan No Limit Holdem Freezeout, with an incredible 15000 starting chips and 1 hour blinds. I have to say people were either stating it's a fantastic structure or its too slow! I guess you can't please everybody but hey that's poker for you.
The final result was
60 ENTRIES
£90000 PRIZE MONEY
1st Luke Patten - £36,000
2nd Jules Adamson - £16,200
3rd Jeff Rogers - £8,100
4th Ryan Frondu - £7,200
5th David J Lloyd - £6,300
6th Javed Abrahams - £5,400
7th Shane Reihill - £4,500
8th Willie Tan - £3,600
9th Jim Kerrigan - £2,700
Whether I'm poker dealing, tournament directing or poker playing it's so nice when you get a room full of excited players all eager to start a game.
Be lucky and hopefully see some of you UK Poker News readers at Walsall for a few events soon.
Ed note: Download Poker770 for a huge £500 deposit bonus