Showdown Poker Tour Announces Matt Savage as TD

Tony Bromham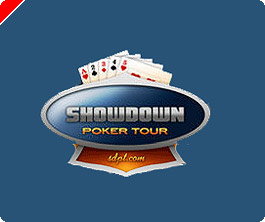 It is a matter of days now before the commencement of the Showdown Poker Tour which takes to the road at the Gutshot Poker Club in London, as part of the Gutshot's European Series of Poker week. This culminates in the Showdown Tour €5,000 Main Event on 6th and 7th May.
UK Poker News recently reported that the four members of the Hendon Mob - Ram Vaswani, Joe Beevers, Ross Boatman and Barny Boatman - had agreed to play all of the events on the Showdown Poker Tour in 2006. Now Showdown has announced that the Tournament Director for the Tour will be Matt Savage.
Delighted Showdown Poker Tour founders, Soren Hansen and Teddy Vendersbo, said:
"Matt is really a dream coming true for Showdown Poker Tour. We are extremely pleased to announce the world's best poker tournament director - Matt Savage - as our tournament director for the Showdown Poker Tour"
Matt Savage has a wealth of experience behind him. He has directed the World Series of Poker for three consecutive years and his team are respected throughout the poker world, both among players and casinos. His career highlights include:
- World Series of Poker: 2002, 2003 and 2004,
- Showdown at the Sands: 2003, Atlantic City, New Jersey, 2003
- Cajun Poker Classic: Harrah's New Orleans, Louisiana, 2004
- Bay 101 Shooting Star: World Poker Tour, San Jose, California, 2004
- Caribbean Cruise: World Poker Tour, 2003-2004
- Hollywood Home Games: World Poker Tour, Hollywood, California, 2003
- Costa Rica Classic: World Poker Tour, San Jose, Costa Rica, 2002
- Chances Gold Rush: World Poker Tour, San Francisco, California, 2002
- Monte Carlo Millions - one of Europe's largest tournaments
- Responsible for directing over 100 televised events.
Matt Savage has also contributed behind the scenes of poker:
- He founded the Tournament Directors Association (TDA), which has been instrumental in standardizing tournament rules throughout the world.
- He was inducted as the first member of the Poker Room Manager's Hall of Fame in 2003.
- He was chosen as a speaker at the World Poker Industry Conferences in 2001, 2002 and 2003.
The Showdown Poker Tour looks likely to become a worthy rival to the European Poker Tour. In 2006, it will be presenting tournaments at the following venues (with inclusive festival dates):
- The Gutshot Club, London, England (3rd - 7th May 2006)
- Fitzwilliam Card Club, Dublin, Ireland (24th - 28th May 2006)
- Reval Hotel Lietuva, Vilnius, Lithuania (date pending)
- Casino Barriere de Trouville, Trouville, France (6th - 10th August 2006)
- Reval Park Hotel & Casino, Tallinn, Estonia (31st August - 3rd September 2006)
- Casino Marienlyst, Elsinore, Denmark (19th - 22nd October 2006)
- Casino Esplanade, Hamburg, Germany (27th - 30th November 2006)
Each final table is to be televised across Europe with the Hamburg event representing the Grand Final with a buy-in of €10,000 and an estimated prize pool of €3,000,000. The winner of that tournament will win an estimated €1,000,000.
Ed note: Grab a $200 bonus when you download Virgin Poker right here.