Barny Boatman Loses Out to Mats Gavatin in Showdown Tour

Tony Bromham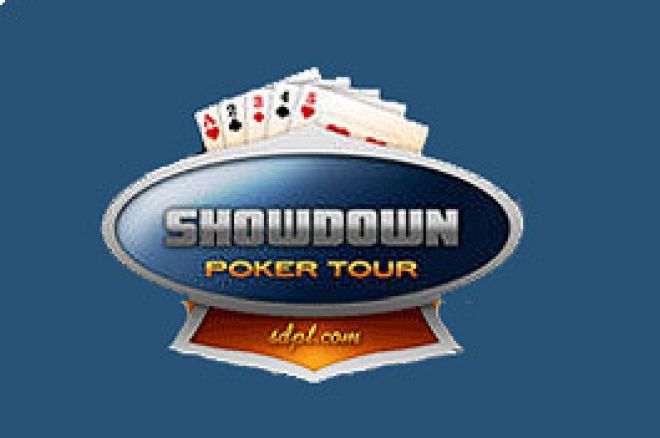 The very first leg of the inaugural Showdown Poker Tour took place at the weekend in the cosy confines of the Gutshot Poker Club in Clerkenwell, London, as part of the European Series of Poker week at that venue.
On offer at the €5,000 buy-in event was a considerable prize fund and a little TV exposure for future broadcast. However, this being the first event of an untried Tour, with a substantial buying-in figure, the numbers that entered were small. Twenty-three to be precise.
However, amongst the score and three were the full quotient of the Hendon Mob, Ram Vaswani, Barny Boatman, Ross Boatman and Joe Beevers, having committed themselves to the Tour. Also in attendance were Dave Colclough, Sweden's Mats Gavatin (EPT Dublin winner 2005), USA's Woody Deck, Robin Keston, Ben Grundy, Jim Kerrigan and Ireland's Andy Black (5th place in WSOP Main Event 2005).
It may be that Matt Savage, one of the world's leading tournament directors, has not taken charge of such a small field in as cosy an atmosphere as the Gutshot for quite some while. Be that as it may, the players knew they were down to three tables from the outset yet with low blind levels in place, and only the first four places would pay. The winner would receive a fraction under £40,000, the runner-up just under £20,000, third almost £12,000 and fourth a shade under £8,000. In summary, for the players, this was probably an unusual scenario.
Early in the proceedings, Barny Boatman had dropped most of his starting chips, figuratively speaking, and had to rely on a full house to save himself when all-in against Richard Redmond. Barny didn't look back but soon afterwards Redmond departed after having a set "rivered" by Dave Colclough's straight.
Despite the low blinds, some of the lower stacks were gunning for glory or bust, and all-in showdowns were soon taking place. Andy Black was one example and failed to gain any headway against the might of Ram Vaswani's cards. Peter Gould, Jim Kerrigan, Ross Boatman and Joe Beevers soon followed along with Vaswani himself who felt the force of a rivered flush from Woody Deck. Three Mobsters chewed lead, only one still lived.
Thomas Biel was busy on Day 1 accumulating while all about were losing their chips, and started Day 2 as comprehensive chip leader. He was one of the final nine with England's Dan Wicks, a previous winner of the £500 Main Event at the Gutshot, Mats Gavatin, Barny Boatman, Woody Deck, Bjorn Helander, Robin Keston, Dave Clark and, bringing up the rear with a tiny stack, Dave Colclough.
However, it was Woody to fall first with Colclough absent from the table. The last eight became the TV table and Barny Boatman doubled up via the chip leader Biel who was now not so comfortable. Boatman then jettisoned Colclough from the tournament, Dave Clark followed and the last two unpaid fallers were Robin Keston and erstwhile leader Thomas Biel who met two kings and was executed for having the temerity to challenge them with all of his chips.
Bjorn Helander was the first paid victim in 4th followed by Dan Wicks. Erstwhile low stack Mats Gavatin had progressed at Wicks' expense and now faced Barny Boatman heads-up. As is so often the case, no amount of raising and jousting can prepare you for a rogue card being dealt on the board and when Boatman found himself all-in for his chips with A4 against K3, he must have felt confident. A king-sized flop dashed those hopes and Boatman took the runners-up spot, nevertheless making it a good start for the Hendon Mob's new sponsors, Full Tilt Poker.
Congratulations to EPT winner, and now SDPT winner, Mats Gavatin!
UK Poker News thanks the Gutshot Poker Club for their online coverage of this event.
Ed note: Download Bet365 Poker for a $100 bonus and a monthly $30,000 freeroll