Action Jack Cruises to Victory in WHUPC Opening Event

Paul Sandells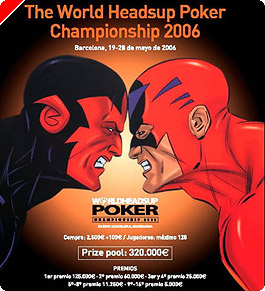 Paul "Action Jack" Jackson romped to victory in the €1,000 No Limit Hold 'Em event here in Barcelona last weekend. With a field of runners reading like a "Who's who" of European poker, victory was never going to be an easy feat. Yet, Jackson took the game by the scruff of the neck and demolished a star studded field.
Sporting what could only be described as an "interesting shirt" Jackson took his seat with 138 of Europe's finest in the warmth of an early summers afternoon in Spain. The 4pm start time and 5,000 starting chips was designed to allow the tournament to finish in one day. With the main heads-up event starting the next this gave players the chance to compete in both events.
Thomas Kremser got the tournament underway just a few minutes after the advertised start time. British players were out in force. Marc Goodwin, Dave Colclough, xuyen "bad girl" Pham, Steve Vladar, Paul Jackson and current European ranking leader Mickey Wernick set about the business of winning 1st place and a tidy €50,000.
The first of the Brits to cash was A.R Chapman in 13th, taking away a creditable €1950. Xuyen Pham again proved what an outstanding talent she is by finalling in 7th for €4200. The ever consistent James Atkin pushed hard for 4th €8300. But, it was West-Midlander Jackson that took the glory and €52,000. Jackson, who pushed Phil Ivey all the way in the Monte Carlo Millions late last year, chalked up his first victory of 2006 and 1200 ranking points for his efforts.
The result in full:
1st Paul Jackson (England) €52,800
2nd Matts Eriksson (Sweden) €26,400
3rd Erich Kollmann (Austria) €13,100
4th James Atkin (England) €8,300
5th Bedros Kupelian (Germany) €5,500
6th Alex Dietrich (Germany) €4,900
7th Xuyen 'Bad Girl' Pham (England) €4,200
8th Juan Manuel Pastor (Spain) €3,450
9th James Haughey (Ireland) €2,800
10th Fuhrer Wilhelm (Austria) €2,230
11th David Daneshgar (USA) €2,230
12th Nichlas Saarisilta (Sweden) €2,230
13th A R Chapman (England) €1,950
14th Olle Tjaldin (Sweden) €1,950
15th Rino Mathis (Switzerland) €1,950
16th Guiseppe Nesci (Italy) €1,670
17th Brigitta Johansson (Sweden) €1,670
18th Claudio Pagano (Italy) €1,670
The heads-up event is well under way, with Dave "Devilfish" Ulliot an early casualty. Stay tuned to UK Poker News for the latest.
Ed note: Get an exclusive $200 bonus when you download Betfair Poker today