Interview with Padraig Parkinson – Part 2

Tony Bromham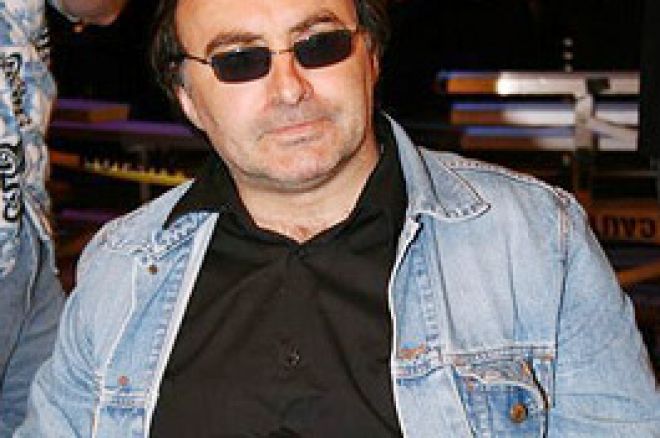 UK Poker News brings you Part 2 of witty Irish poker player and WSOP finalist Padraig Parkinson's views and insights into the world of poker. This time, the WSOP of 1999 is recalled, for very good reason! Padraig also considers some of the prickly points of debate about how a WSOP Champion ought to be decided.
Part 3 sees Padraig talking about sponsorship, added money, and the Irish and French poker scenes, so don't forget to return to UK Poker News!
UKPN: Padraig, apart from the tournament circuit, are you a keen cash player and, if so, what games and stakes do you play?
PP: I've always been a keen cash player. I love the excitement of Pot Limit Omaha, which has been a game of choice in Dublin for a long time now, the Irish love a gamble. I tend to find myself playing Omaha against guys who have a pretty good idea of what's going on when I should really be playing Hold'em against relative beginners. Boys will be boys!
UKPN: Looking down the long list of tournaments in which you have cashed over the years, two appear to stand out especially, The first and most prominent is the 3rd place you achieved in the WSOP Main Event of 1999 in which you were joined on the final table by two fellow Irishmen, Noel Furlong, the eventual winner, and George McKeever who placed 7th. With high quality Americans Alan Goehring, Erik Seidel and Huckleberry Seed also at the final table that year, it must have been quite an occasion to play in. What is your recollection of the final day's play and the highlights of it?
PP: It was a blast. There is no feeling quite like hearing that guy say "From Dublin, Ireland" as you're introduced to the crowd. Wow! The presence of two good friends of mine, and the fact that the Americans were top drawer made it extra special. I really got into it. I suppose the highlight was winning a big pot from Noel, when he slow played kings and I flopped two pairs, because that gave me a narrow chip lead at the time. If you think being at the final table of the World Series is fun, try it as chip leader! The low point was getting knocked out. I had narrowed down what Noel might be holding to a certain category of hands and acted accordingly. By accordingly I mean I went all in on the basis that it was unlikely his holding was precisely two diamonds. It was. I wasn't. End of fairytale.
UKPN: Do you still have ambitions to win a WSOP Bracelet or does it not bother you too much given the huge numbers that play the tournaments these days?
PP: I haven't tried too hard to win a Bracelet as I had a theory that one's chances of nailing the Big One at the WSOP were greatly enhanced by avoiding the wear and tear that comes with playing a lot of events in the build-up. Obviously, with the changes in the Big One over the last couple of years, you'd need a life expectancy of about 687 to realistically follow that theory to the limit any more, so I'm planning to play loads of events this year.
I suppose I don't really regard a WSOP Bracelet in the same way as I once did. It used to be that a Bracelet meant you'd played and beaten the best. That's not strictly the case any more!
UKPN: At this year's WSOP, Harrah's are bringing in a high entry H.O.R.S.E. tournament. Is it something you might enter or, but for the high buy-in of $50,000, would enjoy playing given the chance?
PP: I'd rather give a spare $50.000, if I had it, to a guy in the street than to enter the H.O.R.S.E. event! My equity would be about the same. Though, when I think about it, I'd have a better chance of getting something back from the guy from the street! Quite simply, some of the best players in the world who play these limit games every day will be contesting the event and it would be foolish to even think of playing them at their own game. For $500, I'd try it for the experience but that's about it. I'm sure the fact that the field will be very small will attract some glory hunters, hoping to get lucky and win a soft Bracelet. Best of luck to them!
UKPN: Do you think the big Championship event of the WSOP should really be a mixed discipline event like H.O.R.S.E. rather than pure No Limit Hold'em as a true test of poker skills?
PP: I wouldn't go quite that far but I can see a case for making it Pot Limit for example. When a room full of guys are playing "slap-bang-wallop" poker, the premium on skill gets eroded and leads to farcical situations where the World Championship can be contested by several guys who couldn't beat a $10-$20 game consistently. This can't be right.
UKPN : During last year's WSOP, you appeared in The Poker Show, a very funny programme hosted by Jesse May in which a lot of fun was poked at the game and its participants. How did this come about for you, and will you be appearing in it this year?
The Poker Show was something we did as much for our own amusement as anything else - as you may have gathered!! I understand the plan is to do The Poker Show again in some form though not necessarily this Summer.
UKPN: Another event of note in your past was your victory in the 5th series of Channel 4's Late Night Poker, beating off the challenges of Joe Beevers, Jac Arama, Dave Colclough and Surinder Sunar. Late Night Poker was a seminal show, leading the way in studio poker including pioneering the see-through panels to enable viewers to see the hole cards during play. What are your memories of those series and how did you find it adapting to the TV environment?
PP: Late Night Poker 5 was a pretty riotous affair so a lot of my memories are quite vague! I only played LNP 5 and 6 as I had some reservations about revealing my hole cards.
I have very fond memories of LNP and not just because I won! There was a great buzz around the event and marvellous craic around the hotel bar in Cardiff. Everyone knew each other and I suppose the feeling that this was the beginning of something special added to the atmosphere though I don't think anyone dreamed it'd lead where it did.
Return here for Padraig Parkinson's concluding part of his entertaining interview!
Ed note: Qualify TONIGHT (31st May) directly for the WSOP for just $10. Download Paddy Power Poker now and play to win.