Interview with Padraig Parkinson – Part 1

Tony Bromham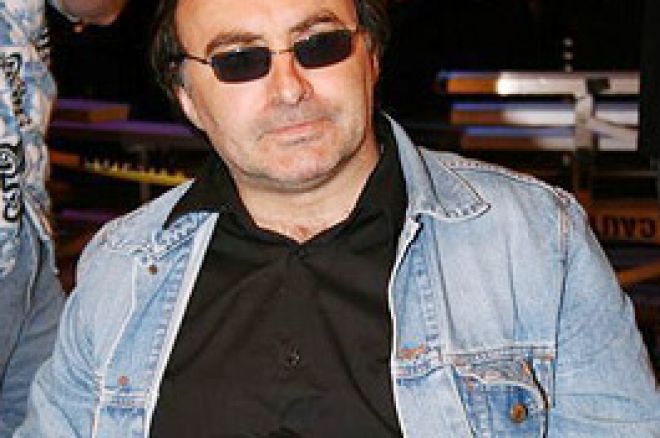 Interview with Padraig Parkinson – Part 1
UK Poker News is extremely pleased to bring you a fabulously amusing and thought-provoking interview with Irish poker legend, Padraig Parkinson. Padraig tells us in his own inimitable style about his views on poker, his background, achievements and aims; and also about his upcoming charity poker tournament on 1st June raising funds for a cause close to Irish hearts.
Parts 2 and 3 will follow exclusively on UK Poker News in the coming days. Padraig's views on the WSOP, cash and tournament play, poker in Ireland and France all come up for consideration.
Read on and smile!
UKPN: Hello Padraig, thank you for sparing your time to chat with UK Poker News.
PP: I'm Irish, I talk to anybody!
UKPN: Excellent! OK, before we talk about anything else, there's an important event coming up. You are about to oversee the running of a big charity poker event in aid of Simon Dublin, on 1st June, at the City West Hotel. Can you tell us more about this charity and also an idea of the quality of poker player you hope to have on view?
PP: Simon Poker Day, like most Irish ideas, started with a drink. Lots of them, actually. At the Boyles/Pokerevents extravaganza in Dublin in January, I ventured the opinion after several pints that it was a shame we didn't run a serious poker tournament for charity. Unfortunately, Eamonn Connolly was standing beside me, and as he'd also had quite a few pints, wouldn't let the matter drop. So, the plan to hold a Simon Poker Day was hatched. The Simon Community are a highly respected organisation who do admirable work on behalf of the homeless (see dubsimon.com) so running a tournament to get them a few quid seemed like a good place to start.
Pokerevent's Fintan Gavin was unlucky enough to be nearby and half-canned, so he thought it'd be a great idea to hold our event as the opener to his Boylepoker.com Irish Poker Tour at the beginning of June (Boyles have also generously donated sponsorship money to the event). So that's how it all started.
We've had great support from all parts of the Irish (and UK) poker community which is obviously the key to future charity events. We are expecting a full range of players to show up. All the top Irish pros have committed to playing as have a host of big names from the UK. They'll be joined by the likes of Jimmy White, Jesse May, our own Ken Doherty and players from all over Ireland. Throw in Mad Marty's auction and it should be a great night out!!
UKPN: It promises to be a hoot, Padraig! Moving on; compared to many today, you have had a long career in poker but, for the benefit of the multitude of newer players to these poker shores, can you tell us a bit about your background and how you got started in poker in the first place before turning professional and when did you decide to do so?
PP: I've been a professional poker player since 1990, playing both cash and tournaments. I've won a European Championship (1996; Omaha at the Grosvenor European Open Championships, London) and finished third in the World Series in 1999. Nowadays, I play a lot in America. I also do a bit of writing, including my column in Cardplayer and Cardplayer Europe, and do quite a lot of TV work, such as The Poker Show and poker commentary, mainly with my friend Jesse May. I'm currently based in Paris, but will be moving to Dublin in the not too distant future.
Ten years ago, thirty-something was considered young for a poker player and people would call you "kid". Now, forty-something is considered practically decrepit! We live in strange times. In 2000, there was a betting proposition as to what the age of the World Champion would be, and you could bet under or over 42. I think you'll find out it's come down a little.
I started playing poker in Trinity College, Dublin, in the seventies, or should I say I spent four years of my life in College doing little more than playing reasonable poker and bad bridge. Donnacha O'Dea, John O'Callaghan and the late Ramin Sai all followed the same route, so it was a pretty good training ground. I didn't at that stage really consider making a career out of poker and it was only some years later, after discovering the Eccentric Club and the establishment of the Griffen Club and Jackpot Club in Dublin that things changed. I suppose the opening of the poker clubs in Dublin was the start of Ireland's poker explosion. They say in Ireland that when your job starts to interfere with your gambling, the job has to go! And that's the course I followed!
UKPN: What factors were important to you at the time of making this decision and do you consider that the poker scene today is such that anyone thinking of turning professional now would face totally different considerations?
PP: I didn't sit down with a team of accountants and work everything out; I just wanted to play poker. Had I really worked it out, I wouldn't have done it. Not if I was behaving logically anyway. The Irish poker scene at the time was way too small to provide a living for all the wannabe professional players and those working in the clubs. I was one of several of the players who went through a few ropey years at the start, partly for the above reasons, but also because I was my own worst enemy at times, which obviously didn't help, but it certainly was a lot of fun. It took a few years to learn from my mistakes (an idiot could have done it a lot quicker, but I'm not that bright), but thankfully the game has been very good to me for the last 12 years or so.
Obviously, someone thinking of turning pro today is looking at a different scene completely, but some of it is just a mirage. There's way more money to be made now by the top players for sure, but there's also a hell of a lot of guys trying to join the elite. The simple mathematics of winners and losers haven't changed all that much, the harsh reality of the situation is that a very small percentage of players win and a smaller percentage again win enough to make a decent living.
The poker explosion has led to a dramatic fall in the standard of play, purely by virtue of the fact that there are so many more players, most of whom have very limited experience. This can make it very difficult for a young guy to work out exactly where he stands. Being able to beat up on relatively bad players may not necessarily require the same skills needed to beat good ones, which maybe is what's required not too far down the line, as things calm down a bit.
I think turning pro purely based on a proficiency at tournaments without a really good cash game to back it up is unwise. I'd advise anybody seriously thinking of turning pro to at least consider that maybe they are not good enough. And by the time they find this out, their career choice may have made them unemployable if they want to get back in the real world. They should at least have a good cover story for the gap in the CV!
Be sure to check back every day for more from Padraig Parkinson. You will not be disappointed!
Ed note: Join the Irish Revolution! Download Paddy Power Poker and grab a $101 bonus.