Interview with Mel "Silver Fox" Judah – Part 2

Tony Bromham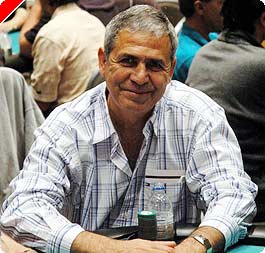 UK Poker News continues its interview with poker legend, Mel Judah, a winner of two WSOP Bracelets in 7-Card Stud and money winner in over 40 WSOP events as well as a WPT winner.
In this Part 2, Mel talks of his time playing the legendary Stu Ungar, and also reflects on the rise of European poker.
UKPN: Did you get the opportunity to play on the same table as Stu Ungar (WSOP winner 1980, 1981 and 1997) in the old days?
MJ: Yes, I played about three or four times against Stu Ungar in tournaments at the World Series and the most gratifying one was in 1997 which he won and I finished third. He was an incredible player, probably the best player I have ever seen in No Limit Hold'em. I have been very fortunate to play against him at his best. He never made a mistake which was very unusual for any poker player on a final table. We are all prone to making mistakes at some given stage, or getting a read on our opponents wrong, but he was spot on that day and throughout the tournament. In fact, playing against him from the last 3 tables, I got to know his style of play. He was a great player.
UKPN: Ungar was known for his ultra-aggressiveness but was there more to his game than that?
MJ: Oh yes, he always thought two or three moves ahead in certain situations after the flop. I realised this later on when I analysed the hand. He knew which players he could make moves on, and which players would like to make moves on him, so he would take advantage of their situation and their abilities. Phil Hellmuth would agree! Yes, he had it all.
But that was the player of old. I believe that the knowledge available today on computers, books and television has cost some of the skilful players their edge. We have had to change our style with the times. There is always a lot of young up and coming new faces who know the maths and quickly learn to apply it.
UKPN: Apart from Stu Ungar, who else would you regard as amongst the best in the poker field now or in the past based on your own tournament experience, whether at No Limit Hold'em or at other variations?
MJ: There are a lot of good players who play all types of games, some of whom excel in certain games. You cannot differentiate. You just have to look at the records.
UKPN: So is it the case now that you, personally, are looking to cut down substantially the number of tournaments you play, in order to spread into other business interests in poker?
MJ: I am moving in other directions because I believe the money is on the other side of the fence in this industry. The knowledge and experience that we have earned over many years that has kept our feet firmly on the ground needs to be passed onto the younger players. The ones that make it maybe very good or lucky, and they are just starting their poker careers, but most of them will sooner or later go broke and they better get used to that idea before thinking how great they are.
UKPN: Turning to Europe, and the European poker scene, what is your take on it at the moment?
MJ: I've just come back from the United States to spend some time with my family. I am very impressed at how tournaments, and television events, are run and what is new on the European market. It has become so big now that I think it is better for some players to be playing in Europe more so than the United States. The prize money is bigger in America but apart from the World Series and the Bellagio events, I don't think you need to go to America as much. European poker is growing rapidly and the prize money is increasing substantially. They're doing a great job and I think eventually you will find this might be a better deal for players wanting to play in tournaments that give you the best value for your money.
UKPN: Regarding tournaments today, especially those that are exposed heavily on TV, what are your thoughts on certain etiquette rules, such as the F-Bomb Rule at the WSOP, which have come in for some criticism from certain top players, and on player behaviour generally at these big events?
MJ: First of all, I would like to say that Europeans and British players are more laid back when it comes to conducting themselves at the table compared to Americans. I don't think it's necessary to swear at dealers and be abusive across the table so I think the F-Bomb Rule is a very good rule to contain people from getting out of line. It should be put into force because the F-Word is used too freely. If it is used out of context it is not so bad. Occasionally, when someone loses a hand, they may use the F-Word out of frustration but unfortunately the Rule was brought in because people's behaviour became worse. Those people are punished unnecessarily but that's the way it is. I think the F-Bomb Rule should be put into all tournaments around the world because it protects the dealers more than anybody else which is good.
UKPN: Looking ahead, will the UK and Irish poker public have a chance to see you in any major tournaments here in these islands, live or on TV over the coming year or are you definitely cutting down tournament play?
MJ: It's very possible as there are a lot of television events and I have qualified and will be playing in the Ladbrokes Millions.
UKPN: Mel, thank you very much again, and UK Poker News wishes you every success in your poker ventures in the future.
MJ: Thanks. It was nice talking to you.
Ed note: Download Bet365 Poker for Loyalty Points and get paid as you play.