Full Tilt Ahead for The Hendon Mob

Tony Bromham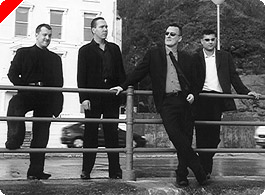 You can't keep a good Mob down!
The Hendon Mob - aka Ram "Crazy Horse" Vaswani, Joe "The Elegance" Beevers, and the Boatman brothers, Barny and Ross - have re-emerged with major sponsors after a short period of divorce from Prima Poker.
The Mobsters have joined forces with Full Tilt Poker, which is already famous for its overflowing stable of poker talent from the USA, collectively known as "Team Full Tilt", including Phil Ivey, Howard Lederer, Jennifer Harman, Phil Gordon, Chris "Jesus" Ferguson, Erick Lindgren, Erik Seidel, Andy Bloch, Clonie Gowen, John Juanda and Mike Matusow.
Howard Lederer, widely respected as one of poker's top players, and known as "The Professor" for his analytical and calm approach at the tables, says:
"Having the Hendon Mob join the Full Tilt Poker family is very exciting for Team Full Tilt and will afford players on the site a unique chance to play and chat with some of the best players and ambassadors in the poker world. We are very pleased!"
Barny Boatman says:
"We are excited and honoured to have been chosen by Full Tilt Poker to represent them on the European tournament circuit and beyond. We are long time admirers of the software, the style, and of course the incomparable team of top flight pros who make up Team Full Tilt."
To introduce some "Britishness" into the proceedings as a celebration of the new partnership, Full Tilt Poker is offering its players the chance to win two free tickets to the 2006 World Cup Finals in Germany. That's right - Free! On top of that, there will be $2,000 thrown in for spending money and a custom Full Tilt Poker football jersey to wear at the game.
Full Tilt Poker will be giving away 12 more jerseys to players in the Hendon Mob World Cup Freeroll. Players who make the final table in this tournament or knock out a member of the Hendon Mob, will receive a custom Full Tilt Poker football jersey with the player's name and chosen number on the back.
The World Cup Freeroll tournament begins at Full Tilt Poker at 8pm GMT on Saturday, 17th June.
The Hendon Mob have this to say on their website - in glorious British humour which will probably bemuse their US counterparts no end:
"The opportunity arrived in Monte Carlo when the Mob got together with Team Full Tilt for the legendary Transatlantic Challenge, the result of which we do not recall.
"Behind the scenes the Mob have been helping to train the Tilters who are constantly on the phone asking advice on a range of poker related matters. Most of Team Full Tilt's success as players can be directly attributed to the Hendon Hotline. Examples of this include Ram's invaluable advice on money management and conservative play, and Joe's fitness and dietary tips. Phil Gordon in particular has benefited from Barny's sartorial advice whilst Ross has been working to help Mike Matusow come out of his shell and improve his table presence.
"OK. Maybe Team Full Tilt have been doing just fine without us, but we are delighted to be joining the world's best to promote the greatest and coolest online poker site in the world."
It will be interesting to see how the Mobsters will look in the jazzy Full Tilt sports shirts, but there's no doubt that Full Tilt has acquired one large slab of character to its public face. UK Poker News wishes all the Mobsters the best of British.
Ed note: Play the juiciest cash games when you download Bet Direct Poker