Rising Stars: An interview with David Shallow

Paul Sandells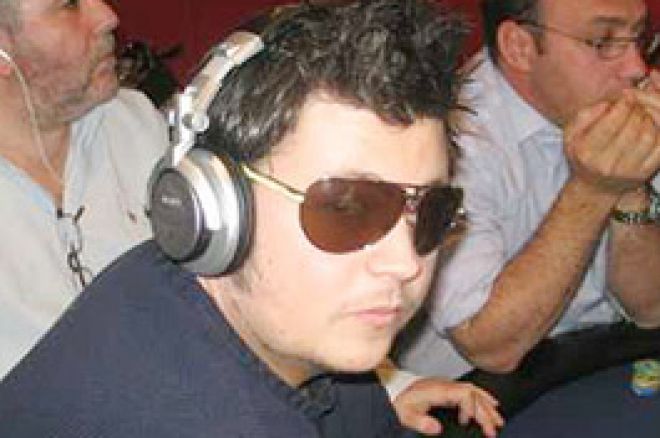 David Shallow is a 23 year old professional poker player who has a been "Pro" for 18 months now. For the first 12 months he played 99% of his poker online but in the last 6 months he has made an effort to travel and play on the live tournament scene a lot more. David is planning on spending 6 weeks in Vegas this summer, along with hundreds of other hopefuls, in a search for a WSOP bracelet. So, until then he will be putting a lot of hours in online to finance it. Paul Sandells caught up with David for a chat.
UKPN: Hello David, thank you for taking the time out to talk to UK PokerNews.
You're well known in internet circles as one of the bigger, more successful on-line poker players. When did you start out on the 'net and what encouraged you to give it a try?
DS: I used to go to Romford dogs a fair bit, a couple of friends over there had started playing online poker at Ladbrokes. One of them came round and downloaded it for me, out came the credit card and the rest is history.
UKPN: What was your job/what did you do before you found poker?
DS:I was a law student. I have never worked in my life!
UKPN: At what point did you really feel you could make a good living from poker? Is there a "Eureka!" moment you can share with us?
DS: After only 6 weeks of playing I somehow qualified for the WSOP Main Event in 2004. God knows how as I was useless at the time. I had law exams scheduled at the same time as the Main Event and chose to go to Vegas anyway, probably the best decision of my life. Whilst out there I learnt an awful lot and when I came back my online results had improved dramatically. Within 4 months I had given up thoughts of being a Lawyer and turned to poker.
UKPN: What is your usual game on-line? What network and what stakes?
DS: I have played a variety of games but at the moment 90% of my poker is Headsup Sit and Go's on Virgin Poker which is on the Boss network. I play all the stakes between $500 and $5000 per game. They briefly introduced $10,000 games but no-one would play us so they removed them, probably a good thing!
The games are short, turnover fast, variance a lot lower than other forms of Stts therefore they show a more consistent profit and make targets easier to hit.
UKPN: Are there any horror stories you can share with us?
DS: Plenty of drunk stories. My favourite one involved being in an $18,000 pot with J7os on a 88842 board where I was 100% convinced I had J8 for quads. I even emailed the site for the hand history because I was so sure I had quads!
UKPN: What would you consider to be your "best day" at on-line poker to date?
DS: Betfair Poker had a £100k tourny and during the first break I spoke to a good friend of mine "Hawk", who was playing it as well and we said if we get headsup we will chop it. 550 runners and 7 hours later we are headsup! Even after I lost 90% of my stack to him with 54os v KK all in pre.
We both drew £20k which is a nice result but it felt even better cause there were two of us to foot the bar bill for the next week!
Even though I've had bigger results this is probably most memorable because obviously we were joking on the phone at the time and yet it happened.
UKPN: You're good friends with David Pomroy (DPommo) who has just picked up a sponsorship deal with Virgin Poker. Do you travel around to many of the circuit events with him? Do you take part yourself or just go along to party?
DS: Yes we travel everywhere together. In the last 6 months we have been Dublin, St Kitts, Bellagio, Deauville, Monte Carlo and various UK festivals.
I play all the main events but had to miss Monte Carlo due to an incredibley painful toothache. We never play the warmup events at these festivals so it does tend to turn into an on-going party however it's not always easy. If you have ever been to Deauville you will understand just how hard it is to have fun there!
UKPN: Do you prefer playing on-line rather than in a environment?
DS: Online is more convienient, any time, anywhere and no need to get dressed! However, going deep in a live tournament definitely has a buzz factor to it. I cant stand live holdem cash and could never play that fulltime.
UKPN: What would you like to achieve from poker? Is there a goal or target you want to reach?
DS: Like everyone I want to be the best at what I do. Winning a WPT or WSOP event would bring acclaim, respect and of course the money so that is a general aim of mine.
UKPN: What do your family think about poker and the lifestyle of a poker player?
DS: They were dubious at first but they have seen the money that is there to be made. They are getting more and more into and are playing a bit themselves now, plus they always follow the online updates of the big live tournaments to find out how I've spunked my chips away in that particular tournament.
UKPN: What would you like to see happen on the UK & European poker scene? Are there any rules you'd like to see introduced or abolished?
DS: Too many Festival Main Events where the buy-in is between £500 and £1500. Once a month there should be a deep stacked event over 3 days where it's a £2500-£3500 buy-in, these events would be more skillfull and more prestigious.
I personally can't stand the rule that you have to be in your seat when the first card is dealt, they had this in place at the Vic £1500. If you want to lie in bed and ante away then you should be allowed in my opinion.
UKPN: Finally, your nickname "Dubai" or "Dubai Millenium" - the name of a famous race horse I believe. Why did you select this as your moniker?
DS: My first ever winning bet on a horse and when I entered my Betfair forum name I was purely a sports trader at the time, so chose that name. It's stuck with me ever since!
UKPN: It's been great David, see you on the circuit soon.