Barcelona Champions League – Heads Up Style!

Tony Bromham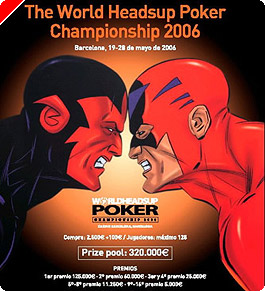 Arsenal football supporters are still reeling from their team's narrow defeat last night in the UEFA Champions League Final at the Stade de France in Paris against Spanish champions Barcelona, but for the poker fans among them, the battle for head to head supremacy has yet to be fought……..in Barcelona!
Yes, the time is here for the greatest of the European jousting battles to commence at the Sixth Annual World Heads-Up Poker Championship being held at the Casino Barcelona in Spain. There will be no Thierry Henry or Sol Campbell giving it the big stare, nor a 10-minute F-Bomb penalty for Jens Lehmann when the poker kicks off, but quality players are certainly guaranteed
Terminal B at the Aeroport Internacional El Prat de Barcelona will be a busy place over the next day or two. Not only receiving the likes of Ronaldinho, Eto'o, Belletti, Edmilson, Larsson, Rijkaard and the rest of the victorious Champions League football club, the airport will also see a long line of top poker players descending upon the Catalonian city.
In last year's tournament, which features an FA Cup style knockout format, a high number of UK players made it to the final 16. The highest placed was Simon Nowab who finished runner-up to the winner, Sweden's Peter Gunnarson, in the Final head-to-head clash. "Burnley" John Falconer, Dave Colclough, Simon Trumper, Jac Arama and Paul Jackson were some of the other high-profile UK players to figure in the cash prizes.
This year, inevitably, the tournament promises to be even bigger and more exciting, and it will be the subject matter of eleven one-hour TV programmes for future broadcast around the world on TV and via internet pay-per-view services.
The "sudden death" format means that precisely 128 players will form the maximum entry in player numbers each of whom is required to buy-in for €2,500 + €100 creating a record prize pool for this event of €320,000 of which the winner receives €125,000, the runner-up €60,000, the losing semi-finalists €25,000 each, the quarter-finalists €11,250 each and the last 16 losers €5,000 apiece. In other words, a player must win three heads-up battles in succession to ensure a profitable trip! This is easier said than done when the draw gives you a chance of facing the likes of the Devilfish, Pascal Perrault and Ram Vaswani one after the other!
The festival goes under the banner of a Heads-Up Tournament but there is much more to it than that. The full festival line up is as follows:
19th May - €100 + 20 No Limit Hold'em + Rebuys Super Satellite to Main Event
20th May - €1,000 + 50 No Limit Hold'em Freezeout
21st – 28th May - €2,500 + 100 Heads Up Main Event; Rounds 1 – 7 (Final on 28th May)
21st May - €500 + 40 No Limit Hold'em Freezeout
22nd May €300+ 30 Pot Limit Hold'em Freezeout
23rd May – €300 + 30 Limit Hold'em Freezeout
24th May - €200 + 20 Pot Limit Omaha + Rebuys
25th – 26th May - €1,000 + 50 No Limit Hold'em Freezeout
26th May - €100 + 20 No Limit Hold'em + Rebuys Super Satellite to €2,000 Hold'em
27th – 28th May - €2,000 + 100 No Limit Hold'em Freezeout
28th May - €300 + 30 No Limit Hold'em Freezeout
Whatever the score, there will be no shortage of action at the home of Heads-Up poker!
Ed note: Score a bonus of $150 when you download Euro Poker today