Poker in 3D Is a Virtual Reality

Tony Bromham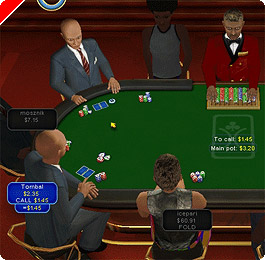 It was always going to be a matter of time before one of the bright, young things in IT turned their attentions to producing a poker room in 3-Dimensional virtual reality. And so it is that Sweden's 3D Internet Games AB/ DQE AB have developed and provided a software platform intended to transport the user into a virtual reality casino where you can design your own personality and take charge of your table.
Having the technical know-how is all very well but it still has to be attractively packaged, marketed and sold to today's pernickety poker population. Enter stage left a brand new UK poker room, The3DPoker.com, which is proudly trumpeting the product as the "World's First 3-Dimensional Poker Room".
In it, the poker player can enter the 3D casino and create his or her own character – like a personal avatar for the entire body - aided by the latest gamers' technology. So you can decide on look, hair colour and clothing! At the tables, your view can move around the table to different camera angles to suit yourself.
The3DPoker.com has expressed its delight at the early indications following this month's launch. Ozlem Moss, who is Marketing Director at Esprit Marketing Ltd, a company established in London in 2003, which is behind The3DPoker.com, said:
"We haven't kicked off our marketing campaigns yet, but already we've received over 1,000 new poker players and almost 200 affiliate registrations in the first few days of opening. Players, as well as the affiliate partners, state that the software is amazing and the 3D features are great fun. Some have even mentioned that they invite friends over for a game of online poker.
"We've been taken aback by the number of new players and affiliates signing up every day. But we've been keeping busy and yesterday we launched the first 3D Sit & Go Tournaments. More innovative features and games will follow soon, and we're very optimistic about the future.
"Statistics show that there's a high correlation between sports betting and multi-player poker online. With the World Cup just around the corner, The3Dpoker.com offers football fans the opportunity to fill in the gaps between football games with rounds of poker."
The rake levels at the tables are set slightly below that of the industry standard so, over time, players will benefit from greater profit retention.
The3DPoker.com is licensed and regulated by the Government of Costa Rica.
Ed note: Make some real profits. Download The3DPoker.com today.