Wayne Rooney in Poker Losses Storm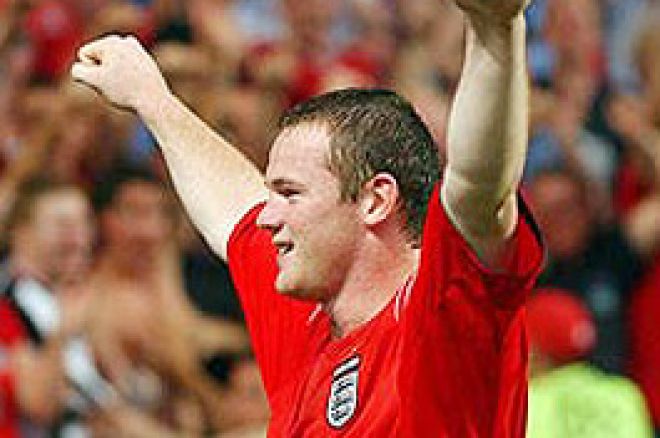 England's brightest star has allegedly racked up gambling debts with bookmakers of over £700,000 in recent times. World Cup squad certainty, Rooney, is not happy he was allowed to wager such large sums though.
According to the Daily Mirror newspaper, Rooney is furious that he was not stopped from naively wagering huge sums in an effort to recoup his losses.
An England insider told the Daily Mirror: "Wayne feels very annoyed that no-one discouraged him from chasing his losses. That's how the problem got so big."
It seems Rooney's talent on the pitch cannot be emulated at the poker table. Rooney was at the centre of a NEW betting storm last night, this time over his favourite card game, Texas Hold 'Em. It is believed Rooney handed over the keys to a new Chrysler 300C car to fellow team mate, Phil Bardsley. The car, worth around £25,000, is roughly half of what the Manchester United striker earns in a week.
Bardsley, who meets up with Rooney and teams mates Wes Brown and Rio Ferdinand for regular poker sessions, denies he won the car, stating that although it did used to belong to Rooney he actually bought it from him.
Rooney, who scored one goal and made another in United's 2-0 Premiership win over Arsenal yesterday, seemed happy and relaxed both pre-match, as he collected his player of the month award, and post-match during interviews.
England boss Sven Goran Eriksson is now set to talk to Rooney about his debts, which are believed to have been built up over the past six months. This latest betting aligation follows on from Rooney's fellow England striker Michael Owens betting crisis from last year. Chelsea captain, John Terry, has also been singled out for making large wagers with bookmakers.
Ed note: Don't gamble with your bank roll. Download London Poker Club now for entry into our $3,000 freeroll and a $500 deposit bonus.