V-Points Start Poker Revolution

Paul Sandells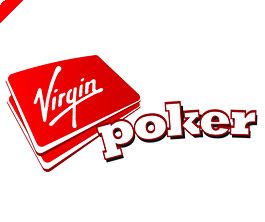 Virgin Poker's "V-Points" are causing quite a stir in the online poker world. Richard Branson's poker room is giving the player more value for money than ever before.
The V-Points promotion at Virgin Poker is a very easy, yet lucrative, way of rewarding loyal Virgin Poker players. If you're an experienced online poker player, the chances are you're looking for the best deals around when it comes to selecting a poker room. V-Points could just sway you in the direction of Virgin.
Let us take a look at what V-Points are:
Players earn V-points whenever you play a 'raked hand' on a cash table and whenever you play an MTT or an STT. The higher the stakes you play, the more V-Points you earn. Virgin have kindly published a handy "rough guide" of what you can expect to earn in V-Points for your level of play. If you play the smaller 25p/50p games for roughly 2 hours a week, you can expect to earn 150 V-Points per month. A more serious low stakes player at 50p/£1 playing for 20 hours a week can expect to scoop up 1,200 V-POints per month. High rollers at £10/£20, playing for 20 hours a week will earn a whopping 25,000 V-Points (remember all figures are approx').
Once you've started collecting V-Points, you'll be wondering what you can exchange them for. Well, straight away you can exachange them for cash. 1 V-Point is worth 1p. That's a handy bonus if you're racking up thousands of points each month. More interesting, perhaps, is the ability to convert V-Points into Virgin Airmiles. 1 V-Point is worth 1 Virgin Airmile. 25,000 V-Points buys you a trip to San Fransisco, Miami, New York, LA OR... yes you guessed it... Las Vegas.
There are lots of other items you can exchange V-Points for, including mobile phone top-ups and digital downloads.
The revolution is here. UK Poker News applauds Virgin Poker for giving the player much more than standard online poker rooms.
Ed note: Now is the time to join the revolution. Download Virgin Poker and we'll give you a $200 bonus to help start your new account