Ladbrokes "RoyTheBoy Invitational" Won by Mike Tindall

Tony Bromham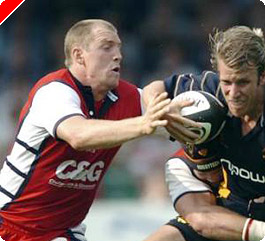 A superb charity poker tournament was held online at Ladbrokes Poker yesterday culminating in a hard-fought victory by Gloucester and England rugby union player, Mike Tindall. He fought off the challenge of fellow rugby player, Neil Clarke of Cork in a one-two finish for the Union. Actor Michael Greco (most popularly known for his role as Eastenders' Beppe di Marco, but whose first love is theatre for which he regularly wins rave reviews, as well as being a fully-fledged poker player in his own right these days) took third, ahead of jockey Darren Williams (4th), UK Poker News' own Paul Sandells (5th) and one half of comedy duo Hale and Pace, Norman Pace, in 6th.
The event was hosted by Roy "The Boy" Brindley, one of Europe's leading poker players and well-known face of Ladbrokes Poker - the sponsors of the Poker Million. "The Boy" invited a host of well-known sports and media personalities to participate, together with several sports and poker journalists, the aim being to raise funds for charitable causes.
Following on from the inaugural event last year which was held for the horseracing fraternity, yesterday's tournament again featured a strong showing from the gallops but was also thrown open to other celebrities and journalists. Ladbrokes ran a novelty book on the tournament - including an in-running market on the final table - with all profits made being donated to charity. In addition, each player was entitled to nominate a charity of choice to donate, should they wish, some of their place winnings in the event of achieving a top 12 finish. To this end, Ladbrokes Poker had provided a $5,000 prize fund for the 52 players to aim at in this freeroll tournament, with the top four placed receiving additional bonuses - see more below.
The runners and riders available in the betting were split into three sections, Racing Personalities, Sport and Media and Journalists.
Amongst the Racing Personalities were jockeys Tony Culhane, Simon Whitworth, Darren Williams, Paul Eddery, Dean McKeown, Paul Hanaghan, Michael Tebbut; jockey's valet, Roy Fowler; and Channel 4 presenters Derek Thompson and Richard Hoiles.
Lining up for Sport and Media were - in addition to the aforementioned rugby boys, actors and comedians - snooker aces Steve Davis, Mark Williams and Ken Doherty; actress Chloe Bale and glamour model Leilani Dowling.
Bringing up the rear were the journalists from a host of publications such as The Racing Post, new boys The Sportsman, Ireland's Sunday World, The People, The Guardian and from poker, Bluff Magazine, Poker Player and a couple of interlopers from UK Poker News.
Included amongst the journalists in the betting was quite possibly the most famous name of all, Nick Leeson, of Barings Bank notoriety, who is now also a serious poker player.
It is fair to say the odds-setter at Ladbrokes had taken a broadbrush approach to the value but fun was the name of the game here. The bigger Ladbrokes' profits, the bigger the donation to charity!
An early faller was Channel 4 presenter Derek "Tommo" Thompson closely followed by racehorse trainer, Philip McEntee and a coming together of "At The Races" presenters past and present, Dale McKeown and Sean Boyce. Two jockeys, Simon Whitworth and Tony Culhane, then lost their mounts to complete a miserable first six out for the racing fraternity!
The first of the two-legged departees was Steve Davis, former world snooker multiple champion, who missed his cue on this occasion. A less successful rugby union member was Kieran Dawson, who went next followed by the first journalist, Simon Boyce of WPT Magazine.
Dave Compton was another early faller for At The Races and Poker425, followed by many more as the blinds ratcheted up alarmingly at 10 minute intervals! Leilani Dowling doubled up at Michael Greco's expense with two 3's on the end to help her A3 demolish Greco's AK. It was only a temporary respite.
Meanwhile, host of the tournament, Roy Brindley, succumbed in 30th position. Eventual runner-up Neil Clarke was going well before having aces cracked by Paul Sandell's 10 10 which found a 10 on the flop. Clarke recovered well as the play became hectic in line with the blinds. The title of "Bubbleboy" went to Daragh Keany of the Sunday World in 13th place.
Eventually a final table of eight emerged. The seventh and eighth places went to Chloe Bale and Phil Conneller of Bluff magazine respectively leaving the six that brought this article into being.
The winner and runner-up each received entries into Ladbrokes Poker's online $950 super satellite to be run next Sunday 16th April for the Poker Million V, while 3rd and 4th places received a $1,000 share in a racehorse called Laddiespoker, a 2-year-old in training with Jeremy Noseda.
The charities to benefit from the winners were:
Mike Tindall: Parkinson's Disease Society.
Neil Clarke: Cancer Research.
Michael Greco: Childline.
Darren Williams: Cancer Research.
Congratulations to the winners and all who entered, and thanks must also go to Ladbrokes Poker and Roy Brindley.
Ed note: Qualify for the Poker Million V when you Download Ladbrokes Poker the home of the biggest tournaments.