Interview with Paddy Power Poker's Nikki Newman Part 2

Oliver Boyce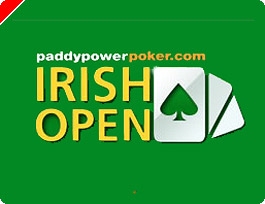 UK Poker News' Irish correspondent Oliver Boyce (World Speed Poker Open 2005 winner) continues his interview with Nikki Newman, Poker Operations Manager at Paddy Power Poker, sponsors of the €1,000,000 guaranteed Irish Open which begins this week.
In this part 2, Nikki talks about the Irish poker scene and Paddy Power Poker's attitude toward sponsorship of players, its advertising campaigns and its qualifiers for the WSOP.
In Part 3, to be published soon at UK Poker News, Nikki discusses the online issues of cheating and collusion, responsible gaming policies, and offers advice to new players opening an account for the first time. Don't miss it!
UKPN: Roy "The Boy" Brindley and other well-known Irish-based players have told us that the Dublin poker scene is vibrant. How do you view the Irish poker environment yourself?
NN: Poker was always a popular game in Ireland; however it wasn't until 2005 that the poker explosion really began here. Media interest and the massive growth of the online poker industry are largely responsible for this. Dublin itself has around ten clubs and, for many, playing in these clubs is a regular weekly event. The thriving social scene and Irish economy lends itself well to the pursuit of pleasure and profit. Of course people should certainly visit and make up their minds for themselves.
UKPN: Paddy Power Poker do not sponsor any particular player at the moment; is this likely to change in the future? We've also noticed a lot of poker houses dropping players from their sponsorships; do you think this trend will continue?
NN: There is considerable debate within the general marketing community with regard to the value generated in not just poker specific player sponsorship but also individual and celebrity sponsorship in general. With marketing departments under greater pressure (more now than ever) to justify promotional and brand expenditure, the challenge to all marketers is how one can accurately measure the proposed and actual return on the sponsorship investment potential. This is almost impossible to evaluate and, as a consequence, marketing professionals are increasingly shying away from advocating this channel of communication. Paddy Power Poker have yet to introduce player sponsorship within its communication arsenal, however we will remain open and if the right opportunity presents itself, we'll certainly undertake a serious review.
UKPN: Paddy Power Poker were recently criticised for a new advertising campaign that they launched; do you think people miss out on the funny side of these commercials?
NN: Paddy Power is famed amongst other things for our innovative, creative and edgy approach to advertising. All of it is geared to portray our ethos, "fun, fair and friendly." Actually we received an enormous amount of positive feedback to our campaign; most people found it entertaining and saw no offence whatsoever.
For the Advertising Standards Authority to hold an advertising ban meeting, it only has to receive one complaint. There is unfortunately no stipulation to write this off against the tens of thousands of people who found it highly amusing. I think that some people will look for insult, as negativity is perhaps a driver for them. It is these people who will put pen to paper and cite us as "blasphemous"; the rest of us will just giggle into our pints and wait eagerly for the next instalment.
UKPN: What has been the highlight for you this year since Paddy Power Poker launched itself onto the online poker market this time last year?
NN: Well, you probably think I am massaging your ego (God forbid!) but without a doubt it was you (Ed note: Oliver Boyce!) winning the World Speed Poker Open! Watching you win was almost like me winning vicariously! Here is a little story for your readers:
Oliver Boyce and his partner, together with Michael McFadden and Nikki Newman, are sitting in London Heathrow awaiting a flight back to Dublin following the World Speed Poker Open. A woman walks curiously over to our table and says:
Woman: "Did you by any chance win some sort of poker tournament?"
Ollie (surprised): "Yes, yes I did! As a matter of fact I just won the World Speed Poker Open!"
Woman: "Oh my goodness, congratulations and well done!"
Ollie (confused): "How the hell did she know I won a poker competition?"
Ollie's partner (sarcastically): "Emm, because you are sitting there with a massive logo on your shirt saying Paddypowerpoker.com and a four foot trophy saying World Speed Poker Open?"
UKPN: The WSOP is nearly here again and I'll be there wearing my Paddy Power colours after winning my ticket on your site; does Paddy Power have many players involved this year and what are your plans for the event?
NN: So far this year we have four qualifiers. We anticipate another six to join PPP corner in Vegas! Karl Hutson, my operations executive, will be heading over to meet, greet and generally cause havoc. I thought about going but unfortunately not everyone has the time to go on such an obvious jolly! We shall be kitting out our beloved qualifiers in PPP style and both Doyle Brunson and Mike Caro will be there hosting a dinner for our qualifiers. Could you bring me back a doggy bag Ollie? Better still bring us back the Bracelet!
Ed note: Entry to every WSOP Event can be won when you Download Bet365 Poker