Women In Poker: Mags Manton Interview

Tony Bromham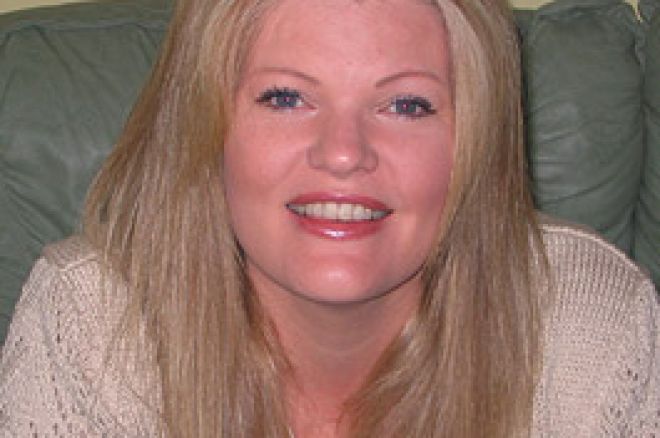 UK Poker News is always keen to delve into the inner workings of the poker machine and, as we have been concentrating lately on events in Dublin, notably the Irish Open, we had a few words with Mags Manton, who is currently the card room manager of the Merrion Casino Club in that fair city. Mags also supplies freelance work on other poker events and projects and, as you will read, expects to expand her horizons very soon.
UKPN: Hello Mags, thank you for taking some time out from your busy schedule to talk to UK Poker News about your role within Irish poker.
MM: Thank you for asking me.
UKPN: Firstly, can you tell us how you got involved in poker and whether that was a result of a leisure pursuit or through a career move?
MM: I've been working in the casino industry for the last 17 years and learning to deal poker was just another game to add to my C.V. Little did I know what a great turn my career would take. I've now been involved in the poker scene for the last five years or so and thoroughly enjoy the atmosphere a poker festival carries. I progressed up the ladder relatively quickly - if five years is quickly!
UKPN: Can you give us an overview of your role at The Merrion Casino Club?
MM: I run the card room and ensure the highest standard of dealers and service to all my customers.
UKPN: Are there specific elements of the role that you find particularly rewarding?
MM: I love the buzz the place has when we're busy. Listening to the players banter between themselves and the staff is particularly funny. We have an unbelievable number of "characters" that play in the club.
UKPN: In the same vein, are there elements of the role that you find irritating or irksome?
MM: Yes, we have one or two very demanding customers who ask questions just for the sake of attention and when you're busy it can be a bit of a pain.
UKPN: Many poker players are so wrapped up in their poker game or enjoying their evening out, that the casino managers and staff, who are responsible for putting on the entire show, are often not given credit or respect. What traits of the average customer would you like to see less of? For example, how can players do more to help in the smooth running of a poker tournament?
MM: They can all just come and enjoy playing cards instead of trying to run the tournament and getting involved in each other's disputes. As for getting the recognition for a well-run tournament, that's what you get paid for, hey!
UKPN: Everyone we speak to says that poker in Ireland has really taken off in the last year or two. In the context of your role at The Merrion Casino Club, what changes have most affected you?
MM: There were, at one point, two venues where you could play poker and it worked really well. You arranged your tournament schedule accordingly so you did not clash with the other club. Unfortunately with the opening of a third club and all the pub games the punters don't know where to go or play. I've had a few players say to me that all these venues have done a lot of damage as it's divided the players up and the tournament prize money has taken the main beating.
UKPN: The Merrion Casino Club put on a big super-satellite for the Ladbrokes Poker Million V on Tuesday 18th April. How did that come about and what was Ladbrokes Poker's input into it?
MM: Ladbrokes wanted to do a few land-based Poker Million satellites in the UK and Ireland and being the most established Irish venue I guess we entered into their calculations.
UKPN: What is the thinking that goes into deciding the buy-in price for such a tournament and whether it should include rebuys?
MM: You need to make it affordable for every one and, by limiting it to only one re-buy or top-up, players know how much they can spend from the off. For players on a budget I personally don't think it's fair for them to be intimidated by a player who can afford to put their hand in their pocket 20 times during the re-buy session.
UKPN: There are several poker venues in Dublin now, some holding high-profile tournaments from time to time. What are your thoughts about competing with so many or is that not your main concern in your role?
MM: It's not a concern of mine to be honest; all I ever want to do is make sure everything we do is successful and runs smoothly. We are always open to people wanting to hold events in the Merrion. On the 12th May, for example, we are hosting an event for Celeb Poker. Our other main two festivals each year are the Irish Open and the EPT (European Poker Tour).
UKPN: How do you see the future shaping up for The Merrion Casino Club specifically? What big attractions are being planned to compete with the likes of Jurys Hotel and City West who have held big tournaments lately?
MM: Well, the two venues above were actually both Merrion presentations. We took the tournaments to different venues because of space restrictions here in the club. I have been tournament co-ordinator for the Irish Open and the EPT leg in Dublin for the last four years - a job I have truly enjoyed doing.
UKPN: Turning to your own interests in poker, do you play and get to travel to tournaments at all?
MM: I enjoy playing although I've been told I need to become more aggressive! Yes I like travelling to other venues, it's a great opportunity to see how other tournaments are run and I've come away from one or two places with some great ideas.
UKPN: Finally, Mags, what goals do you have in poker for the future - personally or career-wise?
MM: Well, at the moment I am currently working my notice at the Merrion. I've been finding it extremely hard juggling my full time job and other poker commitments and something had to give. My first gig thereafter is as director/consultant at the televised European Ladies Open (in May).
UKPN: Mags, it has been an enjoyable discussion. Thanks for your time and UK Poker News wishes you every success in poker.
MM: Thank you.
Ed note: Enter the great value $3,000 Freeroll exclusive to UK Poker News. Download Pacific Poker and get aboard!