John Gale Returns From The Bellagio

John Gale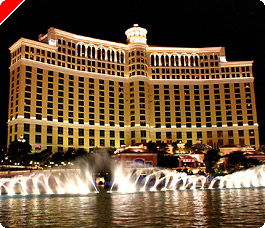 UK Poker News Contributor, WPT winner John Gale, has returned from the big festival at the Bellagio in Las Vegas, the Fourth Annual Five-Star World Poker Classic, less than happy with his play and armed with stories of table tantrums and administrative incompetence. Fear not, John is returning to Vegas next week for another go!

Hi everybody.
This is yours truly back from Vegas and the Bellagio, empty-handed and thoroughly brassed off. It was one of those trips where nothing went right; still, I'm alive and kicking, feeling good and looking forward to going back next week for the WSOP Circuit event at Caesars Palace and the WPT events at the Mirage and Mandalay Bay where, with a bit of luck, I can report back with success.
First words must be of congratulations to Roland de Wolfe for an absolutely superb performance in the Championship Event and a stunning 3rd place finish, copping just over a million dollars for his efforts; well done Roly Poly, lunch is on you next time!
The Championship Event went predominantly without major incident although Freddy Deeb and an unknown character nearly came to blows over some slow rolling; I didn't manage to find out the exact situation though.
Phil Hellmuth suffered a bad beat and managed to let the whole room know about it in no uncertain terms; Phil took it in his usual good-natured and philosophical way, muttering to himself as he was busted and left the room crying and tightly clutching his teddy bear.
Personally, I got off to a good start in the Main Event, playing a lot of small pots and chipping away to get my stack up to 110,000 by the end of the 4th level. I promised myself I'd sit quietly for the last level of the day ensuring I went into Day Two healthy in chips.
It was not the case though as I got involved (unnecessarily) in two big pots, lost them both and finished the day under 20,000 in chips. I doubled up early on Day Two and was increasing gradually when the voices went off in my head again telling me to make an almighty bluff. I did so, was called and left the room looking for my buddy Phil hoping I could hug his teddy bear for a minute or two. It was not my finest hour.
As I said earlier, I am going back to Vegas for Caesars first, on 7th May, and phoned them as directed by their advert in Card Player to book a room quoting the WSOP rate. The problem was that no-one at Reservations had a clue what I was talking about, so they kindly put me through to VIP services who announced I had to have a player's card to book a room there. When I politely pointed out that their poker room had just opened and I hadn't yet got a players card as I hadn't yet had the pleasure of playing there, I was told in no uncertain terms "tough luck". Okay, I thought, and asked to be put through to the poker office.
After hanging on and listening to music for around ten minutes that almost had me losing the will to live, I found myself chatting happily to an extremely polite gentleman in the poker room at BALLYS!
Now I was seeing red; after being put back to the operator I was then informed that he was unable to connect me back to Caesars but he could give me the number to dial them direct. I asked him how the hell Caesars managed to connect me to Ballys, he admitted he hadn't a clue. I had now been on the phone to Vegas for some 35 minutes and wasn't feeling too happy; however I then phoned my old friends at the poker office at the Mirage and managed to book a room at the poker rate in about two minutes flat.
Message to Harrahs from not only myself but sentiments echoed by lots of European players: Get your act together for pity's sake.
Those of you who read my interview with UK Poker News some time ago may recall the problems and criticisms of the World Series last year. Harrahs and the Rio have assured us all that events will run much smoother this time around. Personally, I'll believe it when I see it, but I will let you know.
Keep reading UK Poker News and I'll bring you updates from the Caesars and Mirage events shortly.
Hope you all are winning big and playing awesome. Be lucky. Talk to you all soon.
Ed note: Win seats at every WSOP event this year. Download Bet365 Poker and get started on the road to Vegas.